The Preferred Manchester Mortgage Advisor
We Do It All For You, Fee-Free Including:
Our Fee-Free Mortgage Services
Getting a mortgage made easy
Is your current mortgage deal coming to an end?
If so, now is the time to explore the full range of Manchester mortgages that are available. We will make sure you get the very best remortgage deal, whether you're remortgaging for equity release or looking to reduce the repayments on your mortgage.

Are you a first-time buyer trying to get your first mortgage?
 It can be a complicated process but our mortgage brokers in Manchester are here to help. We will find the mortgage lenders that are right for you and will provide you with all the support you need when making your mortgage application.

Mortgages to move home
The moving process can be stressful but when it comes to getting a new mortgage, you can benefit from expert mortgage advisers who will make life easier for you. We will help you get the best mortgage rate and deal for your new home and will provide you with an Agreement In Principle when you're ready to make an offer.
Mortgages for Buy-To-Lets
 With years of experience helping landlords in Manchester, our team will search the entire market of buy-to-let mortgages on your behalf. As we do with all our clients, we will also tailor our mortgage advice for your specific set of circumstances.
Fee-Free Manchester Mortgage Advisor
Where can I find mortgage advisors near me?
If you're looking for a mortgage broker in Manchester, you have come to the right place. Whether you're a first-time buyer, a seasoned home mover, somebody looking to remortgage, or even wanting debt consolidation you can benefit from our extensive range of mortgage services. We cover all the major Manchester boroughs, including Bolton, Bury, and Oldham, as well as the smaller towns that are located within Greater Manchester.
How to get a great mortgage deal in Manchester
with help from YesCanDo
We research, advise, guide and submit the whole application for you!

We really do make getting a mortgage seem easy.
What YesCanDo Money Offers
We ensure that you always fully understand all of your available mortgage options and that you NEVER pay more than you need to.
When you turn to our team of mortgage brokers, you will have somebody who has your back, every step of the way. Your appointed representative will meet with you, find out more about your situation, and will answer any questions you have about the mortgage or process. Your qualified mortgage advisor will then search the 90+ mortgage providers, including both high street banks and niche lenders, to find the right mortgage from the 14,000 mortgage rates and deals that are available in Manchester and across the UK.
Your mortgage advisor will also liaise with your estate agents, solicitor, and your mortgage lender to make the whole process as stress-free as possible for you. The help they offer will also extend beyond the application process, with advice on life insurance. Give us a call to find out more about our services and book your first consultation with us.
We have gained a strong reputation as a mortgage broker in Manchester and all surrounding areas for our expert services. You need only look at the reviews and ratings we have secured on TrustPilot as evidence of our excellence.
Here at YesCanDo mortgage brokers, our customers are at the heart of everything we do. We understand how complicated the mortgage process can be and that is why we offer our full support, at every stage of the mortgage. Whether you're moving home for the umpteenth time or looking for your first mortgage, you can benefit from a team of people who care about your needs and get you the right mortgage deal. And because we care, we don't even charge you a penny. Some mortgage brokers charge for their services but at YesCanDo, we don't bother our customers with a broker fee.
Mortgages In Manchester
As a fee free mortgage broker in Manchester, you can benefit from all of our services if you are looking to move into the city. We have an understanding of the types of properties available and the typical mortgage rates attached to them, so talk to our team when you're ready to look for the best Manchester mortgage.
Mortgage Rates In Manchester
Mortgage rates in Manchester depend on the Bank of England base rate, your affordability rating, and the type of property you are considering. Mortgage lenders will take these factors into account before deciding how much to lend you and at what rates. The type of mortgage you choose and the mortgage term you decide on can also affect your mortgage offer.
Property Prices In Manchester
The price of a property in Manchester will depend on the type of property you choose and the area you move into. The table below indicates the average property prices in Manchester.
| Property Type | Average Property Price | Monthly Mortgage Repayment * |
| --- | --- | --- |
| Flat/apartment | £236,391 | £831.03 pcm * |
| Terraced House | £241,441 | £848.78 pcm * |
| Semi-Detached House | £308,638 | £1,085.01 pcm * |
| Detached House | £548,806 | £1,929.31 pcm * |
Highly Rated Mortgage Broker Manchester
We're highly rated mortgage advisors in Manchester - Rated 5/5 on TrustPilot
Our customers love us because of our high level of customer service, the time and effort we spend when looking for the best mortgages, and the incredible support we offer during every aspect of your mortgage. We are grateful to our customers for all of their wonderful feedback and we're sure that you will be over the moon about our services too.
Our customer reviews make us blush 😊
We have many happy customers from across the majority of the UK. Take a moment to read our customer reviews below or alternatively visit our reviews page. We have thousands of reviews across our Google, Facebook, and Trustpilot pages.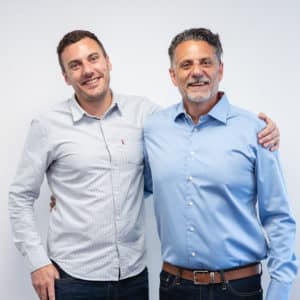 Our expert mortgage advisers help you to achieve your best mortgage.
Let us know what the best time is for us to call you. We will get one of our mortgage advisors will be in touch to talk through your situation and available options.
Meet Our Mortgage Team
We're smart, we're hard-working, and we are committed to helping every one of our customers get the very best deal on a mortgage. We are CeMap qualified and regulated by the financial conduct authority, so you can be assured of the knowledgeable and professional support that we can offer you.

If you're looking for a Manchester mortgage you need expert advice that you can trust. Our expert mortgage advice can be tailored to first-time buyers looking for their first mortgage, seasoned home movers ready to up sticks, customers looking to get a remortgage deal, and landlords looking to let their properties out to tenants. In short, we are here for you, no matter your mortgage needs and personal situation.
Not only will you not pay a penny when using our services but you will save money on your mortgage too. By finding you the best mortgage interest rate for your particular set of circumstances, you can benefit from lower monthly payments. So, benefit from our FREE service and the cheapest mortgage offer we can find for you.
Mortgage Advisers Covering Greater Manchester
Here are just some of the areas in Greater Manchester that we have customers
Whether you are a first time buyer looking to become a property owner or you are looking to step up the property ladder or remortgage we can help. Our aim is to help people achieve their best mortgage rates. In today's chaotic world, isn't it great to have all of your financial services in one place and with a company who is on your side?

Living In Manchester
Are you looking to buy a property in Manchester or thinking of moving there?
As the second-largest city in the UK, Manchester is a popular choice for anybody looking to move into the North of England. The job market is strong, the cost of living is good.
Property prices vary, depending on the area you move into, but compared to London, the UK's largest city, you will discover that properties are a lot more affordable. When you have found your dream home in Manchester, get in touch with our team, and we will explore all of your mortgage options with you.
Get a mortgage with the help from YesCanDo
Find out everything you need to know about mortgages. Advice on how to get one, how to get the best deals, and who to turn to for experienced advice.