Fee Free Mortgage Service | Expert Advice | We Do Everything For You
Fee-Free Mortgage Brokers Bradford
We Do It All For You, Fee-Free Including:
Our Fee-Free Mortgage Services
Getting a mortgage made easy
The Preferred Fee-Free Mortgage Advisor Bradford
Where can I find mortgage advisers near me?
If you're looking for mortgage brokers in Bradford, your journey ends here. YesCanDo Money is authorised and regulated by the FCA (financial conduct authority), so you can be assured of honest and professional service. As a mortgage broker with over 30 years of experience helping customers gain access to the lowest rates and best deals, our helpful mortgage advisers are available to help you today. Get in touch if you're ready to look for a mortgage and save money with our fee-free advice and mortgage services.
How to get a mortgage in Bradford
with help from YesCanDo
We research, advise, guide and submit the whole application for you!

We really do make getting a mortgage seem easy.
YesCanDo Mortgage Process
GETTING A MORTGAGE MADE EASY
Getting a mortgage doesn't have to be a complicated process. When you get in touch with our expert team of independent mortgage advisers, you can expect a stress-free and easy experience. We will explain your mortgage options to you, help you with the mortgage application, and liaise with the mortgage lenders you decide on. Our mortgage broker team can also help you if you require a specialist mortgage, so no matter your individual set of circumstances, be assured that our local experts can help you get the perfect mortgage for your situation.
Mortgage Advice In Bradford
As an expert mortgage broker in Bradford, authorised and regulated by the financial conduct authority, you can benefit from expert mortgage advice on the deals that are currently out there. We have an understanding of the types of properties available in Bradford and the typical mortgages attached to them, so get in touch if you're thinking about buying property in this West Yorkshire city.
Mortgage Rates In Bradford
Mortgage Interest rates in Bradford depend on the Bank of England base rate, your affordability rating, and the property type you are considering. To ensure lower repayments on your mortgage, get in touch with our team. We will search the mortgage market on your behalf to make sure you gain access to the best deal for your needs.
Property Prices In Bradford
The price of a property in Bradford will depend on the type of property you choose and the area you decide to move into. The table below indicates the average property prices in Bradford.
| Property Type | Average Property Price | Monthly Mortgage Repayment * |
| --- | --- | --- |
| Flat/Apartment in Bradford | £156,726 | £550.97 a month* |
| Terraced House in Bradford | £130,367 | £458.30 a month* |
| Semi-Detached House in Bradford | £207,619 | £729.88 a month* |
| Detached House in Bradford | £336,276 | £1,182.17 a month* |
Highly Rated Mortgage Broker Bradford
We are a highly rated Bradford mortgage broker - Rated 5 on TrustPilot
Our customers love us for our straightforward and professional mortgage advice, our commitment to excellent customer service, and the positive solutions we provide as they venture out on their mortgage journey. We're sure you'll love what we do too!
Our customer reviews make us blush 😊
We have many happy customers from across the majority of the UK. Take a moment to read our customer reviews below or alternatively visit our reviews page. We have thousands of reviews across our Google, Facebook, and Trustpilot pages.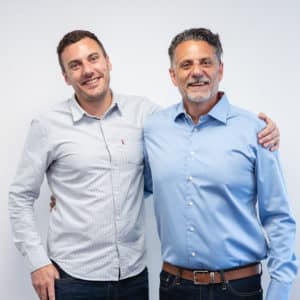 Our expert mortgage advisers help you to achieve your best mortgage.
Let us know what the best time is for us to call you. We will get one of our mortgage advisors will be in touch to talk through your situation and available options.
Meet Our Mortgage Team
Our CeMap-qualified team are smart, hard-working, and committed to giving you the best mortgage advice and support. Book an initial meeting with a member of our team via WhatsApp, phone, email, or our contact form, and start your mortgage journey with us today.

Read our mortgage, insurance and property help guides.
Living In Bradford
Are you looking to buy a property in Bradford or thinking of moving there?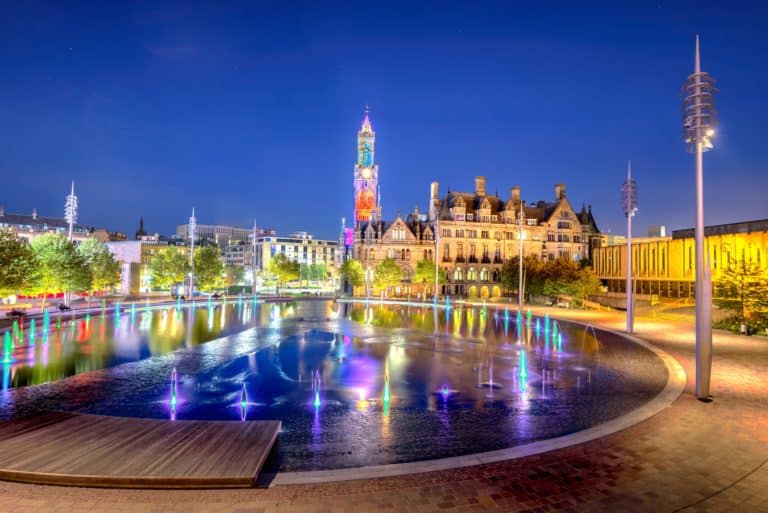 The regeneration of Bradford City Centre into a new six-acre, multi-award-winning public space. At its heart is a spectacular 'Mirror pool' animated by the fountain
There are lots of reasons to consider Bradford for your next home. For one thing, properties are relatively cheap when compared to some of the other major cities in the UK, so you should find a home that exists within your price range. Popular areas to live in include Eccleshill, Thornberry, Great Horton, and Queensbury, but no matter where you live, you won't be too far away from the magnificent Yorkshire countryside.
Parents will be pleased to know that many of the schools in Bradford have received an 'outstanding' rating from Ofsted. The career-minded should be happy with the excellent road and rail links for commuting within and outside of the city. Shoppers will have plenty of places to spend their money, as Broadway, Kirkgate Centre, and other areas around the city contain both big-name stores and niche outlets. And there are plenty of places to visit for days out in Bradford, including The National Science and Media Museum, the beautiful Lister Park, and the historic area of Little Germany.
Get in touch with our team if you're looking to buy a property in this culturally-diverse city and we will search for the right mortgage for you.
Get a mortgage with the help from YesCanDo
Find out everything you need to know about mortgages. Advice on how to get one, how to get the best deals, and who to turn to for experienced advice.