Getting access to the best mortgage rates
There is a lot that needs to be considered when looking for the best mortgage. It is imperative that every step of the way you have the best mortgage deal that is going to be right for you and your financial situation. You also want to make sure that you secure a great deal and that you do not end up paying over the odds. It can be daunting, but we at YesCanDo Money are here to make the process as easy and straightforward as possible. Read on to discover everything you need to know.
Which bank has the best mortgage rates?
Did you know that there is over 90 different bank and building societies in the UK offering over 14,000 different mortgage interest rates? This means finding the current best mortgage rates can give you a headache. The straight answer is the lender with the top mortgage rates changes daily. The easiest way to find the lowest mortgage rates is to get an independent financial adviser. They will be able to search the whole market and this way you will know the very best rates for you. They will not only look at the best mortgage rate but we take into account the over deal that comes with the rate.
First, we recommend getting to know the different types of mortgages before looking into current rates.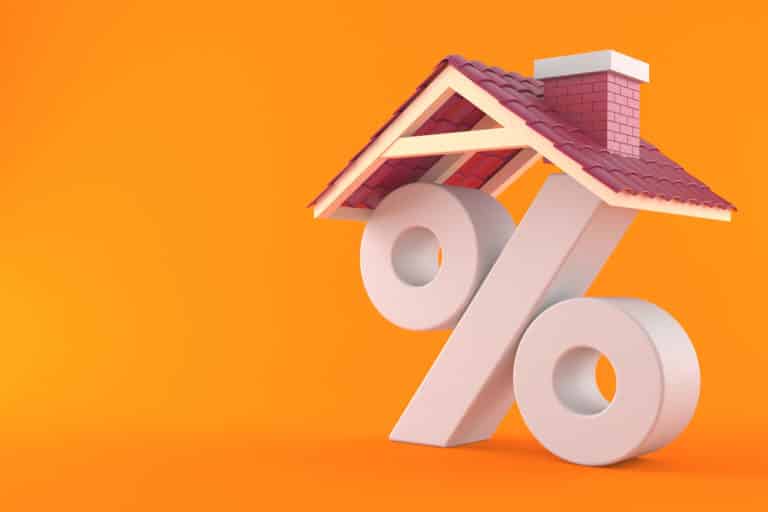 Understanding the different types of mortgages
What are the most common type of mortgages?
Fixed-rate mortgages
Let's start with the most common type of mortgage interest rates; the fixed-rate mortgage. As the name indicates, a fixed-rate mortgage has a fixed rate of interest for a set period of time. This term tends to vary between two and ten years, however, there are some deals where a longer mortgage term is available. The main advantage associated with this type of mortgage is that you have the peace of mind that you are going to be paying the same monthly payment every month for the fixed period/term.  Make sure you get advice from a mortgage broker before you pick one of the many fixed-rate mortgages with a long term. Having to stop a fixed mortgage rate because you are moving home or wanting to change your mortgage can be very costly sending on your financial situation.
There are some other mortgages that you can benefit from as well, including the following:
Small deposit mortgages
If you only have a small deposit, this does not mean you cannot get a mortgage. There are mortgage deals designed for those who only have a five per cent deposit. Plus, there are schemes like the government Help to Buy scheme, which may be of benefit to you.

Discounted mortgages
A discount mortgage is one whereby you will get a discount from the usual standard variable rate mortgages. The lender has will allow the discount for a certain period of time. However, it is vital to consider what you will be paying once the discounted period ends. It never usually makes financial sense to fall on to a standard variable rate. Variable-rate mortgages on an SVR mean very high-interest rates.
In 2019 the SVR was at a 4.9 percentage rate average. Comparing that to the average two-year fixed mortgage rate which is much lower at only 2.52%. (according to Moneyfacts)
Capped mortgages
This type of mortgage has a variable interest rate, yet there is a mortgage interest rate ceiling cap, meaning the cannot go over a specific amount. If you think that mortgage interest rates may fall, this is a good option to consider. Of course, we will advise you on whether or not we think this type of mortgage is a good option for you.
Offset mortgages
Offset mortgages give you the ability to offset any savings that you have against the amount owed on your mortgage, therefore, lowering the amount of interest you will be charged.
Tracker mortgages
Finally, with tracker mortgages, the interest rates tend to track the base rate at the Bank of England, with a set percentage added on.
Interest Only mortgages
Although most mortgage lenders offer interest-only mortgages there still a few that do. On Interest-only mortgages, you only pay the interest on the mortgage loan meaning that at the end of the term you still owe the same amount on the mortgage.
What do you need to consider when looking for a mortgage?
Aside from factoring in the mortgage rate type, there are a number of other things that you need to consider when you are searching for a mortgage.
These are some of the main areas of consideration when looking for a mortgage. The good thing about working with YesCanDo Money is that we will be there for you every step of the way, and so we can help you to consider the points mentioned above to ensure you make the right decision for you.
How long should I fix my mortgage for?
If you have a low 'Loan to Value' (LTV) then it usually makes the best financial sense to secure a fixed-rate allowing you to secure a great low rate.
The most common fixed-rate mortgages terms are listed below.
It is best to know your maximum LTV beforehand by talking to a broker who will get to know your financial situation and goals. After talking to a mortgage advisor you will be certain if a 2-year fixed-term or a 5-year fixed term is best for you.
Call our advisers or message via WhatsApp for Fee-Fee advice and support.
When it comes to taking out a mortgage, you have two options;
you can either go directly to the lender
you can use a mortgage broker.
It makes sense to opt for a free mortgage broker, as you are going to have access to a much larger and more diverse pool of potential mortgages. You will also benefit from the help of expert advisers with many years of experience in the industry. This is exactly what you can expect when you choose YesCanDo Money.
Benefit from fee-free expert mortgage advice
There is only one place to begin, and this is the fact that you are going to benefit from free advice from our expert mortgage team. You may be wondering how this is possible. However, we don't make money by charging our clients; we are a fee-free mortgage broker. Instead, we make our money at each completion, and this is paid to us by the mortgage lender. This means that we do not need to charge you, and so we do not add to the expenses that you already have when it comes to purchasing a property. This means that you get the added benefit of our experience and expert knowledge and you do not have to pay an extra penny for it. It is a no-brainer really. 
The best mortgage for your situation
Everyone has different financial situations and different requirements when it comes to mortgages. There are over 90 different banks and building societies offering mortgages. Between them, these 90 lenders offer over 14,000 different rate mortgages and deals.
It is essential that you search the whole mortgage market as mortgage lenders have their preferences to who they like to lend to. If you are self-employed, for example, you will be better off considering a different pool of lenders when compared to those who are employed traditionally. We understand this, and so we will help you to find mortgages that are right for you and are tailored to your specific requirements, as well as ensuring you have the best chance of being accepted.
Making mortgages easy
We know that the financial industry can be complicated. When people start looking for a mortgage, they often feel overwhelmed by the plethora of information and all of the complex jargon. However, this is something you do not need to fret about here, as we have put together plenty of beginner's guides to ensure you understand the mortgage marketplace.
Compare mortgages from many mortgage lenders
Finally, one of the main reasons why it makes sense to opt for our service is because we have access to a huge number of deals. We compare mortgages interest rates and deals from a huge number of lenders, with thousands of different deals available. This means that you are going to have the best chance of finding the right deal and best deal for you.
Speak to our adviser team
for FREE advice and support.
We research, advise and submit the whole mortgage application fee-free.
Here at YesCanDo money, we give honest, straight forward, easy to understand financial advice into the finance market. We are a team of independent mortgage advisers who provide mortgage services with advice across England and the UK. We search the whole mortgage market to find the best and most competitive mortgage interest rates available to you. We also take care of all the administration for mortgages and life cover applications as well as liaise with your estate agents, lenders and solicitors to make the process as smooth and hassle-free for you as possible.
We take the time to get to know you and your personal circumstances so that we can provide you with sound financial solutions for your mortgages, life cover and everything financial in between. Being a small, experienced team of mortgage advisers means that you will always know who you are talking to and that we can really get to know you.
Speak to our mortgage advisers UK on 033 0088 4407
SPEAK TO A MORTGAGE ADVISOR
FREE ADVICE VIA PHONE, VIDEO CALL, EMAIL & WhatsApp
Let us know what the best time is for us to call you. We will get one of our mortgage advisors will be in touch to talk through your situation and available options. Let us know what the best time is for us to call you. We will get one of our mortgage advisors will be in touch to talk through your situation and available options.
Fee Free Mortgage Brokers
We are an FCA approved mortgage broker with a team or CeMAP qualified mortgage advisers and protection advisers. We offer advice into the finance market and a range of mortgages, insurance, and property services across the UK.
Whether you are looking to become homeowners or you are looking to step up the property ladder or remortgage we can help. Our aim is to help people in the UK achieve a mortgages deal and rate that best suits their financial situation.
In today's chaotic world, isn't it great to have all of your financial services in one place and with a company who is friendly, on your side and really looks after you?
Here at YesCanDo Money, we are independent mortgage advisers, which means we search the entire mortgage market for the best mortgages suited to your circumstances.
We have a range of mortgage services and offers available.
Why choose us for your mortgages?
Our Hampshire based independent brokers hold an expert mortgage adviser team.
An advisor from our team will provide you with very helpful advice and mortgage solutions. They will take the time to get to know you and your personal circumstances so we can provide sound financial information and solutions for your mortgages, life cover and everything financial in between. We ensure that you always fully understand all of your available options and that you NEVER pay more than you need too.
Our highly rated independent mortgage services have access to 14,000+ mortgage rates and deals. This means we are able to consider all the mortgage solutions available to you and provide you with you the right mortgage
Remember, our independent mortgage advisers charge NO FEE for our highly rated service.
We're smart, we're hard-working, we're easy to talk to and we love a challenge. Being a broker that really care, we guarantee our independent mortgage advisers covering the whole of the UK are CeMAP qualified. This means our team can research the whole of the market and find mortgages that best suits you and your situation.
Mortgages for Homemovers
Buying Your First Home
Remortgage for FREE
Buy To Let Mortgages
Mortgages for Homemovers
Mortgages for Moving Home
No matter how many times you have moved in the past, buying and selling your house is well known to be one of the most stressful experiences in life…unless you use YesCanDo to help you that is 😉
We take care of every aspect of getting the best professional mortgage advice for moving home in England. Once we have an idea of how much your home is worth we will go through all of the financial figures with you. This will be to confirm that you have accounted for moving costs, solicitor's fees and everything in between. We will complete and submit your mortgage, recommend a proactive and reliable solicitor, liaise with estate agents and generally ensure your house move goes through with the minimal amount of fuss and hassle possible.
We will keep you and your solicitor updated and informed on your mortgage solutions on each step of your mortgage progress. We understand how frustrating and time consuming it is chasing all the relevant parties, so we take this stress and worry off your shoulders so all you need to do is start packing!
Yes, we provide independent mortgage advice across the UK, but that is just the tip of the iceberg that is our very helpful range of financial and insurance-based services.
YesCanDo Money helps people around the UK with their mortgage. We are based in Hampshire but cover the whole of England are parts of the United Kingdom with our free online mortgage services.
Buying Your First Home
Remortgage for FREE
Buy To Let Mortgages
Our customer reviews make us blush 😊
We have many happy customers from across the majority of the UK. Take a moment to read our customer reviews below or alternatively visit our reviews page. We have thousands of reviews across our Google, Facebook, and Trustpilot pages.
Frequently Asked Financial Questions
Finally, we are going to answer some of the most commonly asked questions we receive. If you cannot find the answer to the query you have below, please do not hesitate to get in touch and a mortgage adviser from our team would be more than happy to help you in any manner they can. We can also provide free remortgage advice.