Bournemouth, Dorset, sits at the centre of a conurbation of more than 465,000 people that includes both Poole and Christchurch. The city is famous for its iconic beachfront. It has been a popular holiday destination ever since the arrival of the railway in the nineteenth century.
Property Prices In Bournemouth
The average price of a property in Bournemouth is £293,103, according to property sale data collected over the preceding twelve months. Flats in the city sell for an average of £204,294, and detached properties fetch £409,782, on average. Semi-detached homes go for an average of £292,382.
Property prices in Bournemouth are currently booming. Prices are up 3 per cent in the previous years and more than ten per cent since 2017.
Best Areas To Buy And Local Amenities
Bournemouth is a large city, offering multiple residential districts for both first-time buyers, investors who want to buy-to-let, and those seeking to move up the property ladder.
Winton is the student district of the city, close to Bournemouth University's Talbot Campus. Here, buyers can find a fantastic nightlife, shopping options, and a host of music venues. The area is lively, serving a diverse population and offering lots of places to eat. Many students live here in digs and then continue doing so until they've saved enough money to put down a deposit on a house.
Boscombe is perhaps the most interesting part of the city. Historically, it was a deprived area and developed a bad reputation. Regeneration over the last decade, however, has led to significant gentrification, and now it is a more desirable place to live. Properties here are still reasonably inexpensive, despite access to quality primary and secondary schools.
Westbourne is an upmarket area of Bournemouth that feels like its own enclosed village, despite being very close to the centre of town. It features a host of thrift stores, cafes, pubs and a spectacular Victoria covered arcade. Located close to Bournemouth's iconic beach, it provides an abundance of outdoor clifftop spaces, such as the Argyll Gardens.
Finally, sitting between Bournemouth and Poole is Sandbanks – a spit of land that sticks out into the English channel. Panorama Road is famous for its "millionaire's row" and was once home to John Lennon. Properties here are stunning and regularly sell for more than £1 million.
How to get a mortgage in Bournemouth
FREE MORTGAGE ADVICE
YesCanDo Money offers free advice online and over the phone. Receive excellent mortgage support from our fee-free service that helps you with getting the best mortgage deal.
We are an FCA approved FREE mortgage broker covering Bournemouth, Dorset and the whole UK. We have a team of CeMAP qualified independent mortgage advisers and protection advisers. We offer advice into the finance market and a range of mortgages as well as protection/life insurance.
FREE
ONLINE
mortgage SERVICE
Want to achieve your best mortgage?
Things To Do
Bournemouth offers residents and seasonal visitors innumerable activities to keep them occupied, thanks to its location and tourist trade.
In the centre of the city, you'll find the Oceanarium, The Bournemouth Aquarium. Visitors can walk along an underwater glass-panelled tunnel and view sharks swimming around above their heads. There are also opportunities to view otter families, see crocs up close and watch enigmatic jellyfish go about their business.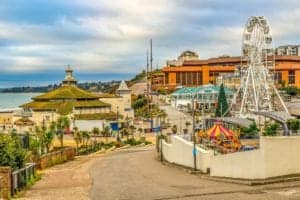 Several tour companies run from the middle of the city along the Jurassic Coast – Dorset's famous seaboard. Popular stop-offs including Durdle Door, Lulworth Cove and the New Forest.
Bournemouth's most famous attraction is its beachfront – a seven-mile strip of south-facing golden sand. Besides the beach, you'll find a selection of restaurants, pubs, arcades, and places for classic fish and chips.
The Bournemouth Pavilion Theatre is a popular attraction for those interested in indulging in live entertainment. This venue hosts various shows, including comedy, wrestling, musicals, music performances, and plays.
The Russell-Cotes Art Gallery and Museum sits at the centre of the city's art scene. This impressive listed Grade II building on East Cliff hosts events and regular exhibitions related to contemporary and historical art movements.
Schools
Bournemouth is home to several excellent primary and secondary schools. Elm Academy Primary on Holloway Avenue, Glenmoor Academy Secondary on Beswick avenue, and Linwood School – both a primary and secondary – all received Ofsted's highest "outstanding" rating. Other top performers include Manorside Academy in nearby Poole and Winton Academy on Winton Way near the university.
Ofsted rated most of the remaining schools in the city as "good," including The Bourne Academy, Christ The King Catholic Primary School, and St Aldhelm's Academy.
Transport Links
Bournemouth sits at the intersection of South Western Railway services that run to London, and CrossCountry, which head north to Manchester. Direct services to London Waterloo take between 93 and 120 minutes.
Bournemouth station is around 15 minutes from the centre of town and beachfront, close to Springbourne and Boscombe.
Bournemouth airport is just four miles from the centre of town, and six from the beachfront. Taxis and buses both provide access.
National Express coaches regularly run for Bournemouth to London and other major cities across the UK.