You can make a sizeable rental income from the monthly rent you receive from a buy to let property so getting a buy to let mortgage might be something you're interested in if you're keen on making your real estate fortune.
As there is a constant demand for housing from people who prefer to rent rather than buy, you should have little trouble attracting tenants.
But as with residential mortgages, you will need to pass the mortgage lenders' mortgage criteria before you borrow any money from them.
Mortgage criteria can differ between different lenders but as a general rule, you can expect them to consider your income, employment status, credit score, and the state of the property you are thinking about buying when deciding whether you are eligible or not.
Most mortgage lenders will also take your age into consideration. If they think you are too young or too old, your application for a buy-to-let mortgage will be declined.
What is the minimum age for a buy to let mortgage in the UK?
The minimum age for a buy to let mortgage is 18. However, many lenders will only consider applicants who are 21 or over.
Well, mortgage lenders calculate risk when deciding who to lend to. If they suspect you won't be able to keep up with your mortgage repayments, they are unlikely to lend to you. At 18, you are less likely to have the financial means to pay off your mortgage.
Lets start your Buy-To-Let journey today!
Getting a buy to let mortgage at 18
Getting a mortgage at 18 is very difficult.
This is because most people at this age have insufficient earnings to qualify for a mortgage. Most lenders will require a minimum income of £25,000 before they will consider somebody's application and very few 18-year-olds are able to make this kind of money.
18-year-olds are also unlikely to have a credit history. This is something else lenders take into account when deciding who to lend to. People with nothing on their credit file are often treated the same way as people with bad credit – i.e. not favourably!
Does this mean it's impossible to get a mortgage at 18? Well, the chances of getting mortgage approval are slim but there are specialist lenders out there who may be willing to consider 18-year-old applicants, including those with no credit history. However, the person would still need to pass the lender's affordability criteria with evidence of a steady income and sufficient earnings.
If you're 18 and need mortgage advice, get in touch with our team of mortgage brokers. Whether you are considering a buy-to-let or residential property, we will consider your options with you and will advise you on the best course of action. If we think your application will be declined, we may advise you to wait until you are 21 or over.
Buy-to-let mortgages by age groups
Below is a graph of our buy to let mortgage customers split into five year age groups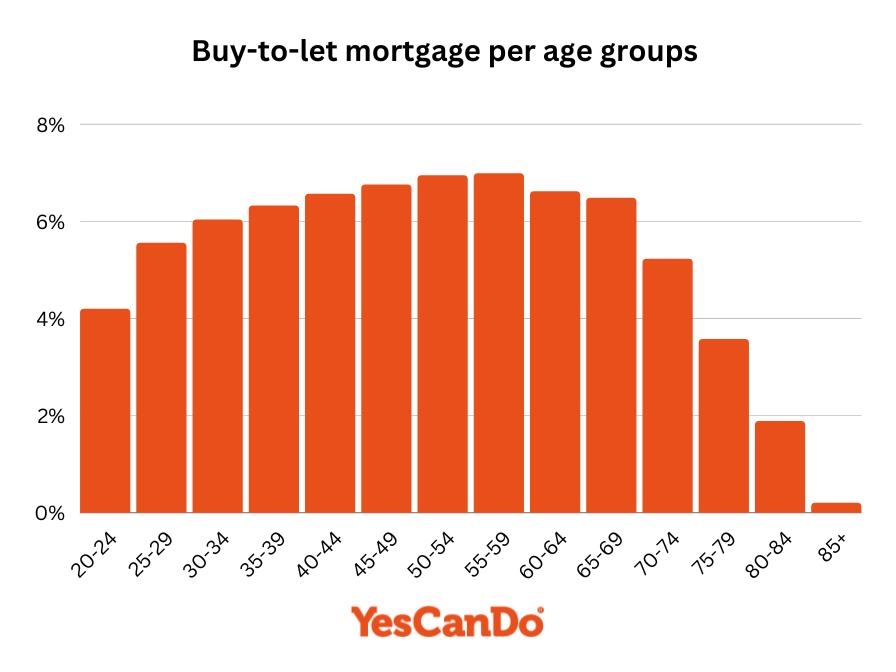 DATA SOURCED FROM YESCANDO MONEY
Getting a buy to let mortgage at 21 or over
With few mortgage providers lending to applicants who are 18, it is advisable to wait until you are 21 before applying for a mortgage.
At this age, you will have had enough time to build up your credit file and you may be within the earnings threshold that most lenders consider when assessing your approximate annual income.
If you pass the lender criteria for a buy to let mortgage you are likely to be eligible for a residential mortgage too. However, there are a few key differences with buy to let mortgages, as lenders will also consider the following when deciding on your eligibility.
Landlord experience
If you are a first-time property buyer with no prior landlord experience, you may have a harder time getting a mortgage than a homeowner or a landlord who has a proven history of making mortgage repayments. This isn't to say it's impossible but if you have never had a mortgage before, you may require a specialist lender if you intend to purchase a buy-to-let property.
The type of property
Most lenders only consider traditional bricks and mortar-type properties when accepting applications for buy-to-let mortgages. If you are thinking of buying a flat or a standard house, you should be eligible for a mortgage, provided you meet the other requirements set out by the lender.
But if you are thinking of buying a property built using non-standard construction, such as wood or concrete, you may require a specialist lender for your mortgage.
The state of the property
Lenders will usually decline an application if the property is in need of extensive refurbishment. This is partly because landlords are unlikely to make a rental income if the property they have bought isn't fit for their tenants to live in.
As lenders will take your expected rental income into account when considering your affordability, you should limit your property search to those that tenants will be attracted to.
Speak to an independent mortgage advisor at YesCanDo Money
For tailored advice related to your age and circumstances, get in touch with a member of our expert team. We will point you in the direction of those lenders that are more likely to consider your mortgage application and will give you all the practical support you need to ensure your chances of success.
Lets start your Buy-To-Let journey today!
FAQS
The minimum deposit for a buy-to-let mortgage that lenders ask for is 15% of the property value and the maximum is usually around 40%. If you are able to make a larger deposit, you may be eligible for a mortgage with lower interest rates.
The maximum you can borrow is linked to the amount of monthly rental income that you expect to receive. The mortgage provider will usually need this to be 25-30% higher than your monthly mortgage payment.
The limit is usually 85 although some lenders will set the limit at 75. In some cases, there may be no upper age limits at all. Of course, you will need to have sufficient retirement income and savings in place to meet the rest of the lender's mortgage eligibility criteria.
Further Buy-to-let mortgage advice:
Lets start your Buy-To-Let journey today!
Speak to a mortgage broker at YesCanDo Money
As mortgage brokers, we have a lot of experience helping customers buy their first buy-to-let property.  We also have expert buy-to-let mortgage advisers that have lots of experience in helping and arranging buy-to-let mortgages for applicants aged 21 – 60 years old.
Whether you're 21 or 85, employed or self-employed, we can provide mortgage advice with a establish online mortgage advisor that is based on your particular set of circumstances. YesCanDo Money is authorised and regulated by the Financial Conduct Authority, so you can be assured of impartial mortgage and specialist financial advice when you book an appointment with one of our expert advisers. Contact us today if you would like any more information and begin your mortgage journey with us.