When getting a mortgage, your level of borrowing doesn't have to be based on your income alone. If you want to move into a property with others, be that a partner or a friend, you may be able to borrow more money for a home loan if each party is named on the mortgage application.
Keep reading to learn more and then get in touch with our team if you want more information about joint mortgages and the steps you need to take to apply for one.
How does a joint income mortgage work?
Joint mortgages are not unlike mortgages that are in a single person's name as the same affordability criteria will apply.
When assessing the amount potential joint applicants can borrow, lenders take into account both individuals' income sources. This often leads to larger borrowing amounts than if one applicant were applying alone. By combining incomes, you stand a greater chance of getting an increased-size mortgage.
All parties need to take shared responsibility for paying off the loan, however, so everybody needs to be aware of their obligation before putting their names on the mortgage.
There are two ways to own a property with somebody else – as joint tenants or tenancy in common.
Joint Tenants: Each person on the joint tenancy has equal rights to the property.
Tenants In Common: Each person on the agreement owns a different share of the property.
Who can apply for a joint mortgage?
It's usually the case that married or civil partners will apply for a mortgage together. However, there are circumstances where up to four people can borrow for a mortgage, such as a group of friends wanting to move into together.
You can also apply for a joint-income mortgage with a family member if you need their help in getting you onto the property ladder.
Business partners might also apply for a mortgage together if they want to buy business premises or purchase an investment property to make rental income.
How much can I borrow with a joint mortgage?
The income required for a mortgage is often hard to achieve on a sole salary. Getting a mortgage with someone else means that you will be able to borrow twice the amount o could with only one income or even more. This is because you stand a better chance of passing a lender's affordability assessments with two or more incomes combined.
We go into further detail about potential loan amounts below.
Can I get a joint mortgage but only one income?
Absolutely, getting a joint mortgage with just one income is indeed possible. When two or more individuals join forces to share the responsibility of mortgage repayments, it doesn't necessarily mean everyone involved has to bring in an income.
There could be a multitude of reasons why one party isn't earning, such as taking on the role of a stay-at-home parent or being in-between jobs. In these cases, mortgage lenders will assess the affordability based on the sole income earner.
Keep in mind that even without an income, the non-earning applicant will still be considered a joint mortgage holder and will be equally responsible for making those mortgage repayments. Both applicants must also pass the lender's credit and background check requirements.
Although the maximum loan amount might take a hit when relying on just one income, having a joint applicant with an impressive credit score and a solid financial track record could work in your favour when applying for a mortgage. As always, it's wise to have a chat with a mortgage broker or financial advisor to discuss your unique situation and discover the most suitable mortgage options tailored to your needs.
How much can a couple borrow for a mortgage?
When working out how much you can borrow, a lender will use a joint affordability calculator to calculate the maximum amount. They do this by multiplying your household income by a particular figure.
Most lenders use an income multiple of 4.5 so you may be offered a loan amount of 4.5 x your annual income.
In the right circumstances, some lenders will use a higher income multiple when working out how much you can borrow, usually up to 6 x annual income.
For couples applying for a joint loan, lenders will usually offer a borrowing amount based on the combined income of the two joint applicants. However, some lenders will use a particular multiple for the highest earner's income and then add the income of the lower earner to the total.
For an idea of how much you may be able to borrow for a joint-income mortgage, check out the example calculations below.
Example calculations
Learn how much can you borrow with our example calculations and our combined mortgage affordability calculator.
Our table shows you how much different income multiples and your joint income can affect the size of your loan.
| Combined Income | Multiple of 4 | Multiple of 4.5 | Multiple of 5 | Multiple of 5.5 | Multiple of 6 |
| --- | --- | --- | --- | --- | --- |
| £40,000 | £160,000 | £180,000 | £200,000 | £220,000 | £240,000 |
| £50,000 | £200,000 | £225,000 | £250,000 | £275,000 | £300,000 |
| £60,000 | £240,000 | £270,000 | £300,000 | £330,000 | £360,000 |
| £75,000 | £280,000 | £315,000 | £350,000 | £385,000 | £420,000 |
Getting a mortgage with joint income made easy
Put the odds of mortgage approval in your favour with the help of a qualified and experienced mortgage broker.
As lenders take a range of factors into account when working out how much to lend their customers, above and beyond the income multiples they generally use, the actual figure attached to your loan amount may be slightly different.
A mortgage broker can discuss these factors with you so get in touch with our team to find out how much you may be able to borrow based on your set of circumstances.
Joint Mortgage Calculator
Discover how much you can afford and the repayments for your joint mortgage with our two helpful calculators below.
Joint Mortgage Affordability Calculator
Mortgage lenders use mortgage affordability checks when reviewing your mortgage affordability. To get an estimate of the amount you could potentially borrow for a home loan based on your shared income, use our mortgage borrowing calculator below.
Enter your sole or joint income below and see how much you can borrow.
Joint Mortgage Repayment Calculator
To calculate the mortgage loan size you may be eligible for, enter your total household income into the calculator.
Let us calculate it for you, it wont cost you anything
How a broker can help secure a joint mortgage
Most lenders offer joint income mortgages but to improve your chances of approval, it's wise to speak to a specialist mortgage broker, such as ourselves.
Our team of expert mortgage advisors will:
Search the mortgage market for the lenders most likely to consider your joint mortgages application
Advise you on the steps you can take to improve your affordability
Narrow down our search to the lenders who may be willing to use higher-income multiples if you need help with affordability
Talk to you about the eligibility criteria set by most lenders
Advise you on the steps you may need to take to ensure mortgage approval.
Did you know you can get a joint mortgage with only one person owning the property? It is called a joint borrower sole proprietor mortgage < read our fully comprehensive guide.
Getting a mortgage with joint income made easy
Put the odds of mortgage approval in your favour with the help of a qualified and experienced mortgage broker.
Mortgage Lenders Eligibility criteria
The size of your household income can affect how much mortgage you are offered but this isn't the only deciding factor. UK mortgage lenders assess eligibility on other factors too, such as the following.
Deposit size
You're in a fortunate position as a joint borrower as you may be able to raise the funds for a bigger deposit if you are combining incomes. The more you can put down as a deposit the better, as you will qualify for more competitive deals with potentially lower interest rates.
There are lenders who will accept your application if you can only put down a small deposit – the minimum accepted by most lenders is 5% of a property purchase – but your loan payments will be higher due to the increased interest rate they will charge you.
As such, try to raise as much money as you can for the deposit. If you can cover more of the property price in your downpayment, more lenders and deals will open up to you.
Employment types
People in full-time employment are more likely to be accepted for a mortgage than self-employed mortgage applicants as their income is considered more secure by most mortgage providers.
This doesn't mean your mortgage chances are zero if you are self-employed, but you may be subjected to stricter criteria by the lenders willing to consider your application.
If you struggle to get accepted for a loan because of your employment type, you might have a better chance of getting a loan from one of the specialist lenders on the market who cater to people with your employment status.
For joint mortgage applications, there is no requirement for all joint borrowers to have the same income type. As such, one applicant could be a PAYE employee and the other could be self-employed. Provided you both meet the lending criteria set out by your potential mortgage provider, you may be accepted for a loan.
Living expenses
As part of your affordability assessment, the lender will take a look at your expenses, such as your bill payments, debt repayments, and other expenses linked to your living costs and spending habits.
Mortgage lenders do this because they want to make sure you can afford your monthly repayments. So, even if your income is high, you might still be turned down for a mortgage if your level of spending is also high.
In the case of joint income mortgages, the monthly outgoings of each applicant will be considered. As you're all jointly responsible for paying off the mortgage, your chances of approval may be reduced if one applicant is on a low income and has particularly high outgoings, even if the others have fewer expenses.
Before applying for a mortgage, it's a good idea for each applicant to cut down their expenses as they will then have more money in the bank for the monthly repayments required by a lender. This will definitely improve your mortgage chances.
Credit record
Your credit record might be glowing but in the case of joint mortgage applications, your ability to get a mortgage may be negatively affected by a joint applicant with a bad credit history. It's still possible to get a home loan in this scenario but the number of lenders and deals open to you could be limited. You might also be subjected to higher interest rates.
You should also be aware that your credit rating could go down if you get a mortgage with somebody with a poor credit history. This could affect your borrowing potential in the future so this is something to consider before you make your application.
The number of joint vs sole mortgages that completed in 2022
Below is a pie chart that shows the number of both sole and joint mortgages that YesCanDo Money helped arrange in 2022.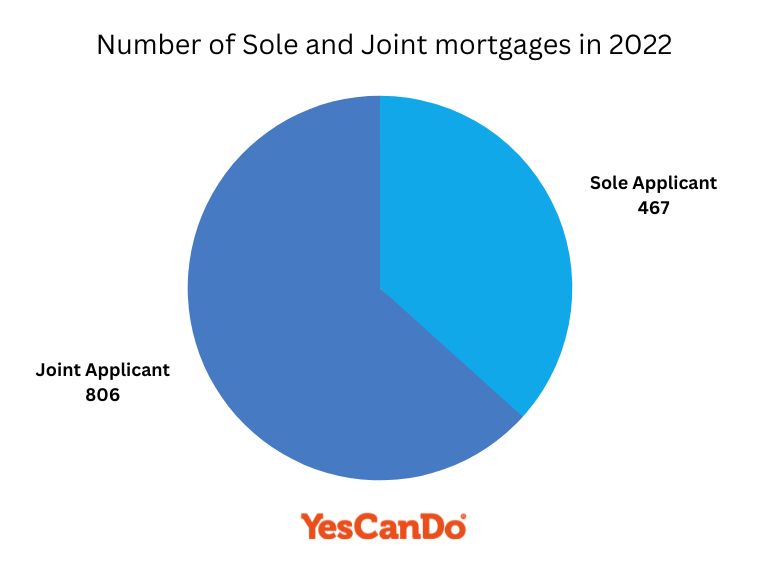 Getting a mortgage with joint income made easy
Put the odds of mortgage approval in your favour with the help of a qualified and experienced mortgage broker.
YesCanDo Money: your joint mortgage experts
The team at YesCanDo Money are experts on a range of different mortgage subjects, including the ins and outs of joint mortgage applications.
So, if you're currently considering joint mortgages with other borrowers, get in touch and we will help you get a fantastic mortgage deal that is right for your situation.
Call us at 033 0088 4407 or send us a message on WhatsApp. Alternatively, use the contact form below and a member of our team will get back to you.
FAQs
What if one, or both of us, is retired?
If one of you is retired, you should still be able to get a joint mortgage provided you can afford to make the payments required. Your chances will be improved if the lender takes the retired applicant's pension into consideration.
If you are both retired, you may still be offered a mortgage if you are both receiving enough pension or if you have income from other sources. We offer free mortgage advice to customers who are of (or near) retirement age so get in touch with us for a discussion about your mortgage options.
Can you have a joint mortgage if only one person is working?
Yes, but the employed applicant will need to earn enough to afford the mortgage payments, both as they are now and in the future if interest rates rise.
What happens if you have a joint mortgage and split up?
There are several options available to you if you and your partner split up.
For example, you could:
Transfer the mortgage to one person - If the person remaining on the loan has the financial means to buy out their ex-partner and afford the monthly payments, this can be a good solution.

Sell the property and split the proceeds between you - This is assuming both of you are happy to vacate the property.

Continue making repayments on the mortgage together - This can be a good idea if you're approaching the end of the loan term.

Find a guarantor - The person remaining in the property could consider a guarantor mortgage if they don't meet the affordability requirements for the joint mortgage.
Other options are available to you so seek advice from a legal professional or one of our brokers if you find yourself in this situation.
Can I get another mortgage if I already have a joint mortgage?
Yes, but how much you can borrow for a mortgage will depend on the purchase price of the second property you are considering and your ability to pay the mortgage repayments on two different loans.