While it's higher than the average for most mortgages, borrowing 5x your salary is very possible under certain circumstances.
If you are about to search the mortgage market and you're hoping to purchase a property but are needing a higher-than-average income multiple, it makes sense to be aware of the process and criteria before starting to your search.
In this guide, we will cover taking out a mortgage at 5x your income and how to go about it, and how to put the odds to your advantage.
Can you get a mortgage based on 5 times your salary?
Absolutely, it is possible to acquire a mortgage higher than the average mortgage lender average income multiple. The average income multiples usually stand at 4-4.5 times your annual salary; however, certain mortgage lenders may be open to lending up to 5 times your yearly earnings!
Can you get a mortgage multiple higher than 5x?
For individuals who qualify for higher income multiples, there may also be a possibility of obtaining mortgages based on 6 or even 7 times your salary in special cases and certain professions. However, there are a hand full of mortgage lenders who don't have any upper income multiple limits.
When exploring higher-income multiples it will be worth having a chat with a mortgage broker who will have access to the whole mortgage market. All mortgage providers have their own mortgage repayment calculator as well as their own income affordability calculator.
Get help from a broker
Mortgage brokers have access to all these and will soon be able to work out your maximum borrowing power. If you can provide the necessary proof of annual income by providing your last 3 months' payslips alongside 3 months' bank statements this can be quickly calculated.
Achieve your best income multiple for your mortgage
Put the odds of mortgage approval in your favour with the help of a qualified and experienced mortgage broker.
Calculate how much you can borrow
Are you uncertain about the amount of money that can be borrowed for your next home? Our affordability calculator is here to give you a rough idea of what is possible based on your income only. All it takes is a small amount of information from your end, and our calculator will show an estimate of just how much you may be able to borrow — based on different income multiples.
Following this, get in touch with our experienced advisors for guidance and a friendly fee-free mortgage service that does everything for you.
Mortgage Affordability Calculator
The first question you should ask yourself when starting your mortgage journey is How Much Can I Borrow for a Mortgage? It is important to get a picture of your affordability, use our simplistic affordability calculator below, you can quickly determine the sum of money mortgage providers is willing to lend. Just plug in your total household income and let us do all the work! Remember these calculations should be used as a rough guide, for a more personalised calculation get in touch with our fee free mortgage advisors.
Test out a 5x income multiples calculator based on annual income and compare this to how much you could borrow based on 4.5x or 5.5x. Get a better understanding of what works best within your budget while helping make an educated decision when selecting the right mortgage product for you!
Enter your sole or joint income below and see how much you can borrow.
Mortgages 5 times salary: Example income multiples table
Depending on your annual salary, you will be able to borrow a certain amount for your mortgage. The salary multiple tables below are merely an approximation and to give you a rough idea of your borrowing potential.
| Salary | 4.5x Salary | 5x Salary | 6x Salary |
| --- | --- | --- | --- |
| £25,000 | £112,500 | £125,000 | £150,000 |
| £30,000 | £135,000 | £150,000 | £180,000 |
| £35,000 | £157,500 | £175,000 | £210,000 |
| £45,000 | £202,500 | £225,000 | £270,000 |
| £55,000 | £247,500 | £275,000 | £330,000 |
| £65,000 | £292,500 | £325,000 | £390,000 |
| £75,000 | £337,500 | £375,000 | £450,000 |
| £85,000 | £382,500 | £425,000 | £510,000 |
| £95,000 | £427,500 | £475,000 | £570,000 |
| £105,000 | £472,500 | £525,000 | £630,000 |
How to go about borrowing 5x your salary
Before deciding if a high-income multiple mortgage is best for you it makes sense to check that the mortgage will be affordable for you. At YesCanDo Money our advisors are here to ensure that your decision-making process is as stress-free and informed as possible.
Lenders Criteria
All UK lenders will want to see proof of income. If you are salaried this will be as simple as seeing your last 3 months' payslips to prove a stable income. If you are self-employed you will need to provide your last 3 years SA302s and tax calculations. This will show the lender that you have the ability to generate a steady income for the 3 years.
All lenders will want to see your latest 3 bank statements. This will show that you generate a steady income and also show any regular monthly payments and commitments you are paying.
It is crucial to remember that the opportunity of obtaining a competitive interest rate, even with meeting the 5x salary requirement for mortgages, may be limited. With there being over 100 mortgage providers it makes sense to talk to us! If not done efficiently, any wrong decision could add up over time and raise your overall debt amount – hence why collaborating with a helpful independent fee-free broker such as YesCanDo Money is so critical.
When it comes to 5x salary mortgages, you may want to bear in mind that each mortgage lender will have their own criteria, as well as ways of looking at income multiples when reviewing mortgage affordability. Additionally, these lenders often take other sources of income into account such as investments or benefits on top of your wage.
Achieve your best income multiple for your mortgage
Put the odds of mortgage approval in your favour with the help of a qualified and experienced mortgage broker.
Other factors that affect your mortgage application
Not only will your earnings affect the decision of your application approval, but several other aspects may come into play too. Although each lender has their own set of requirements and rules, there are some other fundamentals you should be aware of:
4 main points that's can affect your mortgage application
Your spending habits and outgoings
Even if you have a strong income, how you manage that income will be critical. Mortgage applicants will appear more secure if they demonstrate that they are in control of their spending and outgoings. Instead of using income multiples as their barometer for approval, some mortgage lenders calculate by contrasting earnings with expenditures. This is known as a debt-to-income ratio.
Your profession and earnings
Lenders tend to look at 5x salary mortgage applications far more favourably for certain professions. Amongst many others, these include Doctors, dentists, teachers accountants, and lawyers.
There are a few lenders that even specialise in mortgages for a specific profession. A good example of this is the Teachers Building Society which offers an exclusive 5x salary mortgage to teachers that earn at least £200,000.
There are many banks that offer a 5X salary mortgage if you have a bank account with them. An example of this is Barclays. If you possess a Barclays premier account and receive an annual income of more than £75,000 into it, this could be the perfect option for you! Lenders are likely to provide you with a mortgage which is equivalent to 5 times your salary based on certain criteria. To qualify for this you must have:
at least £75,000 a year paid into your Barclays premier account
or you have savings in the account of over £100,000
Deposit amount
By placing a larger deposit upfront, you increase the odds of getting a higher multiple for your mortgage. Generally, to land a 5x salary mortgage, you'll need to provide at least 15% of the total value ( 85% loan to value). The higher the deposit the more lenders will have open to you.
Credit history
If you are wanting a higher income multiples mortgage you will need to have a good credit score. It makes sense as you are asking a lender to take a higher risk by lending you more than the average salary multiple. Why would it be acceptable to have bad credit? A credit report will show missed payments on loans or credit cards.
If you have a poor credit rating with one missed payment and have a good reason for the missed payment it is likely to be considered. However several missed payments or defaults will not be acceptable to most lenders when you are wanting a 5x salary mortgage.
What score is needed?
Every lender will assess your credit history before they approve a loan. A low credit score doesn't necessarily mean that you can't get financing, however. If you're in this situation, then it might be worth considering working with a broker who specialises in bad credit mortgages to help make the process smoother.
Don't forget, having a competent and experienced broker is essential in order to successfully navigate the application procedure and discover the ideal lender for your specific circumstances.
Which mortgage lenders offer 5 times salary mortgages?
At YesCanDo, our team of highly skilled professionals have experience with the complexity that comes with finding a mortgage for large income multiples such as 5x. We are here to make it easier for you by walking you through each step and connecting you to mortgage lenders who best suit your specific needs and also have the lowest interest rates.
Our team of expert fee-free mortgage advisors has access to around 100 UK mortgage lenders, from the well know high street lenders all the way to specialist lenders that provide mortgages with a 5x income multiple and higher. We're a whole-of-market broker meaning we can search through any available deals and rates on your behalf, guiding you every step of the way when it comes to satisfying each lender's individual criteria.
You will find that more traditional high street mortgage lenders like Barclays, Santander, and Halifax will consider a 5x to 5.5x income as their highest lending limit. – Grant, Mortgage Advisor
Our knowledgeable team is here to assist you in finding a great lender that suits your needs and ultimately getting the mortgage that's perfect for you. Don't wait any longer, take the first step on your path toward homeownership by reaching out to us today!
Get your best mortgage with the help from an experienced mortgage broker
YesCanDo Money understands that purchasing a home is a substantial financial milestone in your life. This is the core reason why we're here to assist in making the process as effortless and stress-free as can be. We have a team of qualified mortgage advisors who have years of experience and knowledge about high-income multiple borrowing. Increase your chances of being able to borrow up to 5 times your annual salary on residential mortgages. YesCanDo Money's talented team will provide you with expert guidance as they strive to secure the best mortgage deal for you. Rest assured knowing that our knowledgeable staff have your best interests in mind and are equipped to handle any situation!
Our fee-free team are here to help
Our advisors are always up to date with the most current market movements and possess extensive knowledge about where to get great deals. With considerable financial expertise, they can assist you with navigating the intricate process of large borrowing. From gathering your paperwork together to comprehending your finances, our fee-free broker will be there to help. We will guide you throughout the journey while giving helpful advice and support along the way. We'll work closely with you in order to assess if going beyond traditional lending is suitable for both present and future circumstances.
Reach out to us today at 033 0088 4407 or online and request your no-cost, obligation-free introductory consultation. Our team is ready to assist you in realising the dream of becoming a homeowner or moving to your next abode! Rest assured that our helpful advisors will help you achieve your property goals.
Achieve your best income multiple for your mortgage
Put the odds of mortgage approval in your favour with the help of a qualified and experienced mortgage broker.
House Price to Income ratio in England
In England, affordability of housing is defined by comparing the price range of houses to average household incomes.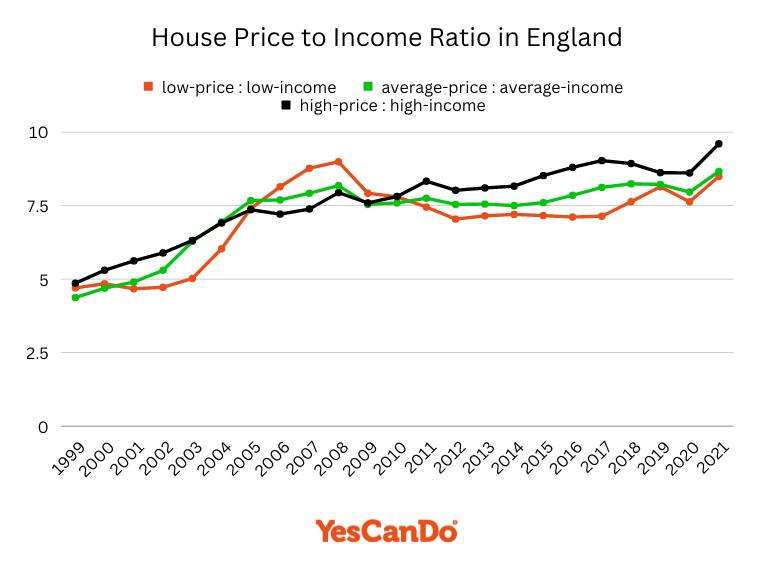 This graph was created by YesCanDo | Data Source: Office of National Statistics (ONS)
Keypoints
At the close of this financial year on March 31, 2021, England's average home cost stood at 8.7 times the annual disposable household income; in Wales it was 6.0 and Scotland 5.5 respectively. These numbers represent a marked difference between all three nations' statistics when compared to one another!
In the North East of England, a low-income household (10th percentile) would have to allocate approximately 12 years' worth of income for an average-priced home – by contrast, 40 years of income is required to acquire similar property in London.
In the country's most budget-friendly region, the North East, homes of the lowest value (10th percentile) can be obtained for about five times a tenth percentile or greater disposable family income.
In London, you can find pocket-friendly homes if you have five times the disposable household income of an average resident (80th percentile or higher).
FAQ
Can you get an interest-only mortgage on 5x your salary?
If you are wanting an interest-only mortgage this may be possible when you're looking for a higher income multiple. However, you will almost definitely need a larger deposit.
What are the typical rates you should expect?
The success of your application is vital to the amount you pay in total. The more appealing and secure a borrower you appear, the greater trust mortgage lenders will have in you - which can result in better rates for you!
Can you get 5 times your salary based on joint incomes?
Are you and your partner planning on getting a mortgage? No worries! A joint mortgage considers the incomes of both parties, which could raise your borrowing capacity. So if you're either buying or upgrading to a bigger house, then seriously consider applying for a joint mortgage – it may just help take things up another notch!