Searching for a mortgage can be an exciting yet daunting task, and you may be surprised to learn that it's possible to borrow more than four times your annual salary in some cases! Mortgage affordability goes beyond just your income; a variety of factors come into play when determining your maximum borrowing limit. In this comprehensive guide, we'll delve into these crucial elements, explore how they can enhance your borrowing potential, and direct you towards expert advice and guidance on this important subject.
We'll provide an in-depth look at securing a mortgage with 4 or 4.5 times your income while ensuring you receive the most competitive rates available. Let's embark on this journey to help you achieve your dream of homeownership.
Is it normal for a UK mortgage lender to offer you a mortgage 4.5 times salary?
While it is usually assumed that you can borrow an income multiple of up to 4-4.5 times your salary from high street lenders, the reality is that this figure is truly just an average. In actuality, depending on your situation and mortgage lender criteria, you may be able to secure a mortgage loan for 5 or even possibly 6 times your annual salary!
In certain situations and professions, you may be able to acquire a 7 times salary mortgage, yet this is highly uncommon. These are generally only available to those who can demonstrate they possess considerable wealth.
Discover how much you're eligible to borrow!
When it comes to determining how much you are able to borrow for your home, most mortgage lenders agree that a mortgage based on 4.5 times your salary is the ideal amount.
Not only will this enable you to purchase the property of your dreams, but also ensure you can comfortably make monthly repayments without any financial strain. It's an excellent starting point and should provide an accurate representation of what kind of mortgage could be available to you.
Take a look at our mortgage calculator now to see how much you can borrow based on 4.5 times your salary – just enter some essential information and we'll give you an idea of what the end result might be. In addition, if desired, for comparison purposes our calculator can also display the results from 5 or 6 times the amount as well!
Mortgage Affordability Calculator
Want to find out how much you can get approved for when it comes to a mortgage? Our mortgage borrowing calculator is the key! Just type in your total household income, and we'll do all the hard work of finding what kind of loan amount you may qualify for. Ready to start budgeting smarter? Let's go! Enter your monthly income here:
Mortgages 4 to 4.5 times salary: Example income multiples table
Depending on your annual salary, you will be able to borrow a certain amount for your mortgage. The salary multiple tables below are merely an approximation and to give you a rough idea of your borrowing potential.
| Salary | 4x Salary | 4.5x Salary | 5x Salary |
| --- | --- | --- | --- |
| £25,000 | £100,000 | £112,500 | £125,000 |
| £30,000 | £120,000 | £135,000 | £150,000 |
| £35,000 | £140,000 | £157,500 | £175,000 |
| £45,000 | £180,000 | £202,500 | £225,000 |
| £55,000 | £220,000 | £247,500 | £275,000 |
| £65,000 | £260,000 | £292,500 | £325,000 |
| £75,000 | £300,000 | £337,500 | £375,000 |
| £85,000 | £340,000 | £382,500 | £425,000 |
| £95,000 | £380,000 | £427,500 | £475,000 |
| £105,000 | £420,000 | £472,500 | £525,000 |
Are you looking to borrow more than 4.5 times your salary? Here's how!
If you need a higher income multiple such as a 4.5x salary or even 5x, in order to fund your a property purchase or a remortgage, and are sure that higher monthly payments won't be an issue for you, there are a couple of steps which will put you in prime position.
Get a mortgage for 4 to 4.5x salary with ease
Put the odds of mortgage approval in your favour with the help of a qualified and experienced mortgage broker.
Use an experienced mortgage broker
When searching for a 5x mortgage income multiple or even 6 times salary mortgage, you may face difficulty; however, getting in touch with a Mortgage broker who specialises in this kind of loan will definitely put the odds in your favour.
With most lenders having their own underwriting criteria for higher income multiples mortgages it is important that you get advice before you start your mortgage journey.
Your application for a mortgage is more likely to lead to a mortgage approval if you chose a lender that will understand your own personal financial situation.
Our team of mortgage advisers is very experienced with higher income multiple mortgages and have access to the lowest fixed rate mortgages. Reach out and we will let you know your maximum mortgage amount and provide you with free advice that requires no commitment on your part.
Even better, did you know there are fee-free mortgage brokers? All brokers get paid by the lender but some choose to charge their customers an admin fee of £500-£1000. YesCanDo, are a fee-free broker and does not charge its customers a penny for its highly-rated service. For over 30 years of mortgage industry experience it has been our core drive to save our customers money and time at every stage of the mortgage process.
Evaluate alternative sources of income to maximise your financial potential.
In addition to your salary from employment, some lenders will take into account other sources of household income such as:
benefits,
investments, bonuses, and commissions
or child maintenance.
It's important to look at the whole financial picture when it comes to applying for a mortgage. However not all mortgage providers will value these supplementary incomes equally so make sure you talk to an experienced mortgage broker about all of your incoming money streams; this way they can help determine which lender is best suited for you and do most of the hard work involved in finding an ideal match!
It probably goes without saying however you will get accepted for a larger mortgage amount if you are applying for a joint mortgage.
Check your credit file
Although it does not have a direct effect on your maximum borrowing amount, your credit history is essential to the mortgage application process. Make sure you are familiar with what lenders can see and that all of the info they have about you is accurate! Request a copy of your credit report right away in order to scan for any missing or wrong details that could impede various options available to you.
There are three major credit reference agencies in the UK:
Experian
Equifax
TransUnion (previously known as Callcredit)
They all offer their own version of a credit report, attentively you can use a company such as Checkmyfile UK.
Other influencing factors on borrowing caps
When assessing how much they are willing to lend you, lenders will consider more than just your yearly salary. It is crucial that you examine the other aspects which may affect your mortgage offer – both directly and indirectly – particularly if you hope to take out a loan larger than 4.5 times what you make annually. By being mindful of these factors, it can help increase the probability of receiving a favorable outcome when applying for a mortgage.
Annual salary/income
Your annual salary is one aspect to measure affordability, yet it also reflects the income multiples lenders take into consideration. The higher your wage, the more leniency from creditors in terms of what they can offer and how many will consider you as a legitimate applicant.
Mortgage lenders such as HSBC have been providing mortgages up to 4.49 times annual salary for those earning under £50,000 while offering a higher income calculations of 4.75 times between the salaries of £50,000 and £100,000. Those bringing in more than an astonishingly high yearly income of over £100K can receive a whopping 5.5x multiple on their mortgage!
Deposit amount/loan to value
The loan-to-value ratio (LTV) is the proportion of a property's total value you wish to borrow and can influence how much you are able to obtain from potential lenders. Also, the mortgage market offers more competitive mortgage deals and interest rates for lower loan to values. Therefore the more money you put down as a deposit the better the interest rate you will be able to get.
The Scottish Building Society, for example, offers up to four times your salary in mortgages with an LTV higher than 80%, but increases that multiple if you have more than 20% deposit.
Profession
Are you in a profession such as medicine, teaching, civil service, or legal services? If so, taking advantage of special mortgages could be the best option for your finances. Professional mortgages are often associated with lower interest rates and higher loan limits than standard options – if this applies to you then it's definitely worth exploring further how professional mortgages can benefit you!
Other outgoings
In order to maximise the amount you can get on a mortgage, it's important to talk with your mortgage broker about reducing costs on your monthly outgoings including credit cards, loans, and other borrowing commitments. Affordability checks on a mortgage take these into account and thus lowering them could have an effect on making sure you're in the best possible position and mortgage rate when applying for a mortgage.
Which mortgage lenders offer 4-4.5 salary multiples
The majority of lenders set their maximum borrowing limits on mortgages to a standard 4-4.5 salary multiples, such as Leeds Building Society, HSBC, and the Swansea Building Society. While all lenders will assess loan applications based on individual circumstances, there may be cases where the limit can be increased even beyond 4.5 times salary.
Get a mortgage for 4 to 4.5x salary with ease
Put the odds of mortgage approval in your favour with the help of a qualified and experienced mortgage broker.
Mortgage affordability in England
The below graph shows affordability in England which is defined by comparing the price range of houses to average household incomes.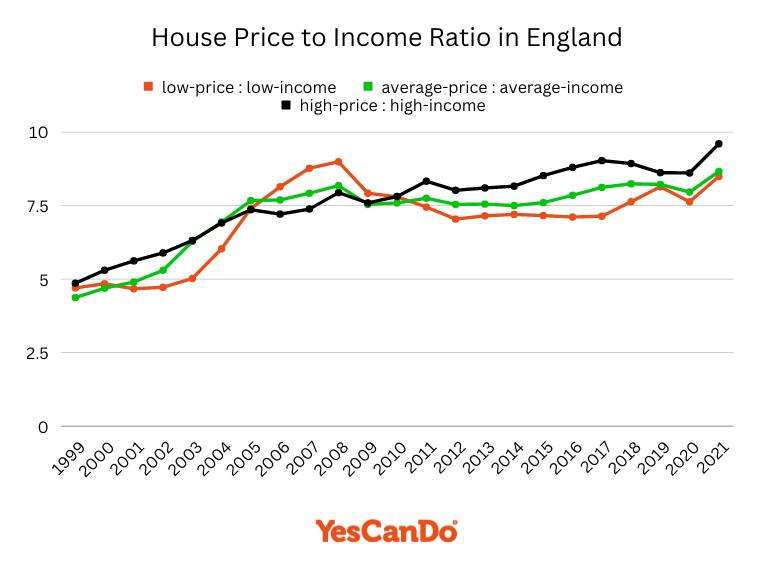 This graph was created by YesCanDo | Data Source: Office of National Statistics (ONS)
Key points
As of March 31, 2021, England's average home cost was recorded at 8.7 times the annual disposable household income; Wales and Scotland both checking in at 6.0 and 5.5 respectively—a noteworthy distinction between all three nations!
Astonishingly, low-income households in the North East of England would need to dedicate an entire decade's worth of earnings simply to afford a moderately priced home – whereas tenants in London are expected to sacrifice four decades' worth of wages.
In the most cost-efficient region of the country, homes that are valued at 10th percentile or lower can be bought for roughly five times a household's disposable income which is in the tenth percentile range and higher.
London has pocket-friendly housing options if you're one of the top earners in town, with a disposable household income five times that of an average resident (80th percentile or higher).
Use mortgage brokers experienced in higher multiple mortgages
When it comes to securing the perfect mortgage that fits your needs, having guidance from an expert can make all the difference. They will be able to aid you in negotiating for interest rates on common 4.5 times salary mortgages or even discovering lenders who are open to lending 6 times annual income! All of our advisors have access to every lender and plenty of experience finding higher multiple incomes mortgages with the best mortgage deals.
Call us for a chat with a mortgage adviser 033 0088 4407 or send in an inquiry via our online form. Got a question? Feel free to WhatsApp us for free advice also.
FAQs
How do 4.5 times salary mortgages work for joint applicants?
Similarly to single applicants, a joint income mortgage application will add together your incomes in order to calculate the potential loan amount. Notably, if one partner has a particularly high salary as opposed to both partners having average salaries it can cause an elevated income multiple for qualifying applicants.
What salary do I need for a 100k mortgage UK?
To be eligible for a £100,000 mortgage in the UK, your annual income should generally place you at 4-4.5 times that amount; though this can differ depending on external factors such as credit score and monthly expenses. For example, a gross yearly income of £22,222 - £25,000 would likely meet the criteria to secure one of these mortgages. However, it is important to note that requirements may vary according to individual financial circumstances and thus higher or lower salaries could also suffice.
How much mortgage can I get with 40k salary?
With an annual income of £40,000, you can likely borrow between 4-4.5 times your salary for a mortgage - equating to roughly £160,000 - £180,000. Nevertheless, it's important to note that this is just an estimation and the exact amount authorised by lenders will depend on various factors such as credit score and debt-to-income ratio.
Can you get a mortgage 5.5 times my salary?
It is possible to get a 5x, 5.5x or even 6x your income on a mortgage. Each lender has their own limit to the amount of money they'll provide you, known as a 'maximum income multiple', which is typically four or 4.5 times your annual salary. However, if you are among the lucky few whose total yearly income exceeds £60k-£100k (or more), then it's possible for them to give out larger sums - so don't sell yourself short.
If you're a young professional, such as an accountant, doctor, dentist, lawyer, or pilot - you might have the potential to receive even more than 5.5 times your income in mortgage financing! In fact, it's possible for qualified applicants to get up to six times their salary.
Will I need a good credit rating to get a higher income multiple
It is going to be essential that you have a very good credit score to get higher income multiples. You will need to be up to date on all debt repayments, have no bad credit, and also have a good debt-to-income ratio. Although most lenders will need the above you may be able to find a specialist lender that might consider you however it will be with a far worse interest rate.