The average mortgage in the UK is around £200,000 which is a significant rise of 24.2% since 2020.
With this said it is highly likely that you could be after a £200k mortgage, if so let's look at how much your monthly repayments will be.
Mortgage repayment on 200k
The mortgage repayments on a £200,000 mortgage will be £948 a month based on a mortgage rate of 3% on a 25-year term.
The answer isn't straightforward as the above as there are a number of personal financial factors that will determine which mortgage you can get and what you will pay each month.
Keep reading to learn more and then get in touch with our team of mortgage brokers if you would like to explore your mortgage options.
Wondering how much is a £200 000 mortgage a month UK? Although it is possible to work out a rough figure the actual cost of your monthly repayments depend on your financial situation and will be affected by…
The rate of interest
The length of your mortgage term
The mortgage type
The size of your deposit
Your credit rating
The table below shows how the interest rate and the loan term can affect the monthly repayments each month on a £200k mortgage. These are example calculations only as your actual repayments may vary.
| Loan Tearm (in years) | 2% | 3% | 4% | 5% |
| --- | --- | --- | --- | --- |
| 20 | £1012 | £1,109 | £1,212 | £1,320 |
| 25 | £848 | £948 | £1,055 | £1,170 |
| 30 | £739 | £834 | £954 | £1,074 |
| 35 | £663 | £770 | £885 | £1,010 |
If you would like to know the monthly repayments figure on a specific amount feel free to speak to a member of our team for professional advice on the overall cost of your expected mortgage repayments. To get started you can use our quick mortgage calculator to work out an estimate of how much is a 200k mortgage per month.
To get an estimated figure, use the mortgage repayment calculator below.
UK Mortgage Calculator 200k
Let us calculate it for you, it wont cost you anything
How does interest rate affect repayments on a £200k mortgage?
As well as the capital, you will also have to pay interest on your loan.
Most lenders offer interest rates from 1% – 5%. The rate you are offered will depend on the size of your deposit, your credit history, and the mortgage type. The higher the monthly interest rate the higher your monthly repayment will be so this is why it's crucial to take the necessary steps to secure a lower rate of interest on your mortgage.
You can reduce the monthly repayment interest total on your mortgage by…
Increasing the size of your deposit
Improving your credit score
Choosing your loan term carefully
Shopping around for a more affordable mortgage
How does the mortgage term affect £200k mortgage repayments?
Mortgages are usually 25 years in length but you can take out a mortgage over a shorter or a longer term if you prefer.
It's sometimes advisable to opt for a longer term as this is one way to reduce your monthly repayments. This will help you make savings each month although it's worth noting that the total capital repayment of your mortgage will be larger due to the extra and total interest paid over the lifetime of the loan.
Short-term mortgages come with lower interest rates but the monthly repayment will be higher because the mortgage will be spread over a smaller period.
When deciding on the loan term, it is advisable to consider how much you can feasibly afford to pay each month. The table below indicates how much you will be expected to pay on a £200k mortgage at 3% interest between 5 and 30 years.
| Term | Monthly Repayment | Interest | Total Repaid |
| --- | --- | --- | --- |
| 30 years | £843 | £103,495 | £303,495 |
| 25 years | £948 | £84,478 | £284,478 |
| 20 years | £1,106 | £66,169 | £266,169 |
| 15 years | £1381 | £48,853 | £248,853 |
| 10 years | £1,931 | £31,729 | £231,729 |
| 5 years | £3,594 | £15,616 | £215,616 |
The table above is based on a £200,000 mortgage with an interest rate of 3%. We have rounded the amounts to the nearest £.
How does the mortgage type affect £200k mortgage monthly repayments?
The interest on your mortgage will be calculated differently depending on the type of mortgage you choose.
Which mortgage types affect mortgage monthly repayments?
Fixed-rate mortgage
Your interest rate will be fixed over a set period of time. At the end of the timescale, you can negotiate a new mortgage fixed term rate or you can let your mortgage revert to your lender's standard variable rate.
Tracker mortgage
Tracker mortgage interest rates will change in line with the Bank of England base rate during the duration of your mortgage. If the base rate is low, this can make your mortgage more affordable than some fixed-rate mortgages but if the base rate increases, you may have to pay more interest than someone on a fixed deal.
Interest-only mortgage
Your monthly repayments will be lower as you only pay the interest on your mortgage. However an interest only mortgage usually can come with a higher rate of interest so this might not be the cheapest overall option for you. You also have to make the capital repayment in full at the end of your mortgage. A standard repayment mortgage may be a better alternative for you, despite the higher repayments, if you are worried about paying the capital at the end of your term.
Which type of mortgage is best for you?
Well, that depends on the deals that are accessible to you and your financial circumstances. If you would like to know more, get in touch with one of our established online mortgage advisors and we will provide mortgage advice based on your situation.
£200000 mortgage repayments vs interest only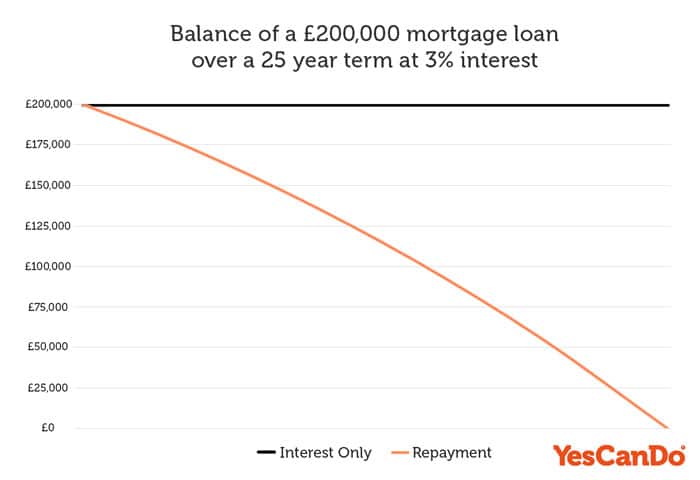 How does the mortgage deposit affect £200k mortgage repayments?
If you can put down a higher deposit and if you have a good credit rating, your mortgage lender will see you as less of a risk. This can lead to a mortgage deal with better terms and a lower interest rate so your mortgage repayments should be lower.
Mortgage deals will still be open to you with a lower deposit but you will have to pay more on your mortgage each month.
Find out how much your mortgage payments will be
How does credit history affect £200k mortgage repayments?
With very few mortgage providers lending to applicants with a bad credit history, it's advisable to do what you can to improve your credit rating if it is currently low.
With a good credit score, you increase the chances of having your application for a mortgage approved and more deals will open up to you with favourable rates of interest and lower monthly repayments.
It's still possible to get a mortgage loan monthly payment with a poor credit score but your choice of lenders may be limited. Your mortgage repayments may also be higher to offset the financial risk to the lender.
If your credit score is poor because you have a lot of other debts to pay, it might be worth delaying your mortgage until you are in a better financial position. This is because you take out a mortgage at your own risk. You will have extra costs to budget for if you purchase another loan and your home may be repossessed if you default on your mortgage payments. The equity released from your home may also be secured against it.
Other mortgage costs
When applying for a £200k mortgage, there are other costs that you need to factor in beyond the loan amount of your monthly mortgage repayments.
As such, you should factor in these costs when you're budgeting your finances.
Other costs include mortgage fees, such as the arrangement fee when you set up your mortgage with the lender, and the valuation fee which you may be expected to pay when the lender values the property you intend to buy. If you decide to overpay your mortgage or exit your loan term early, you might also have to pay your lender early repayment charges.
Other mortgage fees include the booking fee and mortgage account fee. If you choose to use the services of a broker, you may have to pay them a fee too. However, if you choose to use the services of YesCanDo Money, you won't have to pay us anything as we are a FEE-FREE mortgage broker.
You should also factor in property purchase costs, such as solicitors' fees, estate agent fees, survey fees and stamp duty, and there may be other fees to consider too.
For advice on how to reduce the cost of a mortgage, get in touch with our team for the tailored advice we can offer you.
Find out how much your mortgage payments will be
Salary needed for 200k mortgage UK
The amount of mortgage you will be permitted to borrow will be based on the income multiples used by the lender. Many lenders cap the mortgage multiple at 4.5 though some may consider lending an amount to you at 5 or 6 times your annual salary.
For lenders that multiply your income by 4.5, you would need to be earning around £45,000 a year if you want to qualify for a £200,000 mortgage.
If you find a lender that will multiply your income by 5 or 6, you could get a £200k mortgage with a salary of £37,000, provided you meet the rest of the mortgage lender criteria.
If you are applying for a joint mortgage, both incomes would be multiplied by the lender. As such, you may be able to get a £200,000 mortgage with earnings at an average figure of £25,000 if the joint applicant has an approximate annual income of similar value.
How YesCanDo Money can help compare fixed rate mortgages

If you're wanting to buy a house with a property value of £222,222 you will most likely need a mortgage of £200,000. Our specialist finance and mortgage experts can help you get the right mortgage deal.
If you are looking for a £200,000 mortgage but have the ability to afford higher monthly payments, you may want to consider a mortgage for £250,000 to see if it provides more suitable options for your financial goals.
Your exclusive mortgage expert will give you sound mortgage advice and also assist you with your mortgage application, liaise with your lender and other relevant parties, and give you all the advice you need on your mortgage journey.
Should you be interested in buy-to-let mortgages rather than residential mortgages, we can also put you in touch with specialist lenders who may be willing to give you a mortgage worth £200k.
To learn more, get in touch with an online mortgage advisor at YesCanDo Money today. All the advisors on our team are fully trained and experienced so can give you bespoke advice on a wide range of different mortgage subjects that befits your personal situation.