Are you starting the mortgage application process and feeling a little overwhelmed? Don't worry, YesCanDo Money is here to help! Our comprehensive guide has all the information you will need before making a mortgage application. Whether it's your first time or not, this guide will make the daunting task of applying for a mortgage much easier.
Ready to get started? Let us take away any stress with our step-by-step instructions on what it takes to apply for a mortgage today!
What does the mortgage application process involve?
Begin your mortgage journey on the right foot with an easy-to-follow guide. Below we provide you with 7 steps to ensure getting a great mortgage deal is effortless and successful!
1) Speak to a mortgage broker
Before you take any major steps, it's recommended to get in touch with an expert mortgage broker who can show you what size mortgage you will be able to get, the probability of being approved for a mortgage, and what type of mortgage could best accommodate your personal circumstances.
Not only will a broker give you insight into your mortgage affordability and which lenders to reach out to, but they might also recommend specific ones based on your individual needs. For example, if the details around your situation are intricate or unique in any way, then a specialist lender may be able to provide more suitable mortgage agreements than larger companies.
2) Get a mortgage agreement in principle
A mortgage Agreement in Principle (AIP), more commonly referred to as a Decision in Principle or Mortgage in Principle (DIP/MIP) is your first step towards securing the mortgage you need. It's an official statement from a lender that indicates how much they are willing to lend you – giving you confidence and peace of mind before you go house hunting! A mortgage agreement in principle will give you evidence to show estate agents that you are good for your money.
Get a Mortgage Agreement In Principle here >
3) Find your new home and make an offer
Now it is time to begin your search for the perfect home. Once you find one that suits you, make an offer on your chosen property and make sure you have your "Agreement in Principle" (AIP) handy. This will communicate to the vendor and estate agent that you are serious about buying, even if the property is highly sought after by others who may not be as prepared with their AIP!
It's important to remember that while you don't want to rush into your home search, many agreements in principle are only valid for 30 days with some lasting as long as 90. Taking the time to explore all of your options will help ensure you're making the right decision and have ample time on any agreement or offer.
4) Instruct a solicitor
A conveyancing solicitor is integral in the purchasing and mortgage process of buying a property; they'll ensure that all legal aspects are taken care of. Amongst their tasks, your chosen attorney will be responsible for:
Conducting thorough examinations and investigations to ensure that there are no complications or issues, such as planning matters or individuals with rights over the property; should be a prerequisite before any purchase.
ensuring you pay the correct amount of stamp duty – How much is stamp duty?
transferring funds
obtaining new title deeds
agreeing on a completion date
5) Make a formal mortgage application
Now that you have decided upon your mortgage type, it's time to officially start the mortgage application process! Ensure to gather all the necessary documents (check out our guide on How to prepare for a mortgage application for more specifics) and forward them to your lender or mortgage broker.
Your mortgage broker will be able to provide further guidance as needed with regard to what is required in order for a smooth transition in the mortgage process.
6) Get a valuation and survey booked
Before you commit to a property, it's wise that you get an independent valuation survey booked in. Not only will your lender do their own assessment of the property's worth, but this secondary appraisal could alert any issues such as mould or structural damage that may cost you money in the future. Getting an unbiased report can provide extra peace-of-mind and help make sure everything goes smoothly with your purchase.
7) Receive your formal mortgage offer, exchange contracts and move in
After obtaining a formal mortgage offer from your lender and completing all the necessary paperwork with your solicitor, it's time to exchange contracts, determine an agreed-upon completion date, and get the removal vans booked. Learn what happens between exchange and completion here.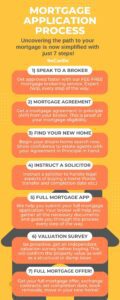 Make the mortgage application process a breeze with our expert FREE service!
Put the odds of mortgage approval in your favour with the help of a qualified and experienced mortgage broker.
Documents you'll need for your mortgage application
When applying for a mortgage, it is essential to ensure that your paperwork is properly organised right from the start. This will allow your mortgage provider to swiftly approve your application. To make sure everything goes as planned, here's a list of documents you'll need:
To qualify for a loan, you must provide evidence of your income. This will typically be the last three months' payslips or self-employed accounts documents as well as three months' bank statements.
Your most recent P60 document (illustrating your total annual earnings along with the taxes paid for that year)
To verify your identity, you will need to provide a valid passport or driver's license.
To validate your residence, a recent bill from utilities or credit card services is required.
To verify your deposit, provide a savings statement or similar form of proof.
If the deposit is a gift, you will need to provide a letter from the person gifting it.
Documentation of any additional rewards or commissions
If you are already a mortgage holder, please include your most recent mortgage statement.
a full credit history report
estate agent details
solicitor details
Don't be intimidated by the paperwork! Your mortgage broker or solicitor will show you precisely what to submit and guide you with ease through the process. When supplied with proper information and preparedness, getting a mortgage can be much less stressful.
Here at YesCanDo Money, we are dedicated to assisting you each step of the way. We will search the whole mortgage to get you the lowest interest rate possible with the lowest mortgage fees – and remember we will never charge you a penny for our services.
Get your credit rating
An impressive credit file and credit score can do wonders for your mortgage application, as it offers lenders an indication of your financial reliability and past credit management. Not only will a high rating increase the likelihood of approval, but also grant you access to more competitive mortgage deals.
Unfortunately, if your ratings are low, then the situation is reversed – not only does this reduce approval odds but also results in higher borrowing costs overall.
Get a free credit report with Checkmyfile
For those who want to get a full and comprehensive understanding of their credit score, Checkmyfile is the perfect solution. This credit reporting agency provides detailed reports from multiple sources such as Equifax, Experian, and TransUnion.
To access your *Free credit report you'll simply need to sign-up with basic information like name address or date of birth on their website – then you will have access to a free credit report* (*Try it FREE for 30 days, then £14.99 a month – cancel online anytime).
How a broker can help you get the best mortgage deal
Looking to maximize your odds of being accepted for a home loan? Working with an independent mortgage broker can be the best way forward. At YesCanDo Money, we have experienced and knowledgeable brokers who are well-known within the industry – they know exactly how to make sure you get approved! Our experts offer multiple helpful services such as:
We will analyse your financial situation and help you decide which mortgage option best suits you, the lenders to contact, and if a specific offer is right for you.
We'll save you the trouble of researching products and talking to mortgage lenders so that we can expedite this process.
Let us help you navigate the entire application process from start to finish and ensure that all of the required documents are sent directly to your lender.
We will help you secure the optimal mortgage rate and terms for your individual circumstances.
Let us do the hard work for you at YesCanDo Money. Our team of mortgage advisors is ready and waiting, so contact us today and we'll connect you with one who can start working with you right away.
Make the mortgage application process a breeze with our expert FREE service!
Put the odds of mortgage approval in your favour with the help of a qualified and experienced mortgage broker.
What do lenders consider when assessing applications?
All UK mortgage lenders typically have their own criteria when deciding mortgage approvals. Nevertheless, the majority of them would usually assess your salary, expenses, age, credit history, and employment status before coming to a conclusion.
Income
When applying for a loan, lenders will need to assess how much you and any other person involved in the purchase earns, as well as whether this income is consistent. This is typically achieved by examining your current pay slips or tax returns and SA302's if you are getting a mortgage as a self-employed person.
Outgoings
Before a lender can determine if you're able to manage your mortgage payments, they'll need proof of all financial obligations, like credit cards and personal loans. They will also want details on any car loans or pension plans you may have as well as childcare costs in order to ensure that the loan is financially feasible for you. Most lenders will want to see your last 3 months' bank statements for each account you have.
Credit history
Lenders will thoroughly examine your credit history to assess your capacity for loan repayment. This includes any prior loans and agreements such as credit cards, mobile phone plans, overdrafts, car loans and mortgages. Your credit reports also indicate the number of available credits you were granted along with how well you made payments on time.
Age
If you're over 75 years old, many providers won't allow you to take out a loan. But don't let that discourage you! There are still plenty of choices available for mature borrowers; all it takes is finding a mortgage provider who specialises in later-life lending if necessary.
Employment status
Even if you have a non-standard job such as freelancing, part-time work, or contracting, approval for your mortgage does not have to be out of reach. At YesCanDo Money, a mortgage advisor will go the extra mile to find the most suitable lender for you and help guide you through every step of the mortgage process. Rest assured that we are committed to helping make achieving your dream home an attainable one!
Property type
When it comes to securing a mortgage for non-standard property types such as thatched roof homes, listed buildings, and barn conversions – the process can be more difficult. However, don't despair! Our brokers may assist you in finding an appropriate lender who is best suited to your individual circumstances.
Deposit
Having a sizable deposit can be the tipping point for lenders to approve your mortgage application. By investing more of your own money into the property, you are seen as a less risky borrower. Don't worry if you don't have enough cash on hand though!
At YesCanDo Money, we will work with you to find favourable deals and rates that fit within your budget – even with smaller deposits.
Deposit source
When it comes to your deposit, mortgage providers are interested in the amount and where it originated. This is simply to guarantee that these funds have been obtained lawfully and adhere to anti-money laundering regulations. Our advisors will be more than happy to offer direction on how to authenticate the source of your deposit by presenting bank or savings account statements, evidence of a property sale, or proof of inheritance.
Affordability and mortgage repayments
Mortgage affordability checks are carried out by lenders on potential borrowers. This assessment assesses an applicant's financial status including their income, debts, and credit score – determining how much they can borrow from a lender. Through this process, buyers are able to understand how much money they qualify for and what fixed interest rates or monthly payments will be suitable when obtaining a new mortgage loan.
Make the mortgage application process a breeze with our expert FREE service!
Put the odds of mortgage approval in your favour with the help of a qualified and experienced mortgage broker.
YesCanDo Money can guide you through the application process for free
YesCanDo Money knows that applying for your first mortgage can be a challenging and confusing process. That's why we are here to assist you every step of the way. Our team of experienced, independent mortgage brokers will help guide you through the application while ensuring all necessary documents are gathered and advocating on your behalf with lenders. We make sure everything is taken care of so that you don't have to worry about missing any details!
Our advisors will give you access to unbeatable deals including unrestricted products that are not offered anywhere else. All of this without any cost – isn't it amazing? This is your chance to save money right from the start!
If you're looking for a mortgage but don't know where to start, we can help. Contact us today and one of our experienced advisors will give you the guidance and knowledge needed to make an informed decision. We are dedicated to finding the perfect mortgage solution tailored specifically to your needs! So take advantage of this opportunity by giving us a call on 033 0088 4407 or submitting an enquiry now so that you don't have to go through it alone!
FAQs
How long does a mortgage application take?
Submitting a formal mortgage application and getting it through to a mortgage offer can take up to a month or two if the process is uncomplicated. Generally, from mortgage application submission to completion, you should expect the process to take 2-4 weeks.
When should I apply for a mortgage?
When you're looking for a new home, getting pre-approved for your mortgage is beneficial and should be done before starting the house hunt. This will give you an edge over other buyers and make it easier to finalize once you find the right property. Additionally, having financing figured out beforehand helps ensure that the purchase of your dream home aligns with what's financially feasible.
Should I apply for insurance too?
Although you are not required by law to acquire insurance when obtaining a mortgage, certain lenders may necessitate that you have buildings insurance in place for exchange of contracts.
If you are looking for additional protection, consider investing in mortgage protection payment insurance (MPPI). This type of coverage can safeguard you against a variety of circumstances such as unemployment, illness, and accidents. By consulting one of our expert mortgage advisors, you'll be able to identify which kind of plan suits your needs best.
Can I apply for a mortgage as a power of attorney?
Absolutely! Should you be designated as a power of attorney, it is your responsibility to guarantee that the individual whose interests you are protecting has perpetual lodging.
Though not all mortgage lenders are willing to entertain the idea of an attorney applying for a mortgage on behalf of someone else, some do allow it. Still, they typically put extra attention into any agreements that may be in place between both parties--just to make sure everything is above board.
Many lenders who are open to the power of attorney mortgage applications will often require additional underwriting assessments and may even scrutinize the finer details of the agreement. It's not unusual for extra requirements or limitations to existing in this situation.
To ensure a successful power of attorney mortgage application, lenders may require the following documents...
A legal document granting authority to make decisions on behalf of another person

To ensure accuracy and legality, underwriters and the lender's legal team conduct extra scrutiny.

When an attorney is borrowing money on behalf of the donor, they must obtain permission from the Office of the Public Guardian.

In certain cases, lenders will refuse to lend if the attorney and donor are both listed as borrowers.

Certain loan providers mandate that only a lawyer is allowed to remortgage on behalf of the donor.
If you're feeling unsure of how to navigate these scenarios, then the best step is to reach out to a mortgage broker. Armed with their expertise, they'll be able to clearly guide you through the entire process.
Can I apply for a mortgage if I'm self-employed?
Certainly, self-employment is not an obstacle to getting a mortgage. Although it might be more strenuous than for salaried employees as lenders will need tangible evidence of your income. To that end, you'll likely require documents such as tax returns, profit and loss statements, and bank records to back up your claim.
If you're self-employed and need assistance navigating the lending process, a broker such as YesCanDo Money can be an invaluable resource. They will connect you with lenders that specialize in working alongside people like you.
How much can I borrow for a mortgage?
Your eligibility for a mortgage loan is dependent on many variables, such as your income, credit score and other qualifications. To measure how much of a mortgage you can afford to borrow, lenders will use the debt-to-income ratio which evaluates your monthly income in relation to your pending debts. If you require assistance calculating what amount of money you're eligible to receive based on individual factors concerning yourself - an experienced broker may help with this process.
Do I need a mortgage pre-approval?
A mortgage pre-approval is not a requirement, yet can be an advantageous tool. This assessment examines your credit score and income to provide insight as to how much you are financially able to borrow and the interest rate associated with it. Additionally, when shopping for a home, having this assurance of being equipped monetarily demonstrates that you're serious about making an offer and possess the financial means needed in order to close on time - something sellers consider paramount.
How do I choose the best mortgage for me?
Your perfect mortgage will be unique to you, depending on factors like your credit rating, salary and the property type that you're purchasing.
A broker is your ally in finding the perfect mortgage for you. They can compare options, explain the intricacies of varying mortgages, and guide you to make a well-informed decision that suits your unique needs best.
How can I get the best mortgage rates?
To secure the most competitive mortgage rates, comparison shopping is key. Scour various lenders to discern which offer you the best rate - banks, credit unions and online marketplaces are all applicable sources for this search!
If you're searching for the best rates, YesCanDo Money can be your go-to broker. With access to a wide network of lenders, they'll provide you with personalised options that meet all of your requirements.
Can I refinance my mortgage?
Are you searching for ways to reduce your monthly mortgage payments? If so, refinancing — also known as remortgaging — is the perfect solution! It allows you to pay off an existing mortgage with a new one at lower interest rates, thus helping you save money on both your installment fees and overall costs.
Before you decide to remortgage, there are several points to think over first. These include the current interest rates and credit score as well as your existing mortgage conditions. In addition, it is essential to take into account any costs associated with refinancing such as closing costs or early repayment penalties.
For expert advice on whether this step is suitable for you in particular, consulting a professional financial advisor or a mortgage broker can be extremely beneficial. They will help assess all possible options available so that an informed decision can be made!