Are you and a relative or friend considering buying a property together? If so, it is essential to understand the two ownership structures: joint tenants and tenants in common.
In this guide, we'll examine the distinctions between these two options as well as why one may be far more ideal than the other. We will also help you explore your options and find the perfect form of ownership and mortgage to fit your circumstances.
What's the difference between joint tenants and tenants in common?
The joint tenancy offers an equal share to all co-owners, with each party having a 100% stake in the asset. On the other hand, tenants in common grants varying amounts of ownership; for example, one holder may own 60%, while another owns 40%. Both solutions permit joint property possession, but the choice between them should be made carefully based on your individual circumstances.
It's essential to remember that regardless of the ownership percentage, all co-owners have identical rights and are mutually accountable for the mortgage. Therefore, if one co-owner is unable to make a payment on time, then it is up to the other owners to cover any shortages.
When it comes to the consequences of a co-owners passing, there are distinct differences between joint tenancy and tenants in common. For instance, with joint tenancy, their "Rights of Survivorship" automatically pass on all property rights to the remaining co-owners. On the other hand, when dealing with tenants in common agreements, any asset owned by someone who has passed away is inherited according to what was written in their will.
The flowchart illustrates the process of how a property is distributed among joint tenants or tenants in common upon the death of an owner.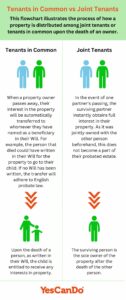 Applying for a mortgage as joint tenants and tenants in common
Are you and your partner trying to decide whether a joint or common tenancy mortgage is right for you? While it's possible to get individual mortgages as tenants in common, lenders generally prefer couples apply together with their names on the loan agreement. There are several factors that should be taken into account before making this important decision.
When obtaining a mortgage, you have the benefit of leveraging your joint income to borrow more money. Most loan providers offer an up-to 4.5 times multiple on combined earnings, but if you meet their criteria some may even extend that limit up to 5x mortgage multiple or higher! Moreover, with additional deposit amounts in hand, it can help secure better lending rates and drastically lower your Loan-to-Value (LTV) ratio – thus making it easier for you to purchase the home of your dreams!
Calculating Your Mortgage Affordability

Working out your mortgage affordability is vital to understanding how much mortgage you can get. Our affordability calculator makes it a breeze to figure out what amount of mortgage you can borrow from mortgage lenders. You only need your total household income, and we'll do the rest! Just enter that number below and discover how much money could be yours in no time.
Mortgage Affordability Calculator
Enter your sole or joint income below and see how much you can borrow.
What affects my affordability?
Regardless of the type of tenancy, certain elements will still influence the joint application procedure for property ownership.
Income source: Applying for a joint mortgage may be more complex if one of the borrowers is self-employed, potentially limiting what they can borrow. While this isn't always the case, it's something to consider when planning ahead. – Getting A Mortgage Using Joint Income
Bad credit: If one individual on the mortgage application has a history of poor credit, it could severely impede or even halt the entire process.
Stamp duty and first-time buyers: For all first time homeowners to benefit from the lowered stamp duty rates, it is essential for both buyers to be first-time buyers and not previously owned a property, regardless of their tenancy status.
Get a Joint Mortgage that works for your situation
Put the odds of mortgage approval in your favour with the help of a qualified and experienced mortgage broker.
Why choose one joint ownership option over the other?
Before embarking on the journey of purchasing a property or home with someone else, it is critical to take several factors into consideration. Think deeply about your individual needs and circumstances as well as the advantages and disadvantages associated with both types of joint ownership before you settle on anything.
Advantages of joint tenancy
Simplicity: Buying a home with someone is simple and convenient when carried out as joint tenants.
A popular choice for couples: Many couples opt for the joint tenants' choice because of the bond they share as joint owners of a property.
Security: As joint tenants in the unfortunate event of a spouse's passing, the surviving owner will be entitled to inherit the entire property.
Disadvantages of joint tenancy
Equal split: As joint tenants, no matter who put in the initial deposit or which mortgage payments have been made, should you decide to sell the property and part ways, then all proceeds will be divided evenly.
Cannot leave share to a third party: As joint tenants, couples with children from previous relationships may have issues passing on a co-owners share to a third party. It is worth noting that it will not be possible in the event one passes away.
Reasons to choose tenants in common
Ideal for buying with friends/family: If you're planning to buy a property with family members or a partner, this might be the perfect choice for you.
Detail ownership percentage: By customising how much each co-owner has contributed, you can guarantee that the correct portion of proceeds from a sale is obtained.
Leave share in will: Through your will, you can bequeath your portion of the whole property to someone of your choosing.
Disadvantages of tenants in common mortgage
Tenants in common arrangements must be drawn up as a legal agreement, separate from the mortgage application.
Either of the joint owners can sell shares: Without your approval, another owner could dispose of their share.
Agreement for sale required: All tenants must unanimously agree to the sale of the property.
No automatic ownership transfer: Upon death, ownership does not automatically transfer to a surviving party.
How a broker can help you choose the right tenancy type
Unlock the potential of your tenancy today – enlist a broker to help make an informed decision!
Our brokers are available to help you comprehend the advantages and disadvantages of every tenancy type. They have extensive expertise in how tenancy influences your mortgage options.
At YesCanDo Money, we provide customised advice and assistance to help you find the precise mortgage for your situation. Our brokers will direct you toward a product that optimises savings while bolstering your likelihood of success with your application. With us on board, rest assured knowing that you are in good hands!
Reach out to us now and speak with a mortgage specialist who can provide insight on the best decision for you.
Get a Joint Mortgage that works for your situation
Put the odds of mortgage approval in your favour with the help of a qualified and experienced mortgage broker.
Can you switch from one type to the other?
Yes, it is indeed possible to switch from joint tenancy to tenants in common or the other way around. Reasons for a change include alterations within the dynamic of an ownership relationship.
Severance of joint tenancy
When you and your partner are no longer living together, it is in your best interest to modify the tenancy agreement. Your lawyer can easily apply for a change to tenants in common without any external authorisation, allowing your investment to remain yours alone even after death. This way, you don't have to worry about ownership shifting unplanned back into the hands of an ex-partner down the line.
Joint tenancy switch
Marrying a tenant in common may lead to a switch to joint tenancy for automatic transfer of ownership. All joint owners must agree, and a new trust deed is required.
If you think that a remortgage might be necessary, enlisting the help of an experienced broker can guide you through the process and provide tailored advice for your individual situation. Additionally, tenants in common have the option to make alterations concerning their respective share amounts payments by overpaying or adjusting repayment levels.
Tax considerations for tenancy types
When it comes to joint tenancy, there is a definite fiscal advantage since no inheritance tax needs to be paid when one of the co-owners passes away.
Unfortunately, if a tenant in common passes away, they must pay inheritance tax on their share of the property. This can cause a burden to an estate that doesn't have enough money to cover it and may even lead to having to sell the property as repayment.
Tenants in common provide a powerful tax-saving advantage for co-owned buy-to-let properties, as each owner pays taxes only on their portion of the income. This allows disparate owners with different tax brackets to minimise their individual contributions and take maximum advantage of this investment opportunity.
Expert mortgage broker for your joint purchase
When deciding which type of joint ownership is best for your joint mortgage. Whether it be tenants in common or joint tenants our mortgage advisers are very experienced and will be on hand to make sure you make the right decision on a joint mortgage. ladder.
When it comes to a joint mortgage property purchase, having an experienced broker is essential for success. Investing in a house requires careful consideration of the ownership structure and tenancy types, which can be overwhelming – but with the help of an expert broker who understands your unique situation and financial necessities, you are sure to make smart decisions when choosing between mortgage options.
Take the hassle out of finding a suitable mortgage and getting on the property ladder and let us do all the hard work! Our experienced fee-free advisors are ready to help, simply contact us at 033 0088 4407 or submit an inquiry form. Don't wait – get started now!
Get a Joint Mortgage that works for your situation
Put the odds of mortgage approval in your favour with the help of a qualified and experienced mortgage broker.
FAQs
What happens to a mortgage with tenants in common?
When multiple individuals own a property as tenants in common, each co-owner owns an individual share of the asset and is responsible for their portion of the mortgage. Upon one owner's death, their interest will pass to another according to either their last wishes or through intestacy laws; however, regardless of who assumes ownership over that particular stake, the debt must still be settled by them or the remaining owners.
Is it better to be joint tenants or tenants in common?
When it comes to selecting between joint tenancy and tenants in common, the decision depends on personal conditions. Joint tenancy may offer the benefit of automated transfer of ownership upon one owner's passing away, while tenants in common enable each partner to divide their share with a will. It is crucial to consider factors such as future plans, estate planning objectives, and taxation effects before deciding which option is right for you. Don't hesitate to contact an experienced broker or lawyer for advice on what type of arrangement would suit your individual needs best!
Do unmarried couples need to inform the Land registry?
When buying a property as joint owners either as a joint tenant or as tenants in common you will be able to choose when you register with HM land registry. It will be worth getting legal advice from a solicitor or legal professional. The solicitor will plan for your future one example being if you intend to get married and will want to have equal rights to the whole of the property.