NatWest Bank is revolutionising its mortgage policy with an impactful change that will benefit thousands of customers. From the beginning of March 2023, those who have fixed rate or tracker mortgages can now make overpayments of 20% without having to pay any early repayment charges. Usually, mortgage lenders charge a fee when homeowners put down lump sums towards reducing their borrowing amount; NatWest Bank eliminates this cost, allowing you to save money!
NatWests Increased Overpayment Limit
NatWest mortgages is giving its customers an incredible opportunity – the bank has raised its overpayment limit from 10% to 20%, meaning that clients can now clear a higher portion of their mortgage without added expenses. To ensure everyone knows about this great option, NatWest will be personally sending letters to those who normally pay more than £500 per month or put down 8-10% of the balance each year. Now you can take even bigger strides toward paying off your mortgage!
Benefits for Homeowners
Around 1.4 million fixed-rate mortgages are set to end in 2023, with 57% being on rates below 2%. As the interest rate has skyrocketed throughout the last year, most borrowers should anticipate a huge jump in their interest rate when their existing fixed rate ends. – Therefore taking advantage of the increased monthly payment ceiling of 20% is almost a surefire way of lessening the jump in the monthly payment. Natwest is the largest high street bank to increase the lump sum overpayment from 105 to 20%
What is a mortgage overpayment?
Paying extra either by increased monthly payments or by paying a lump sum off your mortgage can help you save money in the long run.
If a borrower makes an overpayment on their loan, it not only reduces the total number of payments that need to be made — thereby shortening the term of the loan — but also significantly cuts down on interest costs by reducing the overall balance owed.
Nevertheless, it's essential to understand that some mortgage lenders might impose an early repayment fee if the borrower pays off their mortgage in full or overpays their loan. Usually, this charge is a certain percentage of the remaining balance and it functions as a penalty for repaying earlier than expected.
What is an early repayment charge?
When a borrower opts to make an overpayment, they are voluntarily adding more funds than their regular monthly payments, this could be by paying lump sum overpayments or increasing the monthly payment. This will reduce the remaining balance of their loan quicker and ultimately lowering interest accrued throughout the mortgage term.
However, the majority of mortgage lenders have a maximum overpayment each year of 10 %. Natwest is the first of the 'big five' mortgage lenders to increase the overpayment above 10% to 20%.
If you decide to fully or partially repay your mortgage loan ahead of the schedule, some lenders may impose an Early Repayment Charge (ERC). This is a fee that compensates them for losing out on expected interest payments and helps cover their administrative costs.
An ERC works to protect the lender's profit in cases where a borrower pays off their mortgage loan earlier than expected. This is because an early payment will reduce the interest that would have been paid out over time, and it thus compensates for any income lost by the lender due to this premature payoff.
The cost of an Early Repayment Charge (ERC) is contingent on both the lender and mortgage product. It's generally an interest rate that applies to the existing mortgage loan balance, typically paid as a single lump sum. To illustrate further: if there is an ERC of 1%, with an outstanding loan balance of £100,000 – then your total fee would sum up to be £1,000!
It's essential to remember that not all mortgages come with an ERC, and some may include restrictions regarding when you can make repayments without incurring any costs. To be on the safe side and fully comprehend your mortgage terms and conditions in detail, including potential fees for early repayment if applicable; it is highly recommended that you consult with your lender before signing anything.
Achieve your best mortgage rate
Put the odds of a successful remortgage in your favour with the help of a qualified and experienced mortgage broker.
Mortgage Rates and the Bank of England
The Bank of England base rate increased to 5.25% in August 2023 for a record 14th consecutive time. Unexpectedly, instead of passing on these costs to customers, banks have decreased their interest rates! The drop in mortgages is providing homeowners across the country with significant savings each month.
Overpaid mortgage balance statistics
In the last quarter of 2022, borrowers in Britain paid an astonishing £6.66 billion more than necessary on their mortgages – a significant increase from 2021's figure of £5.16 billion as reported by the Bank of England. This rise in overpayment limits will be especially beneficial to those searching for new ways to make use of current fixed-rate deals and extract maximum value out it them.
UK Overpayment on Mortgages Increases to £6.66 Billion in 2022
Historical Trends from 2008 to 2022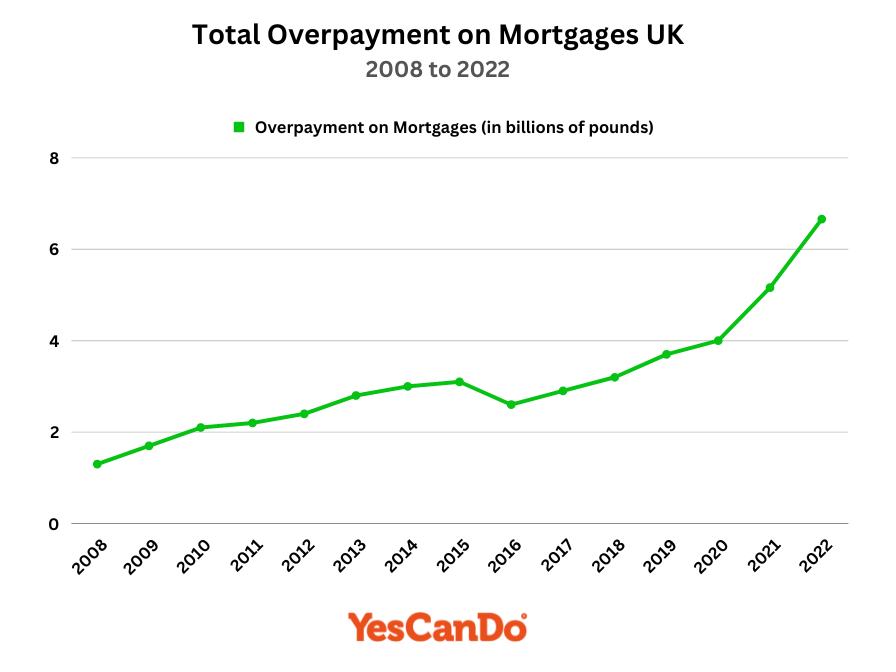 Comments on the overpayments increase by NatWest
Comments from NatWest
NatWest chief executive Alison Rose told MPs on the Treasury select committee that about 94% of the bank's borrowers are on fixed-rate mortgages, with 65% of these being five-year deals. The bank is also allowing customers to lock in a new deal earlier, six months before their existing rate ends instead of four months.
"We proactively contact them at six months and every month thereafter to talk about it. We know exactly who is about to roll off their mortgage deal, so we can be engaged." – Alison Rose
Comments from mortgage broker YesCanDo Money
Overpaying on a mortgage may not be an easy for most households at present, but it can certainly be a valuable strategy for those looking to maximise the benefits of their current low fixed rate." says Stephen Roberts independent fee-free mortgage broker YesCanDo Money
Conclusion on NatWests Overpayment Increase
In conclusion, NatWest high street bank announced the move to increase its overpayment limit from 10% to 20% is expected to provide significant benefits in monthly interest to its customers with fixed or tracker mortgages. With the average mortgage rates rising above 6% and the Bank of England's base rate on the rise, customers will now be able to overpay up to 20% of the outstanding balance of their mortgages without incurring additional costs, allowing them to clear a larger portion of their mortgage and build up a greater equity stake in their homes.
Learn how to plan for a successful NatWest remortgage >>