Welcome to our guide on the direction of mortgage rates in 2023. With the current uncertainty surrounding the economy and the potential impact of Brexit, the COVID-19 pandemic, and now the cost of living crisis, it's natural to wonder what the future holds for mortgage rates.
In this guide, we'll take a look at the factors that could influence mortgage rates in 2023, including the Bank of England's base rate and economic indicators such as inflation and unemployment. We'll also discuss the best ways to find out more about your mortgage options and how to prepare for potential changes in mortgage rates. Whether you're currently in the market for a mortgage or simply want to be prepared for the future, this guide will provide you with the information you need to make informed decisions about your mortgage.
So what will mortgage rate do in 2023?
The bottom line is it very difficult to know what the mortgage rates will do in 2023 the year is likely to be a year of two halves. Indications from the UKs big six mortgage lenders, Barclays, Natwest, Santander, HSBC, Nationwide, and Lloyds are that interest rates are likely to remain stable for the first half of 2022 and a strong possibility of fixed rate mortgages and tracker rate mortgages starting to reduce as we go further into 2023.
It's worth noting that mortgage rates do not always follow the bank of England (BoE) base rate. There is a strong chance that 2023 will show this in an exaggerated way. It is likely that when the BoE increases the base rate we will see mortgage interest rates stay much the same.
It is my observation after reading market predictions, that the Bank of England base rate will most likely rise above 4% in early 2023 and reach as high as 4.6% by July 2023. The reason that these increases are expected to be implemented is an effort to reduce the UK's high annual inflation rate, which currently sits at 10.7%. – Stephen Roberts
Will interest rates go down in 2023 UK?
Mortgage rate predictions are very difficult to make especially at present with the economy being all over the place. Many of the largest mortgage lenders are saying that the mortgage market and mortgage rates are likely to stay stable for the first six months of 2023 and they feel if the economy stabilises by mid-year we could see mortgage interest rates and fixed-rate deals starting to reduce.
Should you fix your mortgage rate now?
Given the anticipated increase in interest rates, it may be wise to consider fixing your mortgage rate now if you are concerned about your ability to maintain mortgage repayments. Even if you are currently on a fixed-rate mortgage with time remaining on your fixed period, you may be able to secure a lower rate that will take effect once your current deal ends, potentially saving you money and avoiding early repayment charges from your lender.
It is important to act quickly, as the best fixed-rate mortgage deals tend to disappear as soon as there is any indication of a potential increase in interest rates. Speaking with a mortgage adviser can help you determine the best option for your situation and potentially save you money through a remortgage check.
Discuss your options with a knowledgeable mortgage advisor
How is the Bank of England base rate set?
The Bank of England's Monetary Policy Committee (MPC) is responsible for setting the BoE rate. The MPC meets approximately every six weeks to decide on any changes to the base rate, with the decision and accompanying meeting minutes published on the Bank of England website.
The base rate decision is based on a variety of economic indicators, including employment, inflation, and GDP. The current Governor of the Bank of England, Andrew Bailey, continues to use a set of 18 economic indicators to inform the MPC's decision-making process, as established by former Governor Mark Carney.
Bank of England base rate history
Below we have created a graph to show you the bank of England's base rate from the beginning of 2008 to the start of 2023.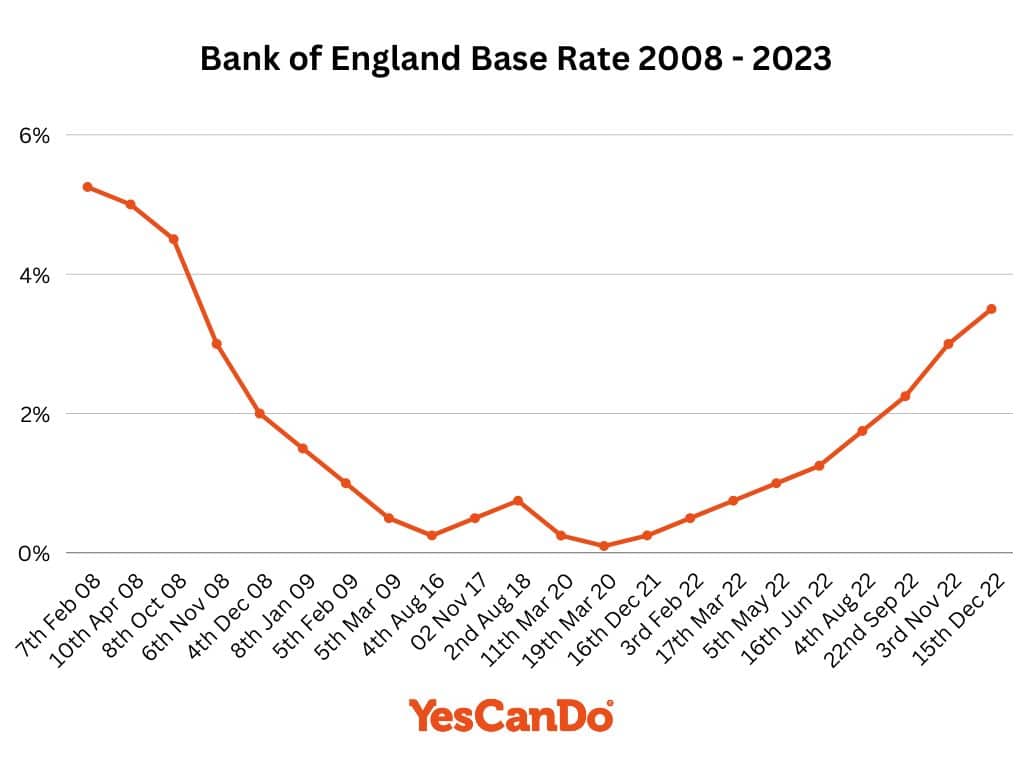 When is the market predicting mortgage rates will change?
In recent years, the Bank of England has made several changes to its base rate in response to economic events and trends. Some of the major factors that have influenced the Bank's decision-making include the global financial crisis, the Brexit vote, and the COVID-19 pandemic.
The mortgage market is currently predicting that the average mortgage rate will rise in the coming months and years, with the BoE base rate expected to reach 4.6% by July 2023. This increase is expected to be implemented as a way to reduce the UK's high annual inflation rate, which is currently above the target rate of 2%.
What are the key indicators that will impact interest rate changes?
The Bank of England uses several economic indicators when determining whether to raise or lower interest rates. Some of the key indicators to watch include:
Inflation: The current rate of inflation in the UK is 10.7%, well above the official target of 2%. This high rate of inflation may lead the BoE to continue raising interest rates in an effort to reduce inflation.
Official support for low rates: The Bank of England's Monetary Policy Committee (MPC) recently voted to raise the base rate by 0.5%, with six members in favor and two against. This indicates that the official support for low rates may be fading, which could lead to further increases in the base rate.
Economic growth: In late 2022 the UK economy recently entered a recession, which could make further increases in interest rates less likely. However, strong economic growth could lead to us seeing interest rates rise in order to prevent the economy from overheating.
Unemployment: Rising unemployment could make a rate increase less likely, while strong employment numbers and rising wages could increase the chances of a rise in the mortgage interest rate.
Economic growth forecasts: Several organizations, including the BoE, the International Monetary Fund, the OECD, and the mortgage bankers association have recently lowered their GDP forecasts for the UK, predicting a long recession. The financial markets feel this could reduce the likelihood of rate increases.
What to do with my mortgage in 2023
The ability to remortgage and fix your mortgage at the same sort of rate has become more difficult over recent years as the rules surrounding the affordability checks when applying for a mortgage were tightened leaving some borrowers stranded on their existing deals.
It's important to calculate the impact of an interest rate rise and seek advice from a mortgage expert ahead of time by following the steps below. Whether you are on a tracker mortgage, variable rate mortgage, or looking to remortgage your existing fixed rate deal that is coming to an end the steps below will take you a few seconds but could prevent your mortgage repayments crippling your finances in the future and help you secure a low rate while they are still available.
Step 1 – Determine your current mortgage situation
Before you can determine the best course of action for your mortgage, it is important to understand your current situation. This includes the type of mortgage you have (variable, fixed rates, or tracker rates), the mortgage rate you are paying, and the length of your mortgage term. If you are unsure of these details, you should contact your mortgage lender or review your mortgage documents to get a clear understanding.
Step 2 – Calculate the impact of an interest rate rise on your mortgage payments
Use an interest rate rise calculator to quickly determine the potential impact of an interest rate increase on your monthly mortgage payments. Simply input the details of your mortgage, such as the original loan amount, term, and current interest rate. Then increase the interest rate to calculate the potential change in your monthly payments based on different interest rate scenarios. This will give you an idea of how much you might need to budget for in the event of an interest rate increase.
Let us calculate it for you, it wont cost you anything
Step 3 – Seek advice from a mortgage expert
If you are concerned about how an interest rate increase might impact your mortgage payments, it is a good idea to speak with a mortgage expert. They can review your current mortgage situation and help you understand your options, including whether it might be beneficial to look at fixed rates or switch to a different type of mortgage. A mortgage expert can also help you find the best rates and terms available based on your specific circumstances.
Step 4 – Act quickly if you decide to fix your mortgage rate
If you decide that fixing your mortgage rate is the best course of action, it is important to act quickly. The best-fixed mortgage deals tend to disappear quickly when there are signs that the BoE may raise interest rates, so you will want to secure a low rate before they are no longer available. A mortgage expert can help you compare different deals and assist you in the application process to ensure you get the best rate possible.
The best way to find out your mortgage options
One way to determine the best mortgage options for you is to consider working with an independent mortgage adviser. While using a price comparison site may seem like an easy solution, it's important to keep in mind that many mortgage deals are only available through mortgage advisers and may not appear on these sites. In addition, not everyone may qualify for the rates listed on price comparison sites, as they do not take into account credit rating or personal circumstances. This means that it's possible to find out that you're not eligible for certain deals only after a credit check has been done, which could impact future mortgage applications.
Because of these factors, it's often more beneficial to work with an independent mortgage adviser, as they can help you find the best deal from a lender that will actually lend to you. Approximately 70% of borrowers choose to use a mortgage adviser for this reason. To get started, consider reaching out to a mortgage adviser or using an online tool to schedule a free remortgage review. If you already have a trusted independent mortgage broker, it may be worth contacting them as well, as now could be a particularly good time to consider a remortgage.
Discuss your options with a knowledgeable mortgage advisor
Further reading
FAQs
Mortgage rate predictions are historically very difficult to predict however the big six mortgage providers produce a mortgage rate forecast for the forthcoming year. These are all saying that they expect UK interest rates and also expect five-year fixes to reduce by mid-2022.
Mortgage rates are likely to stay high for the first part of 2023. It's thought that the interest rate hike we saw unroll over most of 2022 is unlikely to continue much further into 2023. The long-term mortgage deals are predicted to start reducing mid-year. The first signs that rates are starting to reduce will be when you start to see longer-term fixed rates reducing. This will start with firstly the 10-year fixed rates followed by 5-year fixed rates.