Homeowners in England who have been impacted by the cladding crisis may now have the ability to sell or refinance their homes as six major lenders have agreed to provide mortgages under new industry guidance. However, this guidance only applies to buildings that are 11 meters or taller, leaving some affected individuals ineligible. It is yet to be determined how effective this new guidance will be in practice.
UK Banks to lend on flats with cladding again
The start of January 2023 saw six of the UK's largest banks, including Barclays, HSBC, Lloyds, Nationwide Building Society, NatWest, and Santander, will begin offering mortgages on medium and high-rise buildings and high-rise flats with cladding. This move has the potential to help thousands of people who have been unable to sell or remortgage their properties due to the presence of cladding.
You will be required to provide evidence to get a mortgage offer
To qualify for a mortgage, applicants will need to demonstrate to the UK banks that the dangerous cladding will either be removed by developers or covered by leaseholder protections or a government scheme. The decision to lend on these properties follows the release of updated guidance from the Royal Institution of Chartered Surveyors (RICS) on how to value affected properties.
To secure a mortgage from one of the six mortgage lenders, specific evidence of the following must be provided:
Your building will be repaired by the developer (referred to as 'self-remediation')
Participation in a recognised Government scheme such as the Developer Remediation Contracts, Medium Rise Scheme, or Building Safety Fund.
Coverage under the leaseholder protections within the Building Safety Act, which can be verified using the Government's online tool.
Additionally, you may be required to provide an EWS1 form, a safety certificate implemented post-Grenfell disaster, often required by mortgage lenders for flats in certain buildings. The RICS website has more information on the EWS1 process and when the form is necessary.
Requirements for evidence may vary among lenders, so it is best to contact them directly to confirm what evidence is required before submitting mortgage applications. It's important to keep in mind that the lack of a remediation plan or not being covered by government schemes makes it difficult to obtain a mortgage.
Prior to this guidance, banks had been unable to lend to these types of properties due to a lack of information on their value and safety.
The banking lobby group UK Finance said in a statement that the announcement was a:
"Significant step to enable lending to recommence." – UK Finance spokesperson
My property has cladding on it – what does the Government's online checker do?
The Government has created an online checker to determine if flat-owners are exempt from covering the costs of removing unsafe cladding on their buildings. According to the Building Safety Act, individuals may be eligible for exemption if:
you live in a building over 11 meters tall or five storeys high, including the ground floor,
and you were living in the building as their main home on February 14, 2022 and do not own more than three properties in the UK.
By simply answering a few questions about the property and building, flat-owners can use this checker to confirm their exemption status.
If eligible, a "deed of certificate" must be completed and submitted to the building owner.
This protection will also transfer to any future buyers of the property, as long as the property was eligible for the exemption on February 14, 2022.
How many UK buildings have cladding that may need an assessment?
According to the Government's data release for June 2022, it is estimated that there are 12,500 residential buildings over 18 meters tall, of which they believe 8000 will require an assessment of their exterior walls to determine if the cladding poses a danger.
Additionally, it is estimated that there are 78,000 residential buildings between 11 meters and 18 meters tall, with approximately 50,000 potentially requiring an assessment of their cladding.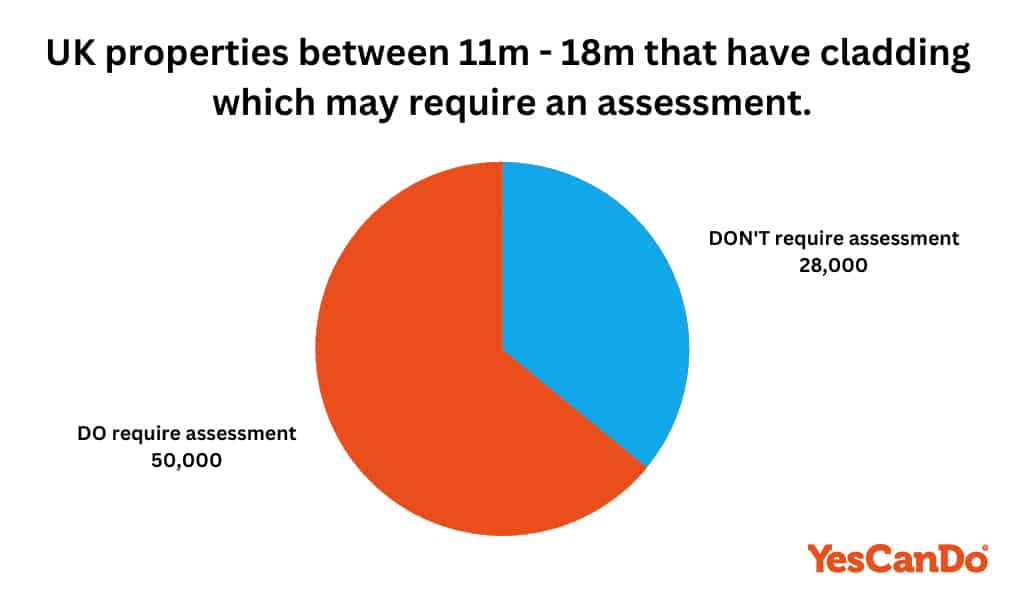 You should be able to get the same mortgage interest rates and terms as every else
Apart from the extra evidence needed, getting this type of mortgage will not be different from any other type of mortgage. The interest rates and mortgage terms offered on buildings affected by cladding issues should be the same as those offered to any other borrower.
The process of applying for these mortgages is similar to that of a regular mortgage, and six major lenders have confirmed that they will not charge extra for buildings with cladding issues, though a limited choice of lender may still result in increased costs.
What each of the mortgage lenders is doing about the change
The six major lenders that have agreed to consider offering mortgages on affected properties, which cover over 60% of the mortgage market, about the changes they have made in light of the new RICS guidance.
Below is a table of how each of the main mortgage lenders is approaching the change.
You will need to submit additional evidence, such as a leaseholder "deed of certificate" or landlord certificate, as part of your application in all cases. (You can find more information about this above)
| Lender | New Policy |
| --- | --- |
| Barclays | Barclays now offers mortgages on properties with recognised remediation schemes in place, additional evidence will be required as part of the application process |
| HSBC | HSBC now consider offering mortgages on properties that have failed their EWS1 assessment, additional evidence will be required as part of the application process |
| Lloyds | Lloyds banking group no longer requires an EWS1 form to process applications for properties in England that are in buildings five storeys or higher, additional evidence will be required as part of the application process |
| Nationwide | Nationwide now offers mortgages on properties that are covered by government or developer remediation schemes, and additional evidence will be required as part of the application process |
| NatWest | NatWest support more customers with mortgages on properties rated A3 or B2 in their EWS1 assessment, and additional evidence will be required as part of the application process |
| Santander | Santander now considers offering mortgages on properties irrespective of the building's height or whether remediation work has been started, additional evidence may be required as part of the application process |
The mortgage lenders' perspective
Lenders, including Barclays, HSBC, Lloyds, Nationwide Building Society, NatWest, and Santander, have stated their commitment to helping those who want to buy or remortgage high-rise flats with building safety issues access mortgage finance, in order to restore confidence in the market. The mortgage lenders made the decision after the Royal Institution of Chartered Surveyors (Rics) released the publication of valuation guidance.
Leaseholders can now buy and sell with confidence
This statement was also supported by RICS, UK Finance, and the Building Societies Association. A spokesperson for UK Finance commented that banks and building societies have been lending on flats without requiring an EWS1 form, but the announcement to lend on medium and high-rise buildings with cladding and building safety issues is a significant step to enable lending to resume.
This means that lenders can provide a range of mortgage products for customers who wish to purchase or remortgage flats impacted by cladding, and help keep the market moving. UK Finance has collaborated with the government, RICS, and the BSA to ensure that leaseholders can sell and prospective buyers can purchase with confidence.
The big six to start lending on properties needing cladding remediation is "great news but still a long way to go"
The lack of EWS1 forms has caused difficulties for sellers and frustration for buyers of properties with cladding. While the announcement by lenders to consider lending on these properties will ease some of these issues, lenders may still be cautious with their valuations, which could affect the value of these properties. This will benefit sellers who have been trying to sell their properties, but buyers should be aware that without the correct certificates, these flats may not be as attractive to purchase.
Surveyors are also likely to be cautious in their valuations, and the zero-value trend for mortgage purposes may continue for some time. While it is positive that one mainstream lender has taken a pragmatic approach and managed to offer and complete a mortgage on a flat without an EWS1 form, it took six months of behind-the-scenes work to achieve this.
Steve Roberts commented on the matter saying:
The mortgage broker community feels that more needs to be done to help homeowners, and mortgage brokers are hoping that other lenders will follow suit and take further steps next year. This announcement will be helpful for clients who have home improvement work scheduled or are in the process of completing works on their properties, and it has the potential to release many mortgage prisoners. – Steve Roberts (CEO YesCanDo Money)
Why has it been an issue to get a mortgage on certain properties with cladding?
The unsafe cladding issue has created significant problems for homeowners and lenders since the tragic Grenfell Tower fire in 2017 which resulted in 72 deaths. The aftermath of the incident caused many residents in similar buildings to be unable to sell their properties or refinance their mortgages, leaving them in a difficult predicament.
To address the issue, the government has implemented measures to ensure that the cost of removing cladding from unsafe buildings will not fall on the shoulders of flat-owners, such as the Building Safety Act, which guarantees that most leasehold flat-owners living in buildings higher than 11 meters will not have to bear the cost of any cladding-related work.
How to remortgage without an EWS1 form
During 2022 it has been almost impossible for those who have wanted and needed to remortgage flats affected by building issues without an EWS1 form.
Remortgaging a flat without an EWS1 form changed in January 2023 with the rules around needing an EWS1 form relaxing significantly. Although mortgage lenders will be nervous and it may take several months for the rules to relax completely and mortgage lending to increase on the affected flats.
How a mortgage broker such as YesCanDo can help you remortgage
At YesCanDo we have a lot of experience in submitting mortgage applications for clients. Each mortgage needs to be looked at on a case-by-case basis as each mortgage lender has its own underwriting criteria. Lending on flats that have been affected and as a national mortgage broker, we believe that anything that helps facilitate mortgage lending access mortgage finance to people who have basically been mortgage prisoners at no fault of their own is urgently needed.
During 2022 we have managed to help customers seeking to re mortgage flats impacted by the need for an EWS1 form however any relaxation to the rules will help restore confidence to those affected. The Building Safety Act is there for the protection of leaseholders however it should not stop those needing to remortgage flats affected due to no fault of their own.
How are EWS1 forms used when remortgaging?
EWS1 forms are used to assess the safety of external wall systems on buildings and are typically required by lenders as part of their risk assessment for mortgage applications on properties with cladding. If a property does not have an EWS1 form, it may be more difficult to obtain a mortgage on the property, as mortgage lenders may be more cautious about lending on properties with cladding that have not been properly assessed for safety.
If you are trying to remortgage a property without an EWS1 form, you may need to take additional steps to demonstrate the safety of the property's external wall systems to potential lenders. This could include obtaining other types of safety certificates or documentation, such as a fire risk assessment or a building control certificate covered by a recognised government scheme. You may also need to work with the building's developer or the freeholder to obtain guarantees or assurances about the safety of the cladding or to provide evidence that the cladding will be remediated or replaced.
Speak to an expert mortgage broker about remortgaging
It may be helpful to consult with a mortgage broker or a financial advisor who has experience in this area and can help you navigate the process of remortgaging without an EWS1 form. They may be able to suggest strategies for demonstrating the safety of the property to potential lenders and help you find a lender who is willing to consider a mortgage application without an EWS1 form.