Ask YesCanDo Money for Mortgage Advice for Teachers
Are you a professional in the educational industry? If so, then you might be wondering if there's any special advice that could help you with your mortgage. In this guide, we'll be taking a look at how you could get and manage a mortgage as a teacher.
Is it difficult to get a mortgage as a teacher?
Teachers don't have trouble when it comes to getting a mortgage. As mortgage lenders will typically look at your employment status before deciding to offer you a mortgage or not, they'll understand your commitments and schedule as a teacher. This helps them provide a better service for you.
Buying a house
When searching for a house to purchase as a teacher, it's good to ensure that you have financial stability before you start seeking a mortgage. Most teachers enlist the help of a mortgage adviser to simplify things and make it easier to understand the process and inner-workings of a mortgage. So in this guide, we'll be taking a look at a couple of things that you need to get in order before you decide to search for a home.
Check your teacher payslips
When applying for a mortgage as a teacher, it's important to offer some kind of proof of your income. This often means several months worth of payslips to check that you are in the profession you claim to be in. Make sure that you're saving your payslips instead of throwing them away. However, if you have another document that proves your proof of income, these can be used too. This is most common with teachers that don't work in a school but provide freelance services.
Make sure that the information on your proof of income is accurate. You'll want to check that your name is accurate, and also that the address is correct. Any errors in your payslips can lead to issues in the future that can slow down or even ruin your chances of getting a mortgage. If there are errors, make sure these are amended on future payslips by speaking to your employer.
How do lenders work out how much I can borrow as a teacher?
When applying for a mortgage, lenders will look at any proof of income that you submit and will use it to calculate the total that you can borrow for a house. It can be a bit confusing to work out on your own how much you can borrow. This is because different lenders use different kinds of calculators. This means one company might offer you a larger limit, while another might offer a smaller limit even if you submit the same documents. With so many different lenders, it can be overwhelming trying to work out how much you can borrow. This is why it's a good idea to look for a mortgage advisor to assist you.
What if I have self-employed and employed income as a teacher?
It's perfectly fine to use both. There are many lenders that will take both your self-employed and employed income into consideration, but it does complicate things a little. Speak to your mortgage advisor for more information regarding mixed income sources.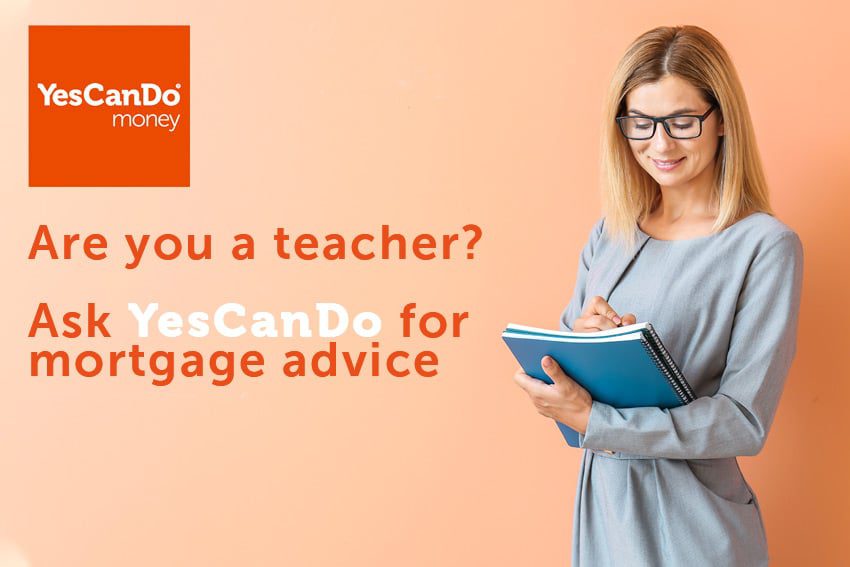 Getting a mortgage decision in principle
Your mortgage advisor will likely suggest that you get a mortgage decision in principle. This is essentially a confirmation to help you know if you can get a mortgage or not, and also gives you an idea of how much you can borrow.
Can a teacher get mortgage discounts?
Unfortunately not. Teachers are not eligible for any kind of discount or financial assistance with their mortgage. However, some mortgage advisors may specialize in working with teachers and could provide a better service overall.
The importance of using a whole-of-market mortgage broker
It's important to compare the whole mortgage market regardless of your profession. This is so that you can see what each bank and building society is willing to lend you. There are hundreds of candidates that you could borrow from, so it's vital that you seek a mortgage broker that suits your needs.
How much will a mortgage broker cost me?
Many mortgage brokers will charge a fee for their services, but there are no fee mortgage brokers available too. These lenders earn a commission from the lender themselves instead of charging you as the customer. This is a cost-effective option that will help you save money on your mortgage.
How do I find a no fee mortgage broker?
You probably have two ways of finding a no fee mortgage broker. Firstly ask friends and family who have recently purchased a property which mortgage adviser they used.
The second way is to google, no fee mortgage broker. This will give you a list of mortgage brokers that do not charge a fee. Have a look at their websites. Have a look at their facebook reviews and google reviews. Make sure there are plenty of 5 star reviews and read a few.
Make contact with a couple of the mortgage brokers and get them to confirm that they are very experienced with arranging mortgages for teachers.
Ask YesCanDo Money for Free Mortgage Advice
Being a family-run independent mortgage broker, we know the importance of looking after our clients. With over 14,000 mortgages available at any one time we will search the whole market to get you the best rates and deals.
Ask YesCanDo Money for teacher Mortgage Advice
If you're unsure how to search for a mortgage broker, then get in touch with us at YesCanDo Money. We've arranged thousands of mortgages for teachers both employed and self-employed, and we're confident that we have the experience and skills necessary to make your mortgage application easy and stress-free. We offer a no free mortgage broker service to help you save on costs, and speaking to us for advice is free and won't cost you a penny.
Do teachers get special mortgages?
Unfortunately, no. Teachers are not entitled to any special mortgages or privileges. However, some mortgage brokers likely have experience working with people in the teaching profession which means their services can be tailored to your needs. It's worth speaking to a mortgage broker that has worked with teachers before in order to get the best possible deals for your new home.
Can newly-qualified teachers get a mortgage?
One of the benefits of being a teacher when applying for a mortgage is that all bank and building societies will understand your contract and pay grade.  With most newly qualified teachers contracts starting in september, most mortgage lenders will be willing to use your contract as proof of income. This may mean that rather than waiting for the traditional 3 months payslips that most mortgage lenders require. They will take your contract only meaning that you could start buying a house a few months prior.
Not all mortgage lenders have the same rules and underwriting for teachers. Therefore it is important that you speak with an experienced mortgage broker before you start to look for a property.
Can a teacher buy a house?
Absolutely. There are no restrictions based on your profession. Teachers are known for having stable jobs, so your chances of getting a mortgage will be increased.