If you are reading this article it is likely that you are a veterinary professional working in the UK. No matter where you are in your career, you should be able to get a great deal on a mortgage. However, there are a few things worth knowing when trying to get a mortgage as a vet. So, read more of this guide for some very useful information.
Is It Difficult To Get A Mortgage As A Vet?
Veterinary surgeons and veterinary professional that have been practising for a number of years should be able to get a preferential deal on a mortgage. This is because of the earnings you will have accumulated over time and your overall level of income. Professional mortgages are primarily targeted at high-income professionals. Mortgages for veterinary professionals tend to fall into the category of a high-income profession meaning getting a good deal will rarely be a problem. Recently qualified vets also earn a high salary, so if you are fresh out of training, you should also be able to get access to professional mortgage products.
However, no matter where you are in your career, you will need to meet the mortgage lender's criteria. You will need to demonstrate your earnings and give them a reason to believe that you aren't a lending risk. If you have a poor credit rating, for example, you might run into problems when trying to secure a good mortgage deal and mortgage amount. In some cases, the mortgage lenders might not understand your particular income structure, so it might be that you aren't offered the best deal possible.
So, while you should be able to get access to excellent mortgage deals, you may have obstacles to overcome. However, with mortgage advice from a broker who understands the problems you might encounter, you will have the support you need to get the best deals for your profession.
Can I Get A Mortgage As A Trainee Vet?
In short, the answer is yes, assuming that you are about to graduate and you have a job lined up. You have every right to get on the property ladder, even as a trainee vet and most lenders will be happy to consider you for a mortgage if you can let them know what salary you will be on. As newly qualified vets earn between £30,000 to £35,000, you should be eligible for a mortgage that is 4 times your annual income.
If you struggle to get a loan secured as a trainee vet, it might be that you need to wait until you are in employment although this may not be absolutely essential. Some lenders will offer a guarantor mortgage product to veterinary surgeons. This is where a family member or friend co-signs your mortgage with the agreement that they will cover your monthly payments if you are unable to make them yourself.
Will I Get A Good Mortgage As A Newly Qualified Vet?
You should have no problem getting a mortgage providing you're in (or about to enter) full-time employment. As we suggested, your potential earnings will be high, as you're in a profession with a very good salary. Your earnings will grow as you move through your career so you will get better mortgage deals over time. However, at a starting salary of around £30,000, your lender should look upon your personal information and application favourably. To ensure a greater chance of success, you might want to wait until you have passed your probationary period. For more advice as a newly qualified vet, speak to one of our friendly team at YesCanDo Money.
Will I Get A Good Mortgage If I Am Self-Employed?
If you are working as a locum vet, or if you recently joined a practice as a partner, your lender will consider you self-employed. This can sometimes cause problems when applying for mortgages as you will be required to prove your income with 2-3 years of tax returns and other financial documents. You will also need to prove that you have a reliable income, which can be difficult if you're working as a locum vet and in and out of employment.
So, there will be challenges, but we can help. At YesCanDo Money, we can connect you to lenders who have experience in providing mortgages for those who are self-employed, so you shouldn't rule out the possibility of a good mortgage amount. Our financial services will help you get your finances in order and give you advice on when the right time will be to make your mortgage application.
Will I Get A Good Mortgage If I Own A Veterinary Practice?
As a principal veterinary surgeon in charge of your own practice, you will likely have registered with the HMRC as the owner of a limited company. You aren't classed as self-employed in this capacity, as you will be regarded as both an owner and employee of the company you run. For this reason, you will encounter fewer issues when applying for mortgages. Again, the lender will need information about your earnings, and they might also ask for details of your company's retained profits when performing their calculations. Your accountant will be able to provide details of the latter so consult with them before making your application.
If your finances are in order, and so long as you meet the lending criteria, you should have little trouble getting the right mortgage and securing an overall good deal. However, you will need one of the many lenders who knows how to categorise your income, so to ensure a smoother application and mortgage process, speak to us about specialist mortgages for vets and other professions. We will help you identify those lenders with experience of working with people within your profession. These lenders can categorise the income of applicants who own a limited company.
Do Vets Get Better Mortgage Rates?
In some cases, yes! Selective lenders will offer specialist mortgage deals to people in certain types of employment, such as those who work within the medical profession. Doctors, dentists, and veterinary surgeons can often benefit from better interest rates because of their earnings, and there might be other benefits afforded to them too. We have built up excellent relationships with a number of lenders who can offer excellent mortgage deals to those in your particular profession, so get in touch with us to learn more.
Will mortgage lenders give me a mortgage even though I have a poor credit rating?
Unfortunately, your credit rating will affect your chances of securing the best mortgage rate and deal. if you have a poor credit score, perhaps you have debt secured against a property or other debt for whatever reason, your mortgage options can sometimes be limited. However, don't despair. If you don't have a good credit rating, you can improve your chances of a better deal by taking steps to improve your credit score. From amending personal information errors on your credit report to staying on top of your monthly bill repayments, you can improve your score and boost your chances of securing your best available deal.
Again, speak to our team for free mortgage advice. Even if you do have a bad credit score, we can approach those lenders who will offer you a favourable deal. You should still improve your rating to secure the very best deals, but a poor credit score doesn't have to scupper your attempts at getting a mortgage.
How Much Will A Mortgage Broker Cost Me?
There are some mortgage brokers who will charge you for their services, but if you choose to use the services of a no-fee mortgage broker, you will be able to benefit from free mortgage advice. At YesCanDo Money, you can benefit from the no-fee services that we provide, so to save money during the moving process, contact our friendly and experienced team when you're looking for your mortgages.
Buy To Let Mortgages
Are you thinking of taking advantage of the low house prices and buying a property to let out? Buy to let properties are a great way to invest your veterinary income. Look no further for great buy to let mortgage advice. You will be given a dedicated advisor case manager from our fantastic team who will help and guide you with everything from mortgages, the rental income required by the lender to recommending a solicitor and arranging specialist landlords buildings insurance. We are property specialists and know the recipe for a successful buy to let mortgage company and advice. We always strive to provide information to help guide you to save money. Our aim is to make your buy to let an overall profitable investment.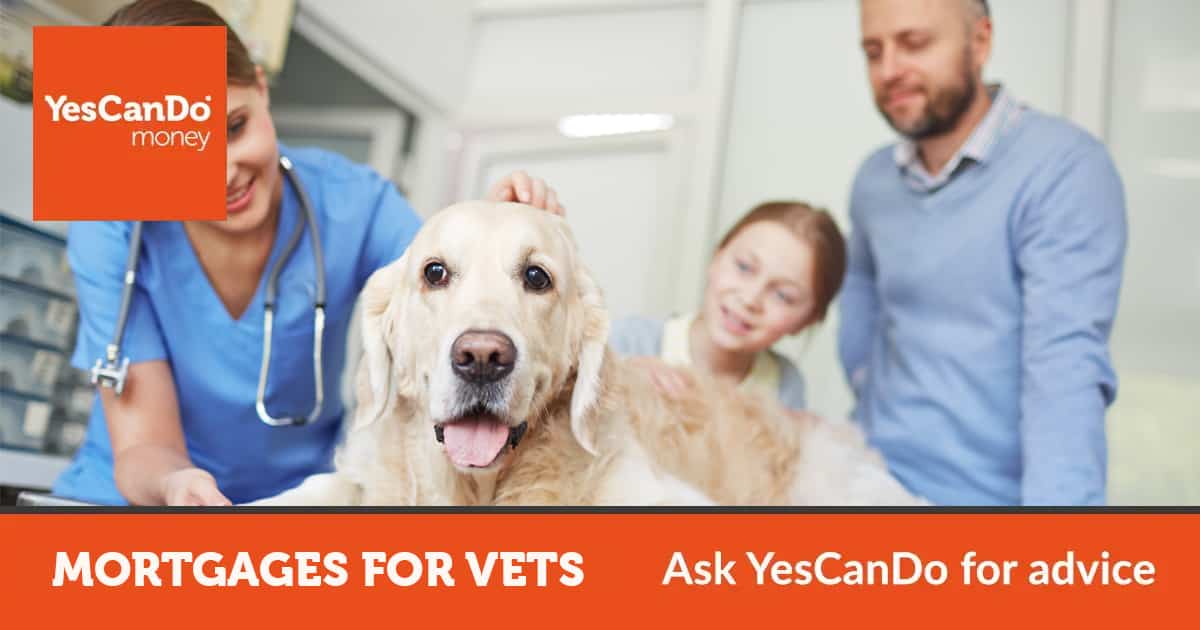 Talk To YesCanDo Money For Specialist Mortgage Advice
As a veterinary surgeon, you need mortgage advice that you can trust. At YesCanDo Money, we have arranged thousands of mortgages for vets and people in all kinds of professions, including teachers, police, firemen, and those within the medical profession. For this reason, you can trust us to always find the lenders that are best suited to your field of work. You need people with an understanding of your earnings and your category of income, and we will put you in touch with the lenders that understand your particular situation.
When you use our services, you will benefit from experienced professionals who can help you get the largest loan amount from high street lenders with the best rates of interest available, depending on your circumstances. And as we are a no-fee mortgage broker, you won't need to spend a penny when benefiting from the services of our uniquely positioned team.
YesCanDo money is a trading name of Roberts Financial Services Ltd which is authorised and regulated by the Financial Conduct Authority, authorisation number 527815. Your home may be repossessed if you do not keep up repayments on your mortgage.
Highly rated service and communication
If you would like to know more, get in touch with us today. Call us, email us, or WhatsApp us for free mortgage advice that is tailored to your profession. We will advise you on the application process, provide you with up-to-date information on the mortgage market, and put you in touch with the lenders that are right for you. Our dedicated team are available 6 days a week, from Monday to Saturday, so talk to us or leave us a message out of hours. We look forward to helping you move forward on the property ladder.
YesCanDo money is a trading name of Roberts Financial Services Ltd which is authorised and regulated by the Financial Conduct Authority, authorisation number 527815. Your home may be repossessed if you do not keep up repayments on your mortgage.