What Are The Different Types of Mortgage?
Learn about the different types of mortgages available to you. Advice on the best mortgage type for your situation, and who to turn to for experienced advice.
Mortgage Types
We know how exciting buying a home can be, but trying to make sense of the mortgages available can be confusing. Your mortgage lender will probably present you with a number of options but which should you choose? It's important to understand each type of mortgage available to you as you want to make sure you purchase something that is right for you before you borrow money from the lender.
At YesCanDo Money, our team of mortgage experts is here to help you. We can explain the different types of mortgage deals available and can guide you as to which one might be right for you.
With access to mortgage deals across the mortgage market, including those that you won't find on the high street, we will narrow down your options to make your life easier.
Get in touch with us if you have any questions. But in the meantime, keep reading to learn more about the different types of mortgages available.
Capital Repayment Vs Interest-Only Mortgages
Mortgages come with two main repayment types: Capital Repayment and Interest-Only.
The option you choose will affect the amount you need to repay each month so it's worth considering which repayment type is right for your financial circumstances.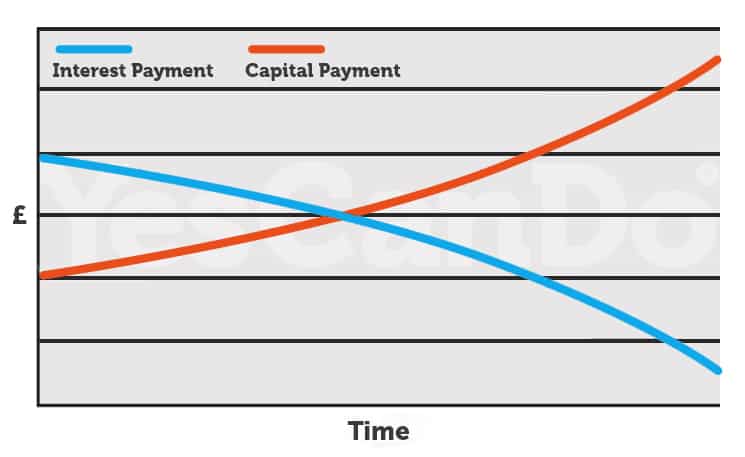 With a Capital Repayment Mortgage you pay interest and repay a portion of the capital you have borrowed when you make your monthly repayments. At the beginning of your mortgage, the repayments will be made up of more interest than capital. But as your mortgage debt shrinks and the interest falls, you will make deeper inroads into paying off the capital.
Provided you keep up with your monthly repayment schedule, by the end of your mortgage term (usually up to 25 years), you will have repaid everything you borrowed, including the interest owed.
With an interest-only mortgage, you only pay back interest each month. This doesn't mean you won't have to repay back the loan amount you borrowed, however, as you will still need to pay this back at the end of the mortgage term.
If you take out an interest-only mortgage, your monthly mortgage payments will be much lower than with a capital repayment mortgage. This is one reason why this type of mortgage is attractive to many. However, you will need to have savings in place to cover the capital you borrowed by the time your term ends, so you will need to account for this in your monthly budget.
The eligibility criteria for an interest-only mortgage is quite strict. You will need to prove to your mortgage lender that you have a saving plan in place to cover your final repayment. Your lender might require you to make a large deposit at the beginning of your mortgage too.
Lenders might also expect you to have a reasonably high income to give them peace of mind that you will be able to make savings towards your final payment. Also worth noting is most lenders will require you to have significant equity in the property before they will consider considering interest only. Usually 40% equity as a minimum.
Looking to extend your interest only mortgage term as it is coming to an end? Give our advisors a call to walk through your available options.
Learn more about the different types of interest-only mortgages.
A part and part mortgage is a type of mortgage where the borrower makes both partial interest payments and capital repayments.  This means that a portion of the mortgage payment goes towards paying off the interest on the mortgage, while the remaining portion goes towards paying down the capital.
This can be a great option for borrowers who want to pay off their mortgage sooner, but also want to have some flexibility in how much they pay each month. It's a way to balance out the two types of payments over the term of the mortgage, to try to match your financial situation.
Which Repayment Type Is Right For You?
There are pros and cons to each repayment strategy.
With a capital repayment mortgage, you pay less mortgage interest overall and you have nothing more to pay once your mortgage term ends. However, the monthly payments will be higher, so you need to be certain that you are able to afford them.
With interest-only loans, your monthly payments will be lower. However, it can be more expensive overall as the amount you owe won't decrease over the mortgage term unless you get a deal with a lower interest rate. You will also need to make sure you have a saving plan or investments in place to cover your final payment. If you can't afford to make that payment, you will have to ask your lender to extend your mortgage term or remortgage to a new lender.
In most cases, a capital repayment mortgage is the better option if you are able to meet the monthly repayments. This is because you will have peace of mind that your mortgage will be paid off once your mortgage term ends. But if you would like to know more about the pros and cons of each and which might be right for you, get in touch with our team for a no-fee consultation.
Fixed-Rate Vs Variable-Rate Mortgages
After choosing your repayment strategy, you then have the choice of two types of mortgage: A fixed-rate mortgage or a variable-rate mortgage.
To further complicate matters, there are different types of variable-rate mortgages which we take a closer look below.
Should you take out a fixed-rate mortgage, you have the peace of mind that you will be making payments on the same interest rate each month. This means you won't have to pay more should interest rates rise on the wider market.
As you will be paying a fixed monthly payment, you should find it easier to budget for your mortgage. You will be paying at a fixed interest rate each month so there will be no nasty surprises should rates increase.
However, with a fixed-rate mortgage, there are some downsides.
For one thing, you will be locked into a fixed-rate deal. This is a good thing if the rate of interest rises or stays the same, but not so good if interest rates fall. Those who opt for a variable mortgage will have less to pay each month if the interest rate drops and you won't be able to take advantage of this.
After the fixed period ends, you will usually move onto your mortgage lender's standard variable rate (SVR). This is likely to be more expensive than your fixed-rate deal. However, you can avoid a high SVR mortgage by securing a new mortgage deal before your fixed rate mortgage term ends. You can then transfer to your new deal as soon as the fixed period is over. You could also move to a new mortgage deal before your fixed term ends but there is the possibility of early repayment charges if you do.
With these types of mortgages, your monthly payments can fall and rise over time. The rate of interest charged by the lender will decrease or increase depending on wider economic circumstances.
You can benefit from lower monthly repayments if interest rates decrease. In this way, mortgages on a variable rate can be more attractive than a mortgage with fixed rates. However, if the rate of interest were to increase, you would have to pay more each month. For some people, this can make it harder to budget.
This type of mortgage falls into various categories. These are:
Tracker mortgages
Standard variable rate mortgages
Discount rate mortgages
Capped rate mortgages
Each type of variable-rate mortgage will affect your mortgage repayments so it's important to consider each before speaking to a lender.
Other Types Of Mortgages
We have covered the main types of mortgages thus far but there are other types of mortgages that you might be interested in. We discuss them in brief below but if you would like to know more about any of them, get in touch with us to discuss your options.
Finding The Right Mortgage For You
If you are currently searching across the property market for your next home, get in touch with us today. We can help you with every stage of the mortgage process and point you towards those deals that are right for your individual circumstances. As we are a no-fee mortgage broker, there will be no charge to you. So, you can have the peace of mind that you're getting the best deal without having to incur any further costs on your house-buying journey.
Get a mortgage with the help from YesCanDo
With dedicated support throughout, we have full-market access for the best rates & deals. We do it all for you, for free!
SPEAK TO A MORTGAGE ADVISOR
Let us know what the best time is for us to call you. We will get one of our mortgage advisors will be in touch to talk through your situation and available options.
Our customer reviews make us blush 😊
We have many happy customers from across the majority of the UK. Take a moment to read our customer reviews below or alternatively visit our reviews page. We have thousands of reviews across our Google, Facebook, and Trustpilot pages.