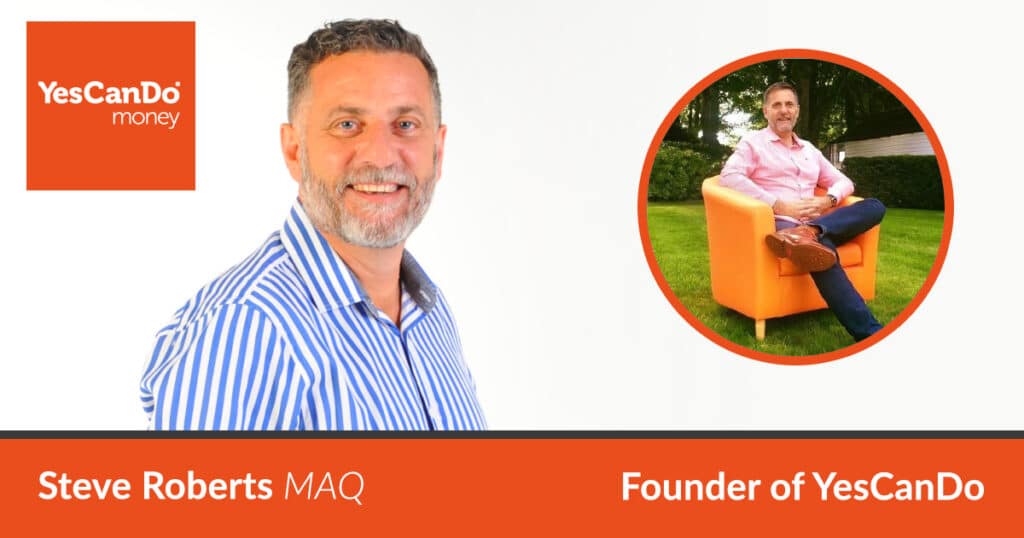 A career in mortgages
Steve started his career as an IFA Independent Financial Adviser in 1992 helping clients with all areas of the financial industry including Pensions, Investments and Mortgages. During the early years it quickly became apparent that Mortgages were where Steve's skills were heightened and his interest layed. Visiting people at their home on a one to one basis meant that Steve quickly became an expert in client relationships and here ignited his passion for making others achieve their goal. You can find more information about Steve on his LinkedIn page.
YesCanDo Money was born
Steve's fierce dedication for helping others navigate the financial world soon gained him an exceptional reputation. Building landlord's portfolio's and utilising the whole of market to place mortgages meant that recommendations and referrals started pouring in.
Having worked independently out on the road for a number of years, it was time for Steve to have a base and some company! Steve created a HQ at his home and took on his first member of admin staff. The old stuffy financial company name was scrapped and a new brand for the mortgage broker was born. Steve wanted a name that could have multiple company uses and reflected his core passion of helping clients. Being a 'Yes' man himself the name came easily and the YesCanDo brand was launched with YesCanDo Money being its first company.
Building Hampshire's largest NO fee mortgage brokers
YesCanDo Money continued to thrive but Steve wanted more for the company. He recognised a shift in society through being seen and available on-line and therefore introduced social media to the business. Working with his youngest son Sam, YesCanDo Media was born which saw a specialist team working on creating professional marketing content to other local businesses. Having an on-line presence and using this new platform to talk to the world created endless new opportunities, increased recommendations and glowing Facebook and Google reviews.
Steve's eldest son Matthew joined the mortgage team coming from a background in mortgages working at Nationwide. YesCanDo Money saw massive growth and both Steve and Matthew continued to grow the YesCanDo team to support their growing number of customers. The company had always offered life insurance and mortgage protection as it is vital for financial security. In the last few years, YesCanDo Money started to build it's own life insurance department to allow further growth of the company.
Making life easy for our clients
Whilst developing the various aspects of the YesCanDo service, one message runs through them all, the same as it has right from the beginning – Putting clients first. The now 17 strong team were all employed for their exceptional customer relation skills and are passionate about doing what's right for our clients. Communication is key to the business, tools such as WhatsApp Business, Facebook and Instagram Messenger and online mortgage advice and marketing are all used to make it as easy and accessible for our clients to talk to us and find information.
YesCanDo have built relationships with trusted local solicitors, accountants and builders so their clients have access to the professional services they might need. YesCanDo continues to be at the forefront of on-line changes.
Having been a local broker that met in person with all their customers, when the pandemic hit this needed to change! In 2020, Steve and sons worked on growing their online tools to increase thier service area to offer free mortgage advice and support not just to Hampshire but to the whole UK.
Nothing gives the team more pleasure than helping people like first time buyers.
Being able to support them with a one stop shop, navigate them through the process, whilst letting them communicate any way they chose means that they love us back just as much!
About Steve
Steve is a dedicated family man who loves nothing more than spending time with them. This extends to his work life where two of his sons have joined him in the business and who have formed a major part in the company's success.
Steve lives in an old Farmhouse on a small Island in the South of England. He loves walking and often goes out exploring for hours with his beloved wife. He enjoys tending to his hens, which produce fresh eggs every morning and also enjoys collecting old french furniture for his family home. Steve has a passion for fitness and health, which is sometimes overshadowed by his passion for fine food!