Despite the 2016 stamp duty hike and the changes in which investors are taxed, there is still a lot of interest from property buyers wanting to make a real estate investment.
If you're looking to purchase an investment property with a rental income and need a buy-to-let mortgage, our team of mortgage advisors can help. We have access to a wide range of mortgage lenders offering buy-to-let (BTL) mortgages and it may be possible for you to get a mortgage with a low deposit.
We will explain all of your mortgage options to you and will give you tailored advice to help you get the most affordable deal to keep the cost of your mortgage payments down.
But what deposit will you need for a buy-to-let mortgage and what is the minimum deposit that lenders will accept?
The lowest deposit accepted for a buy-to-let mortgage is 15%. However, the majority of available buy-to-let mortgages come with an expected deposit of at least 20-25%.
How much deposit for buy to let mortgage?
There are a lot of lenders that offer buy-to-let mortgages, from high-street banks to specialist mortgage providers. They each have their own deposit requirements so there is no one-size-fits-all when it comes to buy-to-let mortgages.
To gain access to the best mortgage deals, the more you can put down as a deposit the better. Most lenders accept large deposits, such as a 30% deposit on a property's purchase price, so you should try to save up for this amount if you can.
But what if you can't raise money or secure finance for a larger deposit? Fear not!
Some lenders will accept deposits of a smaller amount but the minimum size of the deposit needed will depend on the lender. Most buy to let mortgages come with a deposit of at least 20-25% of house prices but some specialist lenders may let you buy a house with a deposit of 15% of a property value. Its worth noting that the rental income is very important on a buy to let property as the lender as it will need to be in the region of 125% of the mortgage payments.
Lowest deposit on buy to let mortgages
The lowest deposit for a buy-to-let mortgage is 15% but with fewer lenders offering these, you might want to save up for a deposit of at least 20% for access to more buy to let mortgages products.
Speak to one of our expert buy-to-let mortgage advisors
Is it possible to get a mortgage with no deposit?
It's sometimes possible to get a residential mortgage with a 5% deposit but in the case of buy to let mortgages, you won't be so lucky! As such, you will need to come up with at least a 15% deposit if you're you're looking for a buy-to-let mortgage.
Will I be eligible for a buy-to-let mortgage with a 15% deposit?
If you're hoping to secure a BTL mortgage with a low deposit, you will need to pass the lender's buy-to-let eligibility criteria. The following (along with other factors) will be taken into consideration).
Your credit history
Your financial outgoings, including credit card payments and other debts
Your age
The type of property you are looking to buy
Of course, you will also need to find the right mortgage lender as very few offer 85% loan-to-value mortgages at the moment. We can put you in touch with the lenders that will offer you a mortgage with a low deposit but if you want access to a wider range of mortgage deals, you might want to save up for a higher deposit.
Can I get a buy-to-let mortgage as a first-time buyer?
First-time buyers can get a buy-to-let mortgage so if you're looking to invest in your first property, you may be given the opportunity to do so.
However, you are unlikely to get a mortgage with a 15% deposit.
A few lenders offer 80% LTV deals to first-time buyers with a 20% deposit but the majority will ask for a minimum deposit of 25% for a 75% LTV mortgage.
Existing landlords have a better chance of securing a lower deposit mortgage with better mortgage rates than first-time buyers.
As you can see from the table below, the introductory rates offered on an 80% mortgage are smaller for existing landlords than they are for first-time property investors.
This isn't always the case, however, as rates are sometimes identical or only slightly different, as is the case with the 75% loan-to-value mortgages seen below.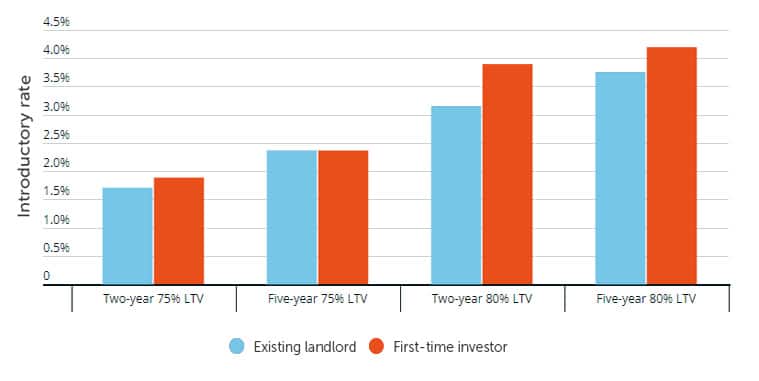 Speak to one of our expert buy-to-let mortgage advisors
How much can I borrow for a buy-to-let mortgage?
The maximum amount you can borrow on a loan for a buy-to-let mortgage will be based on the amount you can afford to pay on your mortgage repayments.
For residential borrowers, lenders will focus mainly on the buyer's current income and outgoings when determining the loan amount.
The situation is a little different for buy-to-let borrowers, however.
While your current income and outgoings may be taken into account, the biggest factor determining how much you can borrow will be your projected rental income. Lenders will often expect this to be at least 125% of your mortgage payments though some will expect a figure of 145% (or more) if you are a higher taxpayer.
The greater the rent, the more money you will be able to borrow, so this is something to take into consideration when looking at properties. Generally speaking, properties in high-demand areas have the highest rent attributed to them. Use property sites or speak to local letting agents to find out the rental costs of houses in the locations that you are considering.
A Buy-to-let mortgage can be taken out as a repayment mortgage. Having over 40 years of experience as mortgage brokers we have found that the far majority of buy-to-let mortgages are taken out on an interest-only basis.
Will my deposit affect how much I can borrow?
Yes! While it might take you a little longer to save, a bigger deposit is always better as this will help you to borrow more. You will also be eligible for BTL mortgages with the lowest interest rates if you put down a higher deposit, so this is one reason why you might want to save up for a deposit of at least 20-25% instead of a 15% deposit for your loan.
How can I put together a deposit for a buy-to-let property?
When looking to raise funds for a BTL deposit, there are a number of things you can do.
Save up
This is the obvious method, of course. If you have the ability to put money aside each month, this will help you to gather the funds needed for a deposit and to cover the various fees that add to your total buy-to-let mortgage costs.
To save money, try and cut your regular expenses by using price comparison sites, try to pay off your other debt, and limit non-essential purchases until you have paid your mortgage deposit.
Remortgage
If your residential property (or existing buy-to-let) has risen in value, then you may be able to remortgage and use some of the equity from your home or rental property as the deposit for your buy-to-let purchase. If house prices fall, this may not be the right option for you so consider this before you apply for a new mortgage.
Use your pension
If you are over 55, you could take withdraw some of the money from your pension pot and use it as your deposit. Before taking this step, however, it is wise to seek expert tax advice as you may pay income tax if you take money from your pension early.
Use a gifted deposit
Some lenders will accept gifted deposits from friends or family members. You will need a gifted deposit letter from the giver, however, to clarify to the lender that you have been given the money as a gift and not as a loan.
Use a bridging loan
Bridging loans are short-term, interest-only loans that are usually secured against a property. They can provide you with the money you need for a deposit although they often come with a high-interest rate. Talk to a mortgage broker for more advice on bridging loans and the terms attached to them.
Use a personal loan
This isn't the ideal method for raising deposit funds as it could limit your chances of a successful application if your debt-to-income ratio is high. If your lender does accept money from a personal loan, you would only be allowed to put a small percentage of the loan towards your deposit.
Speak to one of our expert buy-to-let mortgage advisors
What do I do if my buy-to-let mortgage application is declined?
Whether you're investing in a buy-to-let for the first time or you are a portfolio landlord and have multiple properties, it can still be a nail-biting time when you're waiting to hear back from the lender about your application.
If your application is declined, there will usually be a good reason for this.
Sometimes, your deposit could be an issue. If you haven't been able to raise the deposit required, be that a high or a low deposit, the lender will reject your application if you haven't met their set requirements.
Other reasons why your application might be declined include:
Your projected monthly rental income might not be enough to cover the mortgage term
You might have a bad credit score
If you're a frequent investor, you might have too much mortgage debt
You might not meet the lender's age criteria – The minimum age for buy-to-let mortgages
The lender might not like the property type if it is a holiday let, student digs, or an HMO (house with multiple occupations)
You may be over the LTV threshold if you are a portfolio landlord
Your application could have been submitted with errors
You may have chosen the wrong lender
If your application is declined, you will need to find out the reasons why. If your application was rejected because of one or more of the reasons above, then there are a number of steps you can take. For example:
Look for a property with a higher rental yield – Work out your rental yield with our Rental Yield Calculator
Take steps to improve your credit score
Look for a lender with more flexibility regarding your age and portfolio
Consider a specialist mortgage, such as an HMO mortgage if you are buying that type of property
Use the services of a mortgage broker – they will complete your application for you to eliminate the possibility of errors and they will let you know which lender is right for your personal circumstances
Is it impossible to get a buy-to-let mortgage with a poor credit history?
It's not impossible but to improve your chances of being accepted for a mortgage, you should be prepared to put down a larger deposit.
You should also steps to improve your financial situation as this will instill your lender with more confidence. So, you might want to…
Reduce your outgoings
Pay all of your bills on time
Resist the urge to take out further loans
Some high street lenders might still turn you down for a mortgage but there are specialist mortgage lenders that may be more flexible.
Ultimately, it depends on the reasons why you have a bad credit history and how long ago you experienced credit issues. Some lenders will be lenient if they are confident that your situation has now improved and if they think you will have no difficulty in making the monthly payments on your mortgage.
Related reading:
Speak to one of our expert buy-to-let mortgage advisors
How YesCanDo Money Can Help
If you're looking for a buy-to-let mortgage, get in touch with our expert team. We can talk to you about lenders' deposit expectations and can give you advice on what you can do to raise the funds needed for your mortgage.
As we have access to a wide number of lenders and buy-to-let deals on the mortgage market, we can also help you get the most affordable buy to let mortgages available to somebody in your situation to help you reduce your monthly repayments.
As we have access to over 14,000 residential mortgages and buy to let mortgages all with different interest rates. Our job is to get you the lowest interest rate that works with the rental income on your buy to let property.
Having over 25 year of experience with buy to let properties we will be able to help you with any questions you may have on income tax, monthly interest payments, and what mortgage term you should choose. We will also help you work out how much stamp duty you will need to pay and how much rental income you will need to make the buy to let mortgage work for you.
Get in touch with our team if you require any more information about buy-to-let mortgages and the minimum deposit needed.
Check out our other buy-to-let mortgage advice guides for further information on buy-to-let mortgages, as well as info about residential mortgages, mortgage types, and a range of other related topics.
Related reading: