Fee-Free Mortgage Service | Expert Advice | We Do Everything For You
How Much Does a Buy To Let Cost in the UK?
Buy-to-let properties make it possible to boost your monthly income while investing for the long haul. Your profits can be substantial if your monthly mortgage payments are covered by the rent you receive, while selling up can also yield a good return. It's important to note – however – that buy-to-let properties come with a set of running costs you'll need to be aware of. Below, we've compiled an all-encompassing breakdown of the common costs associated with running a buy-to-let property, as well as information on how our fee-free service can help.
Contact us via WhatsApp below or give us a call on
033 0088 4407
. 
Buy to let mortgage costs
A buy-to-let mortgage can be more expensive than you may think. In many ways, buy-to-let mortgages are similar to regular mortgages. However, they differ in several key aspects, the main ones being:
It is common for the fees to be much higher
Mortgages for buy-to-let properties generally have higher interest rates
There is usually a minimum deposit of 25% of the property's value for a buy-to-let mortgage (although this can vary between 20 and 40 percent). You can pay a higher deposit too, meaning a smaller mortgage for you to borrow.
Buy to let conveyancing costs
Property conveyancing is the area of law that deals specifically with the legal side of moving into a new home. Moving details are handled by conveyancers, which are lawyers who are specialised in that area. Property ownership will be transferred from one person to another through the conveyancing process.
There is a wide variety of conveyancing fees, but they typically fall between £850 and £1500 plus disbursements.
There are several factors that will influence the price of conveyancing fees. It may be necessary to pay for additional searches if the property is located near a river or coal mine, for instance.
Such disbursements will range from:
Transferring ownership which is a Land Registry fee
Stamp duty land tax – For any property worth more than £125,000
Local authority searches of the property
Aniti-money laundering checks (AML) to verify your identity
Help-to-buy supplements
Lifetime or Help-to-buy ISA
Buy to let monthly costs
One thing to note about buy-to-let is that the majority of them are taken out on an interest-only basis. As a result, you'll only be required to repay the interest on your mortgage each month, not the actual loan.
Your mortgage will end with an interest-only payment, and you'll need to repay the entire amount, either by saving or selling your home. Taxes will inevitably be paid too, so it's worth putting aside a little every month so that the tax bill doesn't feel so burdensome. Your residential landlord insurance will likely be paid by direct debit, and agencies will take their percentage monthly. In addition to your mortgage payments & taxes, you may also be required to pay for:
Insurance
Repairs
Maintenance
Service charge (for leasehold properties)
Ground rent (for leasehold properties)
Buy to let hidden costs
While it can be exciting to hand over the keys to your new tenants, it is wise to take a moment to review all the details before handing them over.
Rigorous planning and expecting the unexpected is the key to being a successful landlord. Make sure you are aware of any hidden costs you might not have come across yet.
These fees can range from:
Safety certifications – This can be things such as a gas and electrical inspection. Portable appliances will need to be PAT tested too. Having an Energy Performance Certificate is also legally required.
Hidden agency fees – Fees like these can be anything from inventory writing, repeat fees, and a commission fee to the agency if you end up selling the property to the tenant.
Fire safety certificate – It's incredibly important to get smoke detectors installed on each floor of the property and have them checked. You may also need to provide fire extinguishers. Be sure to check with your local fire department or city council before tenants move in to the property.
Advertising – If you are looking for tenants, then you'll need to advertise the property. Be sure to budget for advertising on a range of social media sites and local newspapers.
Along with the set-up and ongoing costs, there are always those unforeseen issues that can catch us off-guard. Make sure you are prepared for things like:
Water damage
Electrical fires
Deliberate damage and vandalism
Climate damages – bad weather such as storms and torrential rain
When risk management is practiced, you can minimize many potential problems – or at least know how to react quickly in the event of a disaster.
Contact us via WhatsApp, request a callback from our team, or give us a call on 033 0088 4407
. 
Secure a Buy-To-Let with YesCanDo Money
Specialist buy-to-let mortgage advisors at YesCanDo can help you with everything you need! Let us handle the advice, the application, all the paperwork, the bank and solicitor chasing, and take the stress away from you.

Saving you money with our highly rated fee-free service serves as our top priority. Please let us know when would be a good time for us to call. One of our expert mortgage advisors will reach out to you to discuss your situation and available options.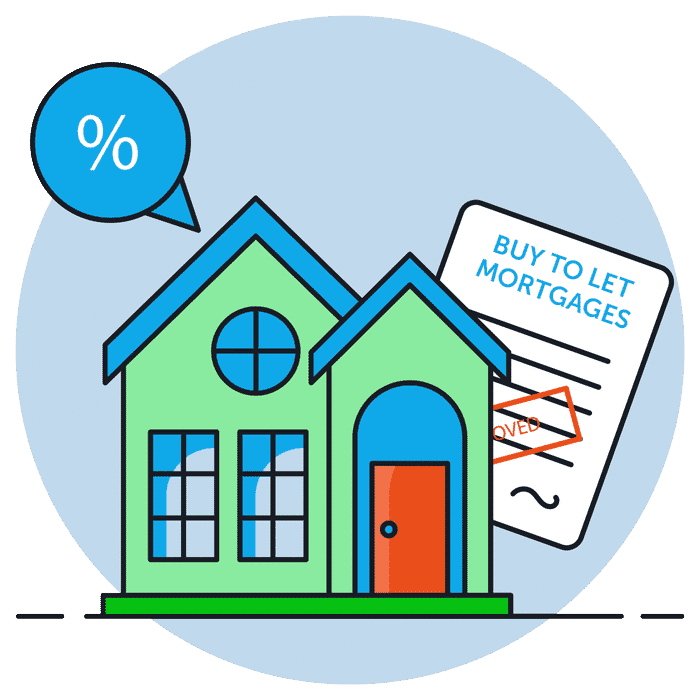 Our customer reviews speak for themselves
Buy-To-Let Mortgage Guides and Top Tips
Expert advisers ready to help you achieve your best BTL mortgage
Let us know what the best time is for us to call you. We will get one of our mortgage advisors will be in touch to talk through your situation and available options.