Being your own boss is great, right? You can determine your work hours, take time off when you need to, and have more say on what you do each day, without an employer dictating their requirements to you!
It's the dream! Okay, so we know that being a self-employed business owner is not that simple as many challenges await you, from doing your taxes to finding the clients that will keep you afloat financially.
Getting a mortgage can be another challenge as some mortgage lenders are cautious about giving money to people who may have inconsistent income streams. This is especially true for those in the construction industry who are part of the CIS scheme. Does this mean getting a mortgage is impossible? No, of course not, as you just need to know which lenders to turn to when you want to get a self-employed mortgage.
Mortgage advisor for getting a Self Employed mortgage
At YesCanDo Money, our expert mortgage advisors are here to help you with self employed mortgages. We know which lenders are more likely to give you a mortgage, from the banks and building societies on the high street to more specialist lenders who tailor their services to self-employed applicants and can give you tailored advice that is relevant to your form of self-employment.
Get in touch with our team today if you would like to arrange a self employed mortgage and keep reading this guide for helpful information related to self-employed mortgages.
We know the best lenders for the self-employed
Why are lenders cautious about self-employed borrowers?
When assessing self employed mortgage applications, lenders use their specific lending criteria to determine whether or not they are willing to loan money to their applicants. Applicants without a steady source of income may fall outside the parameters of the lender's criteria and this is why some lenders refuse mortgages to self-employed borrowers.
This is understandable, as lenders need to know that the people they lend money to have the ability to make their monthly mortgage repayments. If the lender suspects the person will have difficulty making these monthly payments, perhaps because they have no guarantee that they will have work in the future, they are likely to say 'no' after completing their affordability assessment.
Not every mortgage lender will refuse an application, however, as some have more flexible lending criteria than others and will offer self-employed mortgages to self-employed mortgage applicants. The right mortgage broker can point you in the direction of these self employed mortgage lenders, including our team who have years of experience helping self-employed people get fantastic mortgage rates and deals.
How do lenders assess affordability on a self-employed mortgage?
It depends on the lender but generally speaking, most lenders will assess your affordability based on your average profits and tax year overview. They will want to see evidence of your last 2-3 years' accounts as they will use your net profit to calculate your average yearly income.
When they know how much you earn, they will use an income multiple of 4, 5, or 6 times that amount to determine how much they are willing to lend to you. Their decision to lend will be based on whether or not they think you can afford to pay back the mortgage.
Your net profit isn't the only thing lenders will take into account during your affordability assessment, however. Other factors that will be taken into consideration include:
Your credit rating and credit report
Your level of debt
Your regular outgoings
Your level of savings
Income from sources outside of your business
Your ability to live within your means
If you tick all of the lender's boxes, the higher your chances of mortgage approval and a deal with the lowest interest rates.
We know the best lenders for the self-employed
How do I prove my income to a mortgage lender?
As stated previously, you will need to show the lender your company accounts. These should clarify how your income is structured and how well your business is doing financially.
Along with your company accounts, lenders usually ask for…
The last 2-3 years' SA302 forms that are produced on your HMRC tax account after you complete your self-assessment
Proof of the salary element of your income, such as your payslips and P60
Evidence of retained profits or dividend income (if you're a company director)
Accountant certificates that certify your income
Evidence of upcoming contracts
It is wise to get these documents together at an early stage to prevent any delays with your mortgage application.
What other documents will I need to provide when applying for a mortgage?
As well as the documents that evidence your income, you will also need to provide the following as proof of ID and address.
Passport
Driving licence
Utility bills from the last 3 months
Council tax bill
Lenders will also want to assess your spending so you will be asked to provide both business and personal bank statements from the last 3-6 months. You will also be asked to provide evidence of your deposit which could come in the form of a proof of deposit letter, a signed contractual agreement, or a bank or savings account statement.
How long do I need to be self-employed to get a mortgage?
It depends on the lender in question. Some lenders will be more willing to consider your application if you have been self-employed for 3 years or more as you will be able to provide the last 3 years' account information that they usually ask for. If you have been operating for less than 3 years, you may still be able to apply for a mortgage but your options may be limited when looking for lenders and mortgage deals.
Can I get a mortgage if I have been self-employed for less than a year?
It is possible to get a mortgage if you have been self-employed for less than a year but your options will be even more limited as very few lenders are willing to give a self-employed mortgage to somebody with a trading history of under 12 months. You will likely be ruled out of mortgages with a competitive interest rate if you haven't been trading for very long so this is something you will need to keep in mind if you decide to apply for mortgage as a newly self-employed person.
How much of a deposit will I need?
Most lenders will expect a deposit of at least 10%. This will give you a 90% loan-to-value mortgage. If you have been trading for less than 3 years or if you have a bad credit history, you may be asked to put down a larger deposit to counteract the risk to the lender.
You may want to put down a larger deposit anyway as the more money you can put down upfront, the more mortgage deals will be opened up to you. These will include favourable rates and terms so your mortgage repayments may be reduced.
If you can't put down a deposit of 10% or more, you may still be eligible for a 95% loan to value mortgage with a 5% deposit but you may need to turn to a specialist self-employed mortgage provider to apply for this. You could also use a government scheme, such as the Help-To-Buy equity loan scheme if you're a first-time buyer.
How can I boost my mortgage chances?
To increase your chances of getting a mortgage as a self-employed applicant, there are a number of things you can do before applying to a suitable lender.
Check your credit rating
It is hard to say what credit score is needed to buy a house. You won't necessarily be turned down for a mortgage if you have bad credit but your chances of approval (and a better loan deal with the lowest mortgage rates) will be improved if you have a good credit score. There is plenty of information online on how to improve your credit score so take all the steps necessary before applying for a mortgage. Also run your credit report by a mortgage broker who will be experienced in understanding your mortgage options.
Save as much you can for your deposit
The bigger your deposit, the more deals will be opened up to you. A larger deposit can also secure your chances of a successful application.
Speak to a mortgage broker
Mortgage brokers have access to both mainstream lenders and specialist lenders and know which lenders will be more likely to offer a mortgage to somebody in your situation.
As mortgage brokers we have many years experience with self-employed and freelancer mortgage applicants and can point you in the direction of specialist self-employed mortgage lenders. Get in touch with a specialist self-employed mortgage broker at YesCanDo Money today if you would like more information.
We know the best lenders for the self-employed
Will my business set-up affect my chances of mortgage approval?
Your business set-up will affect the income assessment process. Lets take a look at a few.
Sole traders
If you're a sole trader, the potential lender will look at either your net profit (if you provide your sole trader accounts) or the total income you have received (if you provide your SA302s) when working out your average earnings. You will need to provide copies of recent bank statements and a record of your expenses so the lender can understand your spending.
Business partners
If you're a partner in a business, all mainstream lenders will want to see a copy of your accounts and tax calculations. If you pay yourself an income, make sure the lender takes this into account as well as any profits you choose to retain in your business.
Limited company director
Mortgages for limited company directors work slightly differently. Being a company director, you will have a different income structure than sole traders and partners as they pay themselves a salary using the PAYE system and draw other earnings in the form of dividends. This can make applying for a mortgage difficult as not every lender understands this form of self-employment status.
Some mortgage providers will only consider the salary drawn from the company as income (plus dividends) while others will consider the company's net profit as income and offer the self-employed borrower a bigger mortgage as a consequence.
If you're a limited company director, we will point you in the direction of the lenders who will base your income on company profits to increase the amount you may be able to borrow. You will still need to provide bank statements from the last 3 months and copies of your SA302s, alongside other documents as evidence of dividend payments or retained profits.
Can I have a self cert mortgage?
Self cert mortgages have not been available for over 20 years. When applying for self cert mortgages you were able to self certify your own income and this led to all sorts of issues back in the 1990's and was a big factor leading to the recession of 1998. For this reason, self certification mortgages are no longer available.
Is it easy to remortgage as self employed?
Self-employed individuals may find the remortgage process and how to remortgage intimidating due to all the additional steps and considerations required. To learn every step, from reviewing your current self-employed mortgage deal to submitting the remortgage application, read our Ultimate Self-Employed Remortgage Guide.
We know the best lenders for the self-employed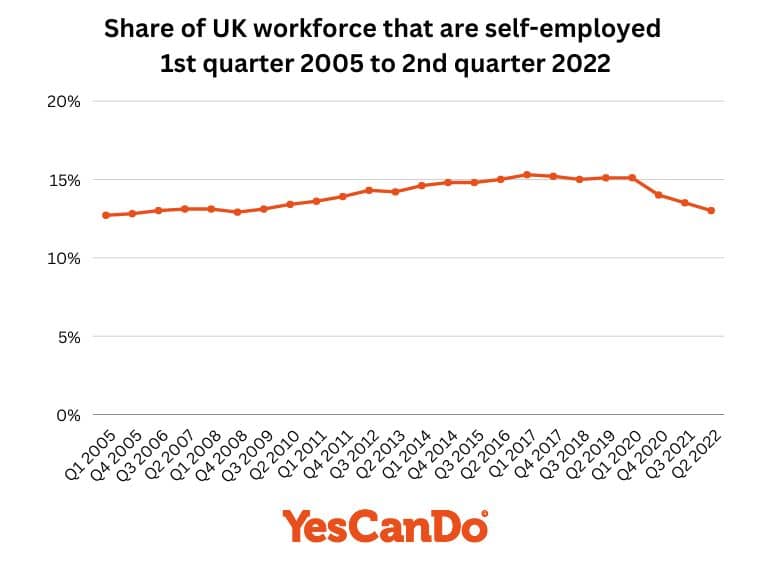 How YesCanDo Money can help with your self employed mortgage
Self-employed people sometimes struggle to get a mortgage because of the limited number of lenders on the mortgage market willing to lend to them because of their self-employed mortgage eligibility. But this is where experienced mortgage brokers can help.
If you're a self-employed person, be that a sole trader, limited company director, or a business partner, we can provide the right self-employed mortgage advice. As our mortgage advisers have years of experience helping all kinds of self-employed people, we will have an understanding of your self-employed position and the things you need to do to improve your chances of a successful mortgage application.
Your appointed representative will get to know you and your mortgage needs and will give you tailored mortgage advice that is right for your situation. They will then search the market for lenders who offer self-employed mortgages with the help of a self-employed mortgage calculator. The mortgage advisor will then be able to calculate which offers the best deals with the lowest mortgage rates. After finding you a great mortgage deal, they will then support you in the application process by completing the relevant forms for you.
All of our services are FREE. So, not only can we save you a lot of time by doing a lot of the mortgage work on your behalf but we can help you make significant savings too, through our fee-free service and the affordable mortgage deal that we find for you. To learn more, get in touch with a mortgage adviser at YesCanDo Money today using the contact information on our website including WhatsApp. We look forward to having a chat and helping you on your mortgage journey.