Best Mortgage Lenders UK
With there being over a hundred mortgage lenders in the UK where do you even start? Our mortgage advisors are experts in each lenders criteria and can help you choose the best lender for your mortgage.
Add a header to begin generating the table of contents
Reviewing the top mortgage lenders UK
To purchase a home, unless you are able to pay in cash, you will need to borrow money from a mortgage lender. When getting a mortgage, in the past, you would have needed to visit a building society Nowadays, most banks offer mortgage products for homeowners.
There are over 100 mortgage lenders in the UK, which together offer more than 12,000 different mortgage deals. We have included reviews for the largest mortgage lenders as well as specialist lenders.
The biggest mortgage lenders in the UK are also known as the Big Six, they include Lloyds (including Halifax), Nationwide, Santander, RBS, Barclays, and HSBC. These six lenders account for most of the mortgage lending in the UK.
Specialist lenders, such as Kent Reliance and Fleet, focus on providing mortgages for specific types of customers. If you have a history of bad credit, you may need to consider a specialist lender for your mortgage.
Other lenders, such as Virgin Money, Metro Bank, Clydesdale, and Accord, offer similar mortgage products to the Big Six but are smaller in size.
How many mortgage lenders are there?
There are approximately 100 mortgage lenders in the UK. These are mainly banks and building societies. Some are well-known, while others are specialists who may not be as well-known.
The biggest mortgage lenders UK
The following are the 6 biggest UK mortgage lenders according to the latest data from UK Finance (2022 annual ranking of mortgage lenders by market share). The top 6 spots are almost identical to 2021 however in 2022 Nationwide overtook NatWest to take second place.

The Lloyds Banking Group (includes Halifax) – 19% market share

Nationwide Building Society – 12.5% market share

Natwest Group – 11.5% market share

Santander UK – 11.3% market share

Barclays – 9.9% market share

HSBC Bank – 7.5% market share
Breakdown of Mortgage Lenders market share UK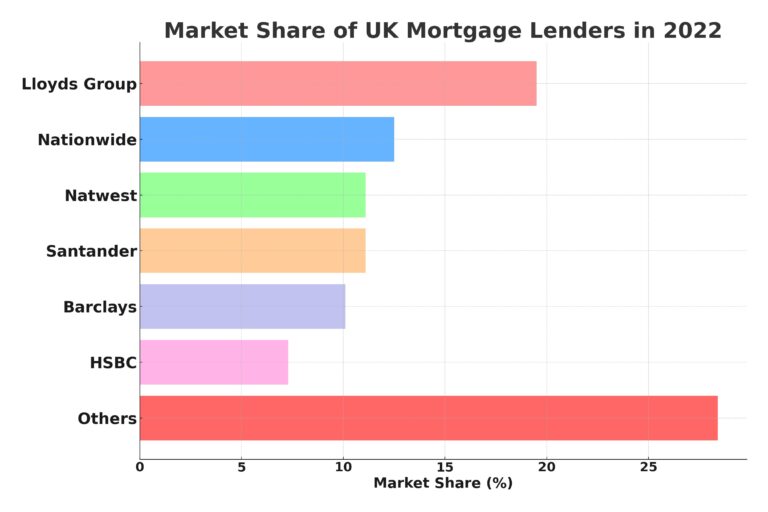 It ultimately depends on your individual circumstances and financial goals. Choosing a high street mortgage lender may offer certain benefits, such as in-person support and a wide range of products to choose from. However, it may also be worth considering other options, such as online lenders, to compare interest rates and find the best deal for you. It's always a good idea to shop around and compare offers from multiple lenders before making a decision.
The fastest mortgage lenders UK
It has been a turbulent few years for the mortgage market and has been a headache for lenders throughout the pandemic and now into the cost of living crisis.
Although the speed of the mortgage application through to completion is not so important when remortgaging it is essential when purchasing a property otherwise you may not end up owning the property!
Our data shows that the time from mortgage application submission to mortgage approval typically takes lenders about 14 days on our new mortgage submissions.
Looking at our own data throughout 2022 we have put a list together of our top 5 faster lenders.
Fastest mortgage lenders
From application submission to mortgage approval these are the fastest lenders.
Halifax – 10.5 days

Coventry building society – 11.5 days

TSB – 12.11

Nationwide – 12.4 days

Bank of Ireland – 13.4 days
Keep in mind that the time it takes for a mortgage to be approved can vary. Some mortgages may be approved more quickly, while others may take longer. If you have bad credit or are self-employed, it may take longer for specialist lenders to approve your application. If you need your mortgage to be approved quickly, consider working with one of our faster lenders. As well as looking for a mortgage deal with the biggest mortgage lenders we advise you not to rule out specialist lenders who may be better suited to your needs, such as those who offer specialised products such as Shared Ownership mortgages.
The best mortgage lenders UK
When looking for the best mortgage lender and mortgage deals, it's important to compare mortgages from multiple mortgage providers to ensure you're getting the best deal. Some factors to consider when comparing mortgage lenders include:
It may also be helpful to read customer reviews and check the lender's reputation before making a decision. It's also a good idea to consider whether the lender offers the type of mortgage that best suits your needs and financial situation.
Best mortgage lenders as voted by our mortgage advisors
Below are the top mortgage lenders UK as voted by our in-house mortgage advisors.
Halifax

NatWest

Accord Mortgages

Nationwide building society

HSBC
Finding the best mortgage lenders
We always search for the most suitable mortgage deals for your situation. It's helpful to know which lenders receive the fewest complaints, process applications quickly, and lend the most based on your income. For example, over a 12-month period, our data showed that Natwest took an average of 19.6 days to process our customers mortgage applications, which was the longest among the top 5 biggest lenders. Knowing this information may encourage you to start the application process earlier. We have compiled data on these criteria to give you an idea of which lenders are the best. This can help you prepare for a future mortgage application.
Compare mortgage lenders
When comparing mortgage lenders, there are several key factors to consider. These include the interest rate, fees and charges, customer service, and the availability of online services.
Here are 5 steps you can follow to compare lenders:
Reviewing the best mortgage lenders UK
Remortgage with same lender?
When it comes to renewing your mortgage, it doesn't always make sence to stay with the same lender.
As there are around 100 UK mortgage lenders, it never makes sense to assume you still have the best deal. Some things to consider before you remortgage are:
Does your current lender have the best rate?
Do they have the best overall mortgage deal?
Do they have the best experience for your current situation?
If timescales are important to you, is your current lender the fastest?
Specialist mortgage lenders
Specialist lenders, such as Kensington and Aldermore, offer mortgage products that are tailored to the needs of specific groups of borrowers. For example, they may offer deals that are suitable for self-employed individuals or people with poor credit histories. These lenders may be able to offer more flexible terms and rates than traditional lenders, but it's important to compare offers from multiple lenders to find the best deal for your needs.
The suitability of a mortgage for an individual will vary depending on the lender's criteria. It is important to consider a wide range of lenders and mortgage deals in order to find the most suitable option and lowest monthly repayments for your circumstances. A mortgage broker, such as YesCanDo Money, can assist you in finding the best mortgage provider with the lowest fixed-rate mortgages.
The information required for a mortgage application varies depending on the lender, but there are some common pieces of information that are typically needed from all applicants. These usually include:
Passport 

Driving licence

Proof of name & address

Proof of deposit

Latest 3 months bank statements
It is important to gather all of the necessary information before beginning the mortgage application process to ensure a smooth and successful outcome.
Read our guide here for more: What information will I need to get a mortgage?
If you have a less-than-perfect credit history, you may have difficulty securing a mortgage from the biggest mortgage lenders. However, there are many specialist mortgage lenders working with borrowers who have adverse credit. A mortgage broker can help you identify these lenders and find the one that is most suited to your situation. By working with a mortgage broker, you can increase your chances of securing the cheapest mortgages and finding mortgage providers who are willing to work with you and offer you the most competitive deals.
Working with the best mortgage lenders uk
FREE dedicated support throughout, we have full-market access to the best mortgage lenders rates & deals. We do everything for you, for free!