There is no doubt that buying a property can be one of life's most stressful experiences. A big part of this can be waiting to hear if your mortgage application has been approved.
In this guide, we explain how long you can expect it to take for your mortgage application to be approved, including all of the necessary steps.
How long does a mortgage application take to be approved?
The average time for a mortgage to be approved is usually 2 to 6 weeks. It can take as little as 24 hours but this is usually rare. You should expect to wait two weeks on average while the mortgage lender gets the property surveyed and underwrites your mortgage.
How a mortgage broker can help speed up the mortgage application approval time
Using a mortgage broker will not only make your life easier but will also allow the mortgage application to process quicker. This is because your broker will liaise with the lender on a daily basis. If any extra documentation is required your broker will learn this and will quickly get in touch with you for the required paperwork. This makes the process more efficient by keeping down unnecessary waiting time and constantly working to progress your mortgage application forward.
We make the mortgage application process a breeze
Put the odds of mortgage approval in your favour with the help of a qualified and experienced mortgage broker.
Mortgage Application Process Timeline
The intention of this guide is to make sure you, as a first-time buyer or home mover, have an idea of the mortgage application process and how long each step takes. First-time buyer mortgages needn't be a headache and by the time it takes to read this guide, we hope you feel more confident about buying your first home.
How long does a mortgage application take?
Learn the time frames from initially speaking to a mortgage broker and getting a mortgage agreement in principle to you receiving your keys. We will then focus on the next stages of getting an application underway once the desired property has been chosen, to finally getting a mortgage offer. Then the most exciting part is when a mortgage completes and you get to pick up your keys and officially own your very own home.
Now, let's split the mortgage application process timeline into 6 stages. You can view this via our mortgage application process timeline infographic or continue the guide for a more in-depth comprehensive explanation.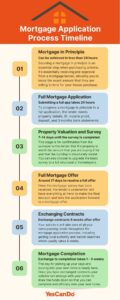 1) Getting a mortgage in principle – how long does it take?
Securing a mortgage in principle is an essential step when purchasing a home. It's essentially receiving pre-approval from your lender, which allows you to know the exact amount that they are willing to lend for your house purchase. The process of obtaining this mortgage agreement in principle is simple and can be achieved in less than 24 hours. To ensure a fast turn around it is important that the required documents have been gathered and passed to your mortgage broker. They will then work with you in choosing the mortgage deal that works best for your situation.
A mortgage in principle can give you an edge when searching for the perfect property. Estate agents will see you as a serious buyer and know to show you homes that fall within your pre-approved loan budget, and if you decide on the same lender as initially approved, it could potentially expedite the application process even further!
Taking out a mortgage in principle is always a wise decision when looking to purchase your own home. It will give you an indication of what lending options are available and also put you ahead of the game and one step closer to having a mortgage approved should the ideal property come on the market.
➼ What is a mortgage agreement in principle?
➼ How to prepare for a new mortgage application?
➼ How long does a mortgage offer last?
What documents are required for a mortgage in principle application?
When applying for a mortgage in principle, lenders will need to assess your financial condition by verifying information such as your income and credit history. Your credit score is also taken into consideration in order to determine if you meet their requirements. It's worth mentioning that an agreement in principle doesn't guarantee approval, but it can be valuable when showcasing your dedication toward purchasing a home.
It is always best to get your finances in order and your paperwork ready for a speedier fixed or tracker rate mortgage application. Mortgage lenders require a handful of documentation from you in order to process your mortgage app. These usually include:
3 months payslips (if you're employed)
ID (usually driving licence & passport)
Proof of deposit
Proof of income
For more information on what information lenders need, read our guide on:
2) Full Mortgage Application – Getting started
By the time your broker starts your full mortgage application, you will have most likely already obtained an agreement mortgage in principle and gone hunting for a house. You will have already put in an offer on a property, it has been accepted, and now it's time for the full application.
The application is usually a continuation of the agreement in principle. Therefore, you now need this to be progressed into a full mortgage application. In order to do this, the lender makes sure the price you have agreed to buy the property for, the address, the estate agent you are buying through, and the solicitor you want to use for the purchase conveyancing.
Over the years we have experienced that when people want to remortgage for debt consolidation or to remortgage for home improvements, the importance of a speedy mortgage becomes greater. Therefore we advise speaking to one of our mortgage advisors who have expertise in getting speeding up the mortgage approval process.
What information does a mortgage lender need for my full mortgage application?
Before the lender can get started they will require your latest 3 months' payslips, and last 3 months' bank statements and will also need to see your passport and/or driving licence, and current address.
To help lenders establish your eligibility to borrow the amount you need and their confidence that you can repay it, they will likely require the following information and documentation.
To successfully purchase the property you have made an offer on, provide information regarding the property to the lender as well as the deposit and details of the seller's estate agent.
In order to verify your identity, you will need to provide a valid form of ID such as a passport. Additionally, it would be helpful if you can provide evidence of your current address like for instance a utility bill.
You will need to provide the three most recent bank statements to demonstrate to the lenders what your current expenses consist of, including any other debts you may have, childcare costs, bills for utilities, and leisure activities like holidays or vacations. Additionally, it will provide insight into the amount allocated towards savings and retirement funds each month as well.
To provide proof of income you will need up to six months' worth of payslips demonstrating any bonuses or overtime. If you are self-employed, additional financial records such as accounts and a few years' SA302 tax returns will be necessary in order to figure out how much money you can manage each month.
Learn more about: What information will I need to get a mortgage?
How long does your full mortgage application take?
Submitting a mortgage application takes 24 hours based on the assumption that you already have all the documents such as bank statements together ready for the lender.
There are a number of factors that can delay getting a mortgage but how long it takes can also be down to you as well as the lender. Any delay in getting these items together at this stage will only increase the mortgage application process timescales.
If you are worried about how long it takes and want to speed up your mortgage process as much as possible, then use a mortgage broker and make sure you gather your documents together as soon as possible.
What happens after the mortgage application is submitted?
Once your application has been submitted it is possible the lender may ask for further information. Upon reviewing your documents and credit score, the lender will assess if they need any additional information from you. If not, they will go ahead with their mortgage valuation of the property to ensure that it is fairly priced and mortgage-worthy. Once the mortgage lender's underwriter is happy you should be in a position to have your mortgage approved.
How long after mortgage approval to completion?
After your application for your mortgage is submitted, your solicitor will receive a copy and start the local authority searches etc. From the moment your application is approved you can expect a timescale of between 7 – 9 weeks until you complete your property purchase.
3) Property Valuation and Survey
Typically, when you apply for a mortgage loan, your lender will perform a 'Standard Valuation', which is the essential inspection mandated by law to approve any mortgage.
An independent surveyor will thoroughly assess the property, noting any significant issues or deficiencies that could affect its value. They will also analyse what similar properties in the area have been sold for to measure how your desired residence stacks up against them. After completing a Standard Valuation report, they'll submit it to be reviewed by your lender.
The surveyor's office will contact the estate agent to arrange access to the building you are buying so that they can carry out a building survey. Most surveyors will complete their report on the property the same day as the building inspection. This will be sent electronically to the lender for the lenders' mortgage underwriter to make a decision on the true value of the property.
How long does a property valuation survey take?
It usually takes 7-14 days from the mortgage application until the property valuation is completed.
The underwriter will be looking for confirmation from the surveyor that the property is worth the amount that you are buying it for and that the building is structurally sound.
Upgrading your survey
If you're feeling cautious and require a more comprehensive survey, there are two options available that can give you the peace of mind to move forward with your mortgage process. These include:
Full Buildings Survey – A Full Buildings Survey, formerly known as a Structural Survey, provides an in-depth evaluation of the state and condition of your home. This includes inspection of any structural irregularities or issues, repair needs, and maintenance requirements – invaluable knowledge for those with period properties, large houses or non-traditional builds.
A Homebuyer's Report – A Comprehensive Valuation goes far beyond a Standard one, providing greater insight into the property's current and forthcoming issues as well as maintenance and repair costs.
Learn more about Homebuyers Survey and Costs
If your lender is pleased with the valuation and other inspections, then your application should be accepted and your bid will become valid. In certain cases, it might happen that the surveyor finds out that the selling price or offer you have made is more than what the property's worth.
This situation is unfortunately quite frequent, and could potentially be caused by an assortment of components, including economic activity in the region, structural defects or simply a seller's inflated valuation of their property.
Although these devalued assessments protect both the lender and you, preventing large payments for a property with less worth than what was paid, there are still methods available to secure a mortgage despite this. It is essential that one avoid negative equity by researching their options before signing any loan documents.
4) Full Mortgage Offer
Once the mortgage valuation survey has been received from the surveyor, the lender's underwriter will have everything at hand to make the final decision and take the application forward to a mortgage offer.
When the lender is willing to go to offer you will be mailed the formal mortgage offer. The solicitor carrying out your conveyancing will also be sent their own copy of the mortgage offer.
How long does it take a mortgage valuation and offer?
On average it takes 17 days to receive a full mortgage offer (although it can be as quick as 2 days or it could take longer).
5) Exchanging Contracts
When applying for a mortgage, your solicitor will have been carrying out the conveyancing process. This includes submitting requests to your local authority for market searches – an activity that usually takes around one month on average; however, this timeframe may be extended due to how busy the property and land department of your local authorities are.
How long does it take to exchange contracts?
Once your solicitor receives the mortgage offer, they should be fairly close to being able to exchange contracts which usually takes around 8 weeks.
How long do solicitors' local authority searches take?
While your application for a mortgage was underway, your solicitor has been proceeding with the conveyancing needed for your purchase. The solicitor will have applied for the local authority search which takes approximately 4 weeks, depending on the local authority and how busy the housing market is at that point in time.
Your solicitor will also have been communicating with the necessary vendors' conveyancing solicitors, asking any questions and making any enquiries.
Once your solicitor has your mortgage offer, local authority search and enquiries they will arrange for you to visit their offices for a pre-exchange meeting. At this meeting, they will cover any problems or concerns that have been highlighted and you will also be asked for any preferential completion date.
Learn more about solicitors searches when buying a house.
Learn more about what happens between exchange and completion.
6) Mortgage Completion
The day for picking up your keys and moving into your new home is nearly here. Once you have exchanged contracts your solicitor will arrange with your lender to draw the funds down so that you can complete and officially own your new home.
How long will it take for your mortgage to complete?
The time between the exchange of contracts and completion can vary as it is decided by the owner and buyer.
The quickest possible time from exchange to completion is 1 week, as it takes this long for the solicitor to give notice to your lender that they require the funds to complete.
The average time between the exchange of contracts and completion is 4 weeks. Occasionally it could take longer.
What time on completion day will I be able to pick up the keys?
You've learnt how long a mortgage takes but when can you expect to actually get your keys. This really depends on where you are in the chain and how long the chain is.
Empty Property – If you are a buyer who is purchasing an empty property, then the completion will be quick and there is no reason why it can't be before lunchtime.
Chain – The higher you are up the chain, the later in the day it is likely to be. When the chain is very long (8-10 properties) completion can be as late in the day as 4pm.
We make the mortgage application process a breeze
Put the odds of mortgage approval in your favour with the help of a qualified and experienced mortgage broker.
Why is my mortgage application taking so long?
A lengthy mortgage application process can be attributed to various causes, such as an accumulating queue of loan applications with the lender, a complicated financial situation, inadequate credit rating or incomplete paperwork. Additionally, your bank may need more specific details on certain sections from you which could further prolong the procedure.
If you are worried about the amount of time your loan application is taking, don't hesitate to contact your lender – they can often provide insight into what steps must be taken to move forward. Depending on the situation, some underwriting processes may necessitate a more in-depth evaluation of your financial circumstances; if this is the case for your own application, it could mean an extended timeline until approval.
How to speed up the mortgage application timeline
As mortgage brokers, we have evidence that the time for a mortgage application process to be approved can be reduced by 2 weeks by it is submitted correctly. Each mortgage lender will have a list of information they require and if all is given to the mortgage lender correctly it will spend a lot less time in mortgage underwriting and therefore shorten the mortgage application timeline.
Using an experienced mortgage broker that understands the mortgage lenders' requirements and will work with them to help get your application approved as fast and efficiently as possible.
Buying an empty property
One of the reasons that the process of buying a home/property can take so many weeks is down to the length of the chain. Therefore, if you find a property that is unoccupied this will more than likely mean that the chain will be very short and may also mean that the owner will be keen for the sale to proceed as quickly as possible. Ask the estate agents for unoccupied properties.
We make the mortgage application process a breeze
Put the odds of mortgage approval in your favour with the help of a qualified and experienced mortgage broker.
Use an independent fee-free mortgage broker
A lot of the time it takes to get a mortgage can be delayed due to poor communication between the estate agent, solicitor and lenders. How long it takes to get your mortgage will depend on if you have a broker or not.
Did you know that using an independent mortgage broker can shorten the process leading to a mortgage offer by as much as 2 weeks.
Mortgages don't need to be slow and in fact, a broker will speed the whole process up as they will communicate with all the different parties. It is essential that mortgage applications get off to a quick start and a mortgage broker will have an understanding of any banks and building societies that have issues with the speed at that time. The broker will, therefore, be able to avoid these mortgage lenders. Once the lender has been chosen, your broker will also know what documents and information will be needed and will be able to submit this with the application.