How To Get A Mortgage In Principle With YesCanDo
Our advisers can provide you with a FREE mortgage principle. Every step of us getting you a mortgage is FREE! The advice, the application, all the paperwork, the lender and solicitor chasing, and take away the stress.
If you're currently engaged in the house-hunting process, you may have been told you need a 'mortgage in principle.' But what is it and how can you get one?
In this guide, we will go into more detail on everything you need to know about a 'mortgage in principle,' so keep reading to understand more.
What Is A Mortgage In Principle?
A mortgage in principle (MIP) is a written indication from your bank or building society telling you how much they are willing to lend you. The document will usually come in the form of a certificate or written statement and is issued before you make a full mortgage application. The MIP can also be known as an Agreement in Principle (AIP) or Decision in Principle (DIP).
The mortgage agreement in principle is not a binding document or even a mortgage promise. Lenders can still refuse you mortgages on the terms they have set out but it's a useful indicator of what you could potentially borrow. Although it is no guarantee, the agreement is proof to any estate agent that you are a serious buyer and that any offer you make on a property is a realistic one. This will put them at ease when you're they're discussing available properties with you. When you come to put in an offer they will know you are good for your money.
Do You Need A Mortgage In Principle?
It might be that you're asking yourself why you need an agreement in principle and not a full application. Surely it would be easier to go ahead and apply for the actual full application instead. Well, while an agreement in principle isn't compulsory, there are some very good reasons why you should apply for one. These are as follows.
Your head must always rule your heart when you're house hunting. It's no good making a bid for a house that you won't be able to afford, and the agreement in principle will give you a clearer idea of your potential buying power. This might mean the need to scale back your search and look for houses that are cheaper than those you have already considered. On the other hand, you might find that you can afford a better home than you previously imagined, so you might be able to look at properties within high price brackets.
This is all down to your personal circumstances and financial situation. A fee-free broker will be able to let you know how much you could borrow, find you the best lender and get you the best mortgage deal when you come to buy a property.
You may ask, do you need a mortgage in principle to make an offer on a property? Although you do not need one to make an offer, most estate agents won't accept an offer unless you have one. The MIP adds to your financial credibility when approaching estate agents. You are more likely to get your offer accepted by the vendor if they feel better about doing business with you if you can provide evidence of your ability to meet their asking price.
When you know what you are realistically able to borrow, you will be unlikely to apply for a mortgage that you can't afford. This will reduce the chances of a mortgage rejection. Not only is this good for your peace of mind, but it's good for your credit file too, as rejection could affect your credit rating. This will make life harder for you when you make future mortgage applications.
On this point, we do recommend finding out more about your credit score and credit history as soon as possible. You can do a credit check through credit reference agencies, such as Equifax and Experian. When you get a credit report it will usually be scored from 0 to 999 and will be categorised as either Excellent, Good, Average, or Poor. If your rating / credit report isn't as good as you hoped, now is the time to improve your credit rating before you complete a full application.
YesCanDo has a team of fee free advisers ready to make sure your application process is as smooth as possible.
When Should You Get A Mortgage In Principle?
Having established the benefits of a mortgage in principle, this might be the next question you ask yourself. In theory, you should apply for one as soon as possible. Aside from the benefits we listed above, it will also give you the incentive to move forward with earnest in your property search.
The agreement in principle can also save time in the buying process. You are more likely to get your offer accepted if you have this written statement to hand, and you will also speed up your mortgage application process. Find out here: how does long a full mortgage application take?
However, before you do apply for an agreement in principle, you should do the following.
Things to do before you apply for an agreement in principle.
If you have had voters cards delivered to your address, this is an indication that you're already on it. But if you're in any doubt, speak to your local council office. You will have big problems obtaining a mortgage if you aren't on the electoral roll, so make this a priority.
Take steps to improve your credit score, get rid of any overdraft, and consistently pay your loans on time. When there are minimal financial discrepancies, you will reduce the chances of your full application being turned down.
After doing both of these things, begin your search for a free mortgage broker to search the market for the lender with the best deal. Once you have done this you can get your agreement principle underway.
How To Get A Mortgage In Principle
Get a mortgage in principle online
Getting a mortgage in principle is not a difficult thing to do. You can get one from any mortgage lender (bank or building society) or broker.
YesCanDo Money can create and provide a mortgage agreement in principle for you within 24 hours for free, so get in touch with us to find out more about our services.
It is often better to use a free mortgage broker such as ourselves, as we have access to a greater range of rates and deals than you would find on the high street or online. We can help you access the best mortgage deals and rates, so you won't have to waste a lot of time shopping around.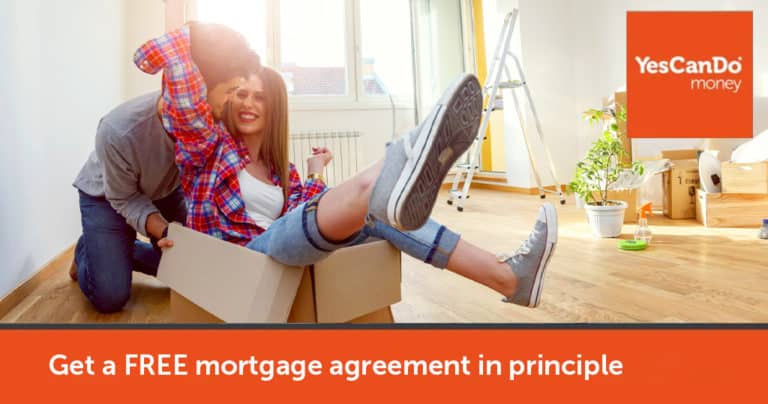 What You Will Need When Applying For A Mortgage In Principle
When getting an agreement in principle, you will be asked similar questions to when you apply for a full mortgage application. Your mortgage lender or broker will ask you several questions when applying for a mortgage in principle. These will cover such areas as your income, your spending, your credit history, and possibly the type of work you do. Typically, you will need the following information as evidence of your answers.
Frequently Asked Questions on Mortgage in Principles
Fee-Free Mortgage Experts
Get a lenders agreement in principle with help from our advisers. With dedicated support throughout your mortgage journey, we have full-market access to the best mortgage rates & deals. We do it all for you, for free!
Our expert advisers will organise your mortgage in principle
Let us know what the best time is for us to call you. We will get one of our mortgage advisors will be in touch to talk through your situation and available options. We can then quickly provide you with a mortgage agreement in principle.
Our customer reviews speak for themselves
Learn more about the property buying process
Explore our mortgage, financial, property and insurance guides
First Time Buyers
Climbing onto the property ladder is an exciting adventure, filled with anticipation and dreams of owning your first home. However, this journey can also be filled with new terminology that
Read More »