Getting a mortgage with a Blue Light Card
As a way of expressing our appreciation to members of the blue light scheme who become our customers, we would be delighted to offer you a special gift.
Add a header to begin generating the table of contents
What is the Blue Light Card Scheme?
The Blue Light Card Scheme is a complimentary discount program created to show gratitude and appreciation for UK emergency services personnel, NHS staff, social care workers and search & rescue members.
When part of the scheme, these individuals can enjoy significant savings on retail products, dining experiences entertainment options and more! To obtain your free card simply register via the Blue Light Card website – it's that easy! Let us take this opportunity to thank all of our hardworking service members who put their lives at risk every day; we are forever grateful.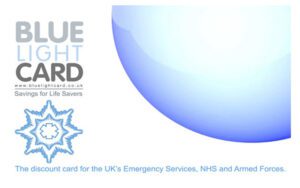 Below is a list of all the professions that qualify for the UK Blue Light Card Scheme:
4×4 Response

Ambulance Service

Blood Bikes

Border Force

British Army

Cave Rescue

Community First Responders

Fire Service

Highways England Traffic Officer

HM Armed Forces Veterans

HM Coastguard

HM Prison Service

Immigration Enforcement

Lowland Search and Rescue

MoD Fire Service

MoD Police

Mountain Rescue

NHS Staff

Police

Red Cross

Reserve Armed Forces

RNLI

Royal Air Force

Royal Marines

Royal Navy

Search and Rescue

Social Care Workers

St Andrews Ambulance

St John Ambulance

UK Visas and Immigration
Saying thank you to our Blue Light customers
Most brokers that are a part of the Blue Light Card Scheme offer their services for free to all members. However, the expert mortgage services at YesCanDo are already fee free as we don't believe in charging our customers.
As a token of our appreciation for all your hard work and dedication, YesCanDo Money would like to thank members of Blue Light Card (www.bluelightcard.co.uk) with a £50 Amazon voucher when you complete your mortgage organised by us. We hope this will help demonstrate how much we value the bravery and commitment of each individual who chooses to join us on their financial journey!
Heroes in uniform, always on the run,
Never taking a break, until their work is done.
Rushing to the scene, without a second thought,
Putting others first, never seeking aught.
They're our protectors, our guardians in blue,
Always there when we need them, their bravery shines through.
From the police to the fire, to the paramedics and more,
Their dedication and courage, we'll forever adore.
In times of crisis, when chaos ensues,
They're the ones who step up, and light up the news.
We're grateful for all they do, day in and day out,
For keeping us safe, there's no need to shout.
So here's a big thank you, from all of us here,
For the emergency services, who bring comfort and cheer.
Their selflessness and bravery, an inspiration to all,
Their hard work and dedication, standing tall.
Written by the YesCanDo Money Team
Fee Free Mortgage Broker
About YesCanDo Money
Our fee-free support service provides invaluable advice on the best mortgage rates and packages available. Our team of CeMAP qualified independent advisers, who are all approved by the FCA, offers specialised financial expertise to meet your needs for both mortgages and protection services. We provide access to a broad range of beneficial mortgage deals as well as top quality guidance in navigating today's complex finance market.
If you're searching for a family run hightly rated broker, YesCanDo Money is the answer. We are an all-inclusive 'whole of market' broker that has access to every county in the UK and offers unbeatable customer service with access to the best mortgage rates and deals – plus we don't charge any fees!
Get in touch
Our friendly team is available via telephone, video call or WhatsApp to provide fee-free advice and assistance with your mortgage. Look no further than YesCanDo for experienced advice and free service when it comes to finding the best mortgage rate.
We make getting a mortgage easy
Put the odds of mortgage approval in your favour with the help of a qualified and experienced mortgage broker.
Frequently Asked Questions
As an NHS worker, you are eligible for a special deal on your mortgage. But don't think of it as an offer made specifically by the NHS; rather, some lenders may provide discounts or promotions to certain groups such as healthcare workers in order to incentivise them and acquire more customers. That's why you should compare different mortgages available and discover which one works best for you – plus requesting assistance from a financial advisor or broker can be beneficial too! Take advantage of this amazing opportunity and make sure that getting a mortgage fits both your needs and budget perfectly!
To certify that people qualify for the Blue Light Card discount scheme, verification checks are conducted. This comprises ascertaining an applicant's occupation and validating if they belong to emergency services or NHS personnel. Verification may be achieved via multiple approaches such as employer confirmation, pay slips, ID cards and more.
The Blue Light Card scheme was created to offer exclusive savings and discounts only to qualified participants. To ensure these offers are reserved for those that meet the criteria, its provider participates in detailed checks with each applicant's employer. By doing so, every individual using this card has been verified as eligible – allowing them access to the valuable advantages available through the program!
Unfortunately, there is no such thing as a blue light card mortgage; however, the scheme can assist you in receiving discounts from some estate agents, property management companies, and mortgage brokers on their fees.