Fixed-term contracts are handed to employees who are hired to work for a set amount of time. There will normally be an end date attached to the contract so the employee knows how long they will be in employment.
In some cases, employment will cease when the end date of the current contract is reached. In other cases, the employer might decide to extend the employment contract or they might decide to replace it with a permanent contract if they want to keep the employee for longer.
If you are a fixed-term contractor you will likely know all this already. But while the ins and outs of a fixed-term contract mortgage may be understood by you, it might be that you're unsure about where you stand when it comes to getting a mortgage.
Will a mortgage lender approve your application if you're working on a fixed-term contract basis? In this guide, we will tell you all you need to know. But if you would like any more information after reading our guide, get in touch with our team at YesCanDo Money to book an appointment with us.
Can you get a mortgage on a fixed-term contract?
Yes, you can get a mortgage if you're on a fixed-term employment contract. Many people in the UK are fixed-term contract workers and many of them have had their mortgage applications approved.
This isn't to say that getting a mortgage is easy, however. Mortgage lenders tend to favour stability so applicants with permanent a employment status are more likely to have their mortgage applications approved than agency workers, fixed-term contractors, and those employees who are on zero-hours contracts.
You might assume this is unfair but it kind of makes sense. After all, if you were a temp on a fixed-term contract and your job ended, you might struggle to make your mortgage repayments if you didn't move into another job position relatively quickly.
As such, it's easy to understand why a mortgage provider's lender criteria often favour those applicants who pose less risk to them.
Still, if you are on a fixed-term work contract, you shouldn't assume your mortgage application will be declined. As we suggested, it is possible to get a mortgage whilst on a fixed-term contract, but you will need to provide evidence of job stability and the ability to pay your monthly repayments.
To improve your chances of getting a mortgage application approved, it is always worth speaking to a mortgage broker such as ourselves.
We have access to specialist lenders who are more likely to consider applications from people who don't have permanent contracts, such as temporary workers, mortgage for agency workers, and the self-employed looking to get a mortgage, so you have less need to worry about a mortgage approval.
Contact us to find out more about the lenders and the mortgage options that may be open to you.
We know the best lenders for fixed and temporary contract workers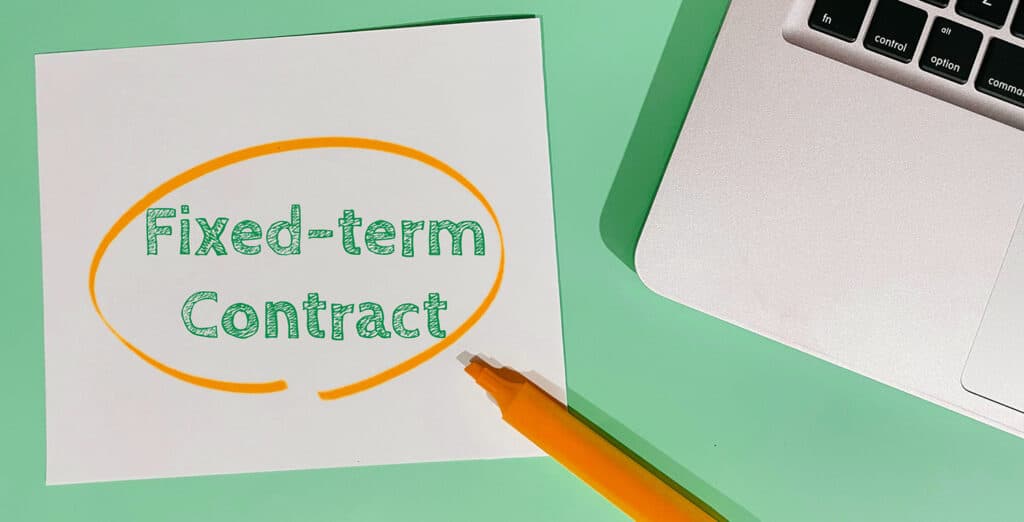 Getting a mortgage on fixed term contract
When making your application, you will need to fit the criteria mortgage lenders have for fixed-term contract mortgages. To give you an understanding of the eligibility criteria lenders use, we have outlined some of the common requirements below.
Proof of income
Mortgage lenders require proof of income for a mortgage, no matter the type of contract you are on. This is to show that you are in a good enough financial position to make your mortgage repayments each month.
To evidence your earnings, you will need to hand over the payslips you have received over the last year, as well as your most recent P60s and possibly your bank statements. If you are , you can use your tax returns to prove your income.
If you know you will be getting a pay rise, you should evidence this with a letter from your employer. You should also notify the lender of any other possible changes to your approximate annual income so they know how much they can safely lend to you.
Proof of stability
As we suggested mortgage lenders like to see stability. When assessing your application, they will want to see evidence of a sustainable income, so if there are large gaps in your employment history, they probably won't look upon your application favourably.
You are more likely to get your application approved if you have been in consistent work and there are still several months left on your fixed-term work contract. If you have evidence showing the likelihood of you moving onto another fixed contract once your existing contract ends, that will also work in your favour.
Your chances of getting a mortgage will also be improved if you have been in your current line of work for at least a year. This is because of the time you will have had to gain experience and prove your worth to employers. As such, you will be more likely to find further work in your field after your current contract has ended. This will give the lender extra peace of mind when determining your eligibility for a mortgage.
Proof of deposit
Before you make your mortgage application, you should do what you can to get the money required for your deposit. Mortgage providers will want to know that you have the funds in place for this before agreeing to lend you money.
The more money you can put down as a deposit, the better the deal you will be offered. Generally speaking, you will usually benefit from lower interest rates if you can make a deposit of at least 20% of the property's value. It's still possible to get a mortgage with a 5% (95% loan-to-value mortgage) or 10% (90% loan-to-value mortgage) deposit but your monthly mortgage payments may be higher.
A decent credit score
Most lenders will want to see evidence of a decent credit score before approving a mortgage. So, whether you are on a fixed-term contract or not, you should still take steps to improve your score if it isn't considered 'fair' or 'good' on your credit report. Not many loan providers will consider your application otherwise, especially those offering the best mortgage deals.
For information on improving your credit score, look online for the specialist finance advice that is available. It's not always difficult to get a higher score but if it is low because you are in debt, it is wise to seek help if you cannot manage your debts alone.
We know the best lenders for fixed and temporary contract workers
Total UK Fixed Term Contract Employees 2016 – 2022
Below is a graph that shows temporary employee totals for fixed-term contract, agency temping, casual work, seasonal work and others from 2016 to 2022.
(Data provided by the Office of National Statistics ONS)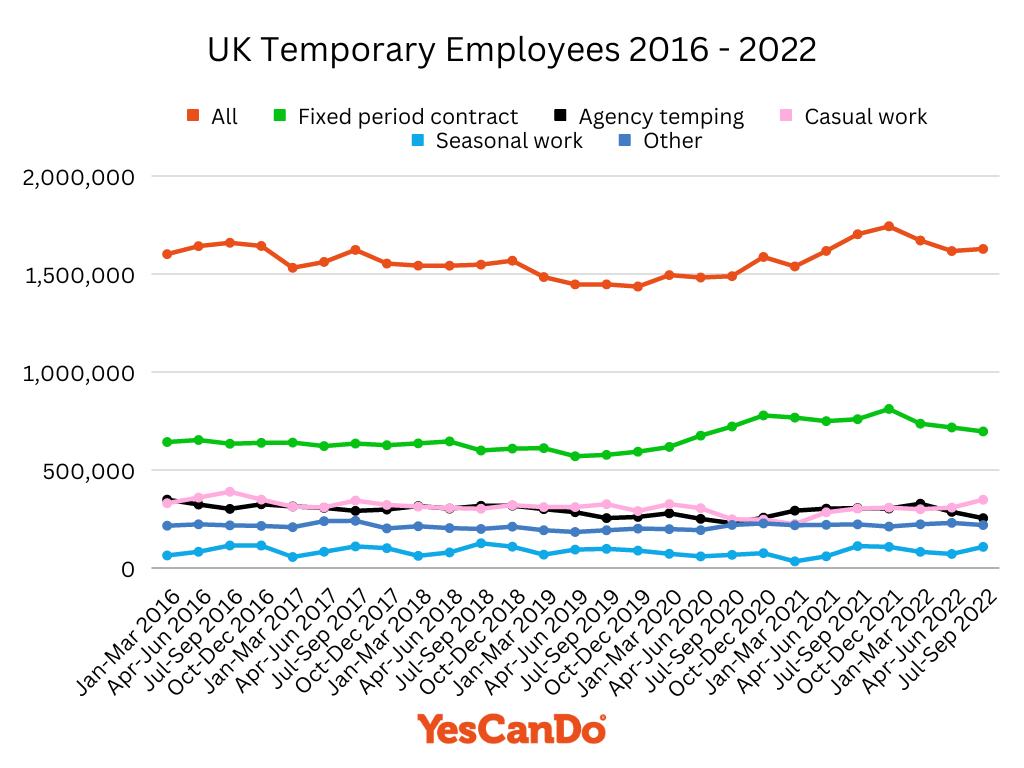 When Can I Remortgage on a Fixed Term Contract?
If you are already on a mortgage but want to remortgage, this is still possible if your current contract is fixed-term.
Most people remortgage once their current fixed-rate mortgage deal ends as this gives them the opportunity to get a better mortgage rate before moving onto their existing lender's SVR (standard variable rate).
You have the option of remortgaging with your existing lender or switching to a different mortgage provider.
There are benefits to remaining with your current lender as they will have all the information they need to know about you already. This could fast-track your way to a new mortgage. They will also know whether or not you have a track record of making your mortgage payments on time (it will work in your favour if you do).
However, it is sometimes advisable to shop around other mortgage lenders. By doing so, you may be able to find a mortgage on a fixed rate lower than the one that your current lender is offering. You will need to go through their eligibility checks but if you have a chance of passing these, making the switch is a good idea if you can move on to a better deal.
Regardless of your decision, your mortgage options may be limited if you have recently moved from a permanent contract to a fixed-term employment contract, or if there has been a drop in your regular income.
To explore your options, speak to an established online mortgage advisor at YesCanDo Money. We are here to provide mortgage advice, regardless of your employment position and can help you to get the best mortgage deal available to somebody in your situation.
Can I Get a Mortgage on a Temporary Contract?
Fixed-term contracts are often referred to as temporary contracts but they can sometimes mean a different thing.
Fixed-term contracts will have an end date attached to them whereas some temporary contracts don't. There are different reasons for this but as an example, a contract might be given to a temporary worker who is substituting for somebody who is sick, so in this instance, it's difficult to assess when the end date might be.
A temporary worker can be anybody, from a person doing seasonal work to a substitute teacher covering for somebody while they are away.
But is it possible to get a mortgage as a temporary contract worker? Read the short answer below or alternatively read our full guide on Mortgage for Agency Workers and Temps
Yes, people employed as temporary contract workers can get a mortgage. However, many lenders will want to see evidence of a reliable and consistent income before they approve an application. They will also carry out their other eligibility checks, such as looking at the person's credit history before deciding on a final outcome.
So, if your contract is a temporary one, getting a mortgage might still be possible for you, provided you can pass the lender's eligibility criteria.
But with only a few mortgage providers lending to customers who can be considered a 'higher risk lender,' it is worth speaking to a mortgage broker to improve your chances.
At YesCanDo Money, we have access to specialist lenders who are experienced with customers that are on a temporary or fixed-term contract. To learn more, book an appointment with an expert mortgage advisor using the contact deals on our website.
We know the best lenders for fixed and temporary contract workers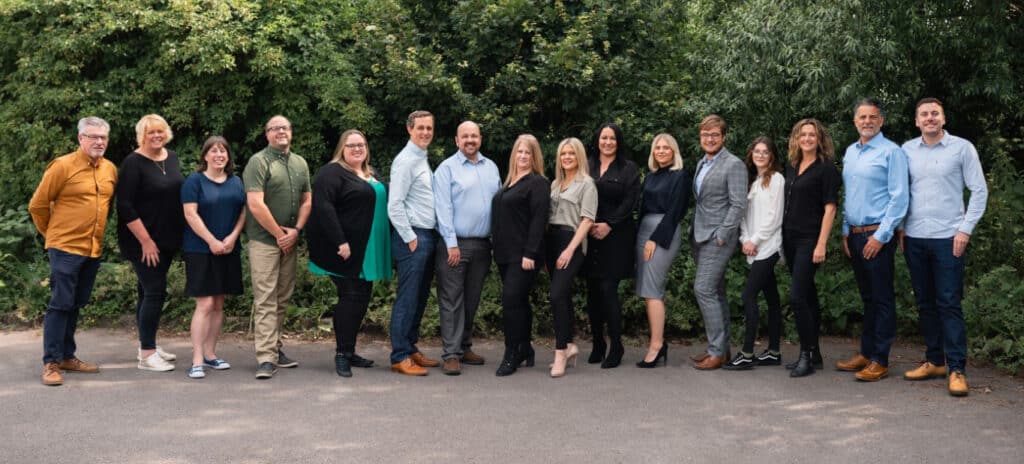 How a Mortgage Broker Can Help with 

Fixed-Term Contract Mortgages
If you are looking for a mortgage on a fixed-term contract, get in touch with our team today. With the help of an experienced mortgage advisor, your chances of mortgage approval can be increased, as we have access to most lenders on the mortgage market. There are a few UK mortgage lenders that are really experienced with fixed-term contract mortgages.
After booking your first appointment with us, you will be put in touch with an exclusive mortgage expert from our team who will be with you every step of the way throughout your mortgage journey.
They will give you advice related to your particular situation, with information on a range of different mortgage subjects to make sure you are fully aware of the steps you need to take to improve your chances of a better deal.
Your appointed mortgage broker will search the market on your behalf and will hone in on those lenders that specialise in mortgages with being on a fixed-term contract. They will then work with you to make sure you tick all of the relevant boxes for the lending criteria.
When it comes to paperwork, your mortgage introducer will manage this for you after you have provided the relevant information that is needed for your application.
After your application has gone through, the waiting game begins but your advisor will be in touch with you to let you know of any updates to your fixed-term contract mortgage application.
It is our experience as a well-established mortgage broker that it is essential for the mortgage adviser to fully understand your fixed-term contract and the employment history leading up to it. Evidence of your current employment contract will be needed by all mortgage lenders and our expert mortgage advisers will spend time to fully understand your contract and history before giving you sound professional advice and the best rates with the most suited mortgage lender. – Stephen Roberts (Director)
We know the best lenders for fixed and temporary contract workers
Get in touch
Getting a mortgage on a fixed-term contract doesn't have to be difficult but to improve your chances, get in touch with our team of specialist mortgage brokers.
With our fee-free mortgage services, you won't have to pay a penny for the advice we give to you, so not only will you save yourself the stress of having to look for a mortgage but you will save money too!
We have access to many lenders on the mortgage market, including high street banks and those that only provide a mortgage online, so no matter your circumstances, we are guaranteed to find the lender that is right for you.
Get in touch with us using any of the contact details on our website and a member of our friendly and experienced team will arrange an appointment with you.