Many people in the UK work through an agency or have jobs with a temporary contract. If you're one of these employees, you might be wondering about what options are open to you for getting a mortgage.
Getting proof of income for mortgage with an irregular income could be assumed difficult. But is this the case? Keep reading to learn more and then get in touch with our expert team of advisers for further advice.
Can you get a mortgage for agency workers?
Yes! Agency workers can get a mortgage, provided they meet the criteria set by UK mortgage lenders.
Admittedly, the number of mortgage lenders offering agency worker mortgages is quite small, so finding a suitable deal isn't always easy.
Worry not, however, as with the help of an experienced mortgage broker who has access to lenders who cater to agency workers, obtaining a mortgage doesn't have to be difficult.
Speak to an agency work mortgage expert
You don't have to look far for an experienced mortgage broker as the team at YesCanDo Money knows which mortgage lenders offer mortgages to temporary contract workers.
After searching the mortgage market on your behalf to find you a great deal, we will also give you our full support throughout the mortgage application process.
So, if you're an agency worker with a temporary or fixed-term contract and need help finding the most suitable mortgage lender, get in touch with our team and benefit from the FEE-FREE services we can offer you.
Mortgages for agency works and temps made easy
Put the odds of mortgage approval in your favour with the help of a qualified and experienced mortgage broker.
Can you get a mortgage with a casual or temporary job?
You don't have to be in permanent employment to get a mortgage so if you're a casual or temporary contract worker, you may still be eligible for a home loan provided you have a stable income and the ability to keep up with your mortgage repayments.
Your mortgage chances will be improved if you:
Have a good credit score
Have up-to-date copies of your current and previous contracts
Have been in continuous employment for a number of years
Seek the services of a specialist mortgage broker (such as ourselves)
Temporary workers can include:
Self-employed contractors
Freelancers
Agency staff
Any other type of worker on a temporary contract, including IT professionals, health professionals, and seasonal workers
Unfortunately, some mortgage lenders will turn down your application if they don't think your job is in high demand as they may see you as a lending risk. An agency worker in the teaching profession is likely to appear less risky than a warehouse worker or a seasonal worker, for example, so your job title can sometimes have a big impact on your mortgage chances.
This doesn't apply to all mortgage providers, however, a prospective mortgage lender might still consider your application if you can provide evidence of your ability to make the payments on a mortgage.
As such, don't worry too much about your job role, as an agency worker mortgage expert at YesCanDo can find you a great mortgage deal, regardless of your employment position.
Total UK Temporary Employees 2016 – 2022
Below is a graph that shows temporary employee totals for fixed-term contract, agency temping, casual work, seasonal work and others from 2016 to 2022.
(Data provided by the Office of National Statistics ONS)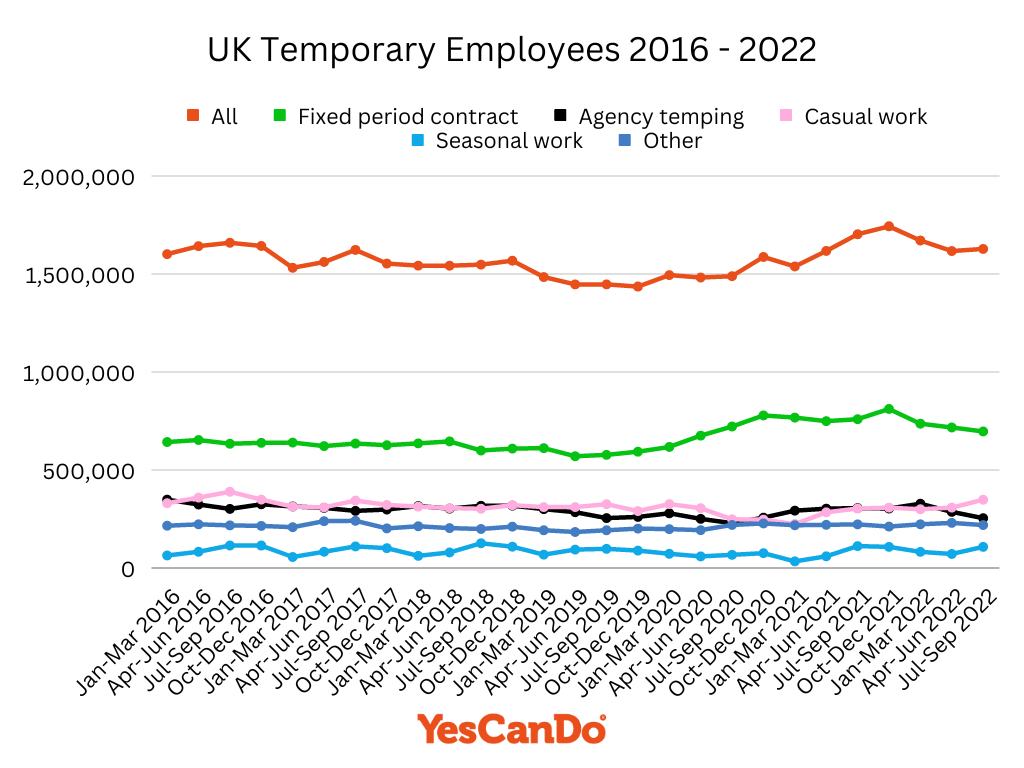 How to get an agency work mortgage on a temporary contract
The steps towards getting a mortgage will depend on your financial and employment situation but as a general guide, the following is advised during the mortgage process.
Step 1) Gather your documents
Lenders require evidence of your mortgage eligibility so you will be asked to provide a number of documents around the time of your mortgage application. This applies to any applicant, not only those working on a temporary basis, but the information required from you might be slightly different from that required from a full-time worker with a permanent employment contract.
Typically, you will be asked to provide the following.
Evidence of your income and employment history, such as:
Recent bank statements
Copies of your P60 (or tax returns) from the last 2 years
Payslips from your agency or the company you are temping for
Copies of your existing contract
Copies of previous contracts
Proof of ID, such as:
A current photo passport or driver's licence
A recent utility bill
A credit card bill
The sooner you gather your documents the better as this can lead to a smoother (and quicker) application process. A mortgage broker from our team can advise you on the documents your particular lender requires and give you other advice to aid you with your temporary contract/agency worker mortgage application.
Step 2) Check your credit reports
Many lenders will check their applicants' credit history as part of their assessment process so this is something you need to take into consideration before you make your mortgage application.
If you have a good credit history, your mortgage chances will be vastly improved, and you may become eligible for the most competitive mortgage deals on the market.
If you have a bad credit history, there is a chance that your application may be rejected. However, this depends on the severity of your credit issues and whether or not they are recent as some lenders will consider your application if they don't think you pose any financial risk to them.
Before you apply for a mortgage, download your credit reports from the 4 main credit agencies (Experian, Equifax, Transunion, and Crediva) and check your scores. Alternatively, use a service such as Checkmyfile to gain access to all of your credit information in one place.
If you do have a bad credit score, do what you can to improve it, perhaps with the support of a member of our team who will give you the appropriate advice.
Step 3) Speak to a broker experienced in these cases
Not every broker has experience working with customers who are in temporary agency work, so it's wise to find a specialist broker who does.
Thankfully, you are in the right place. YesCanDo Money has a track record of helping employees get a mortgage on a temporary contract, so if you're a casual, seasonal, freelance, or agency worker, talk to us and if you're eligible, we will make sure you get an excellent mortgage deal.
Mortgages for agency works and temps made easy
Put the odds of mortgage approval in your favour with the help of a qualified and experienced mortgage broker.
Eligibility and affordability requirements
Your chances of getting a mortgage will be vastly improved if you meet the lending criteria set by most lenders.
When assessing the mortgage eligibility of agency workers (or any other types of temporary workers), the following will usually be considered by lenders.
Affordability
How much you're eligible to borrow will depend on your income and the lenders' mortgage affordability checks. Most mortgage lenders use income multiples when determining how much to lend to their customers, with most lenders using a multiple of 4.5 x income.
Some lenders offer higher income multiples but these are generally offered to employees in higher income brackets, such as solicitors and medical professionals, who are less likely to default on their mortgage payments than those with a much lower income.
As your income might fluctuate month by month if you work on a temporary basis, your lender might take an average of your annual income when working out your affordability.
If you are in receipt of any additional income, such as money earned from investments, you may be able to include this to increase your borrowing ability.
Contract length
Mortgage lenders have different criteria when it comes to the contract length of an agency worker. Some will want you to prove you have been under your current contract as an agency or temporary worker for at least 12 months while others might accept a shorter period.
Contract type
Some lenders are comfortable with all kinds of contracts from an agency worker while others will only approve mortgages to those with fixed-term contracts.
There are mortgage lenders who won't offer mortgages to anybody on a zero-hours or short-term contract, or those who aren't likely to be up for contract renewal with the same employer. Borrowers without a consistent income might also be ruled out of a mortgage.
As such, searching for the right lender can be difficult but if you choose the services of a specialist broker such as ourselves, the whole process can be much more straightforward as we will ensure you get a mortgage with a lender that is right for your situation.
Employment gaps
Most mortgage lenders will want to see that you have been in continuous work for a set amount of time. This is because they need evidence of a regular income before they approve your mortgage application. If you can't evidence this, perhaps because there are gaps between your temporary contracts, lenders will naturally worry that you won't be able to make your mortgage repayments.
Some mortgage lenders are more lenient, however, so providing the gaps in your employment aren't more than 6 weeks long, you might still be able to get a mortgage.
We can give you bespoke advice based on your job role and temporary contract situation so contact us if you have any concerns about your mortgage chances.
Started a new job role? Read getting a mortgage with a new job.
Loan-to-value and deposits
If you're an agency worker or temporary worker, you may have to make a bigger deposit than those customers in permanent full-time employment.
This is because many mortgage lenders are only willing to offer a maximum loan to value of 80% on their mortgages to customers in temporary or agency work. This means you might need to raise the funds for a deposit of at least 20% of a property's value for your temporary/agency worker mortgage.
Fear not, however, as there are specialist lenders who may be willing to offer you a higher LTV if you can prove your ability to make your monthly repayments. There are also other solutions for those unable to raise enough money for a mortgage deposit and we can explain these to you if you decide to use our services.
Mortgage lenders for temporary and agency workers
As a contract or temporary agency worker, you may be ruled out of a mortgage from some mainstream lenders. However, this doesn't apply to all as some of the bigger lenders will consider your application based on your job role and the length of your current contract.
Major UK mortgage lenders willing to offer mortgages to those on a temporary or agency contract include:
TSB
Nationwide Building Society
Natwest
There may be other high-street lenders willing to give you a mortgage but it might be that a specialist lender is more suited to your particular set of circumstances. Contact our team, and we will explore your available options.
Mortgages for agency works and temps made easy
Put the odds of mortgage approval in your favour with the help of a qualified and experienced mortgage broker.
Speak with a temporary and agency worker specialist mortgage broker
If you're an agency or temporary worker and you're interested in getting a mortgage, the team at YesCanDo Money is here to help you. With our guidance, the mortgage process will become far less stressful as you will have our support from the moment you decide to bring us on board.
As part of our service to you, we promise to:
Give you impartial mortgage advice based on your employment situation
Answer any questions you might have about mortgages
Search the market for a suitable mortgage lender
Make sure you secure the best mortgage deal for somebody with your set of circumstances
Liaise with your chosen lender and all other relevant parties on your behalf
Support you throughout the mortgage application process
Guide you throughout your mortgage journey
We will do all this and more FOR FREE, so whether you're on a fixed-term contract or no set contract, an agency worker, or a temporary contractor (such as a construction worker), know that we are here to help you.
Get in touch with us today using the contact form below or by contacting our team via WhatsApp or phone at 033 0088 4407.
We look forward to speaking to you soon!