If you are reading this then the chances are that you are a firefighter working for the UK Fire Service and that you need a mortgage and want mortgage advice. Well, you have come to the right place. In this guide, we are going to cover everything about getting a firefighter mortgage deal at your best rate.
Is it difficult to get a mortgage as a firefighter?
Getting the best mortgage as a firefighter is very straight forward. With the fire service being one of the UK's largest employers you will find that most mortgage lenders fully understand how you are paid and what to expect to see on your payslip. Lenders have a great understanding of the enhancements and shifts firefighters work they understand the job security and will take these into consideration when offering mortgages.
How to get a mortgage with firefighter pay structure
Buying a house – firefighter mortgage guidance
When you are about to buy a house either as a first-time buyer or if you are climbing the property ladder, it's a good idea to get your finances in order and this includes your pay from the fire brigade. In this guide, we will highlight and advise you on a few things that need to be thought about before you start looking for a home.
Check your firefighters' payslips
When a firefighter applies for a mortgage, every lender will want to see your latest 3 months payslips. So this is a great time to check that your wage slips are all present and correct! Although the fire service is a great employer they have been known to be a little slow at keeping up with your latest pay grade, shift allowances and overtime on your wage slip!
Top of the list of things to check is the address on your wage slip. Make sure it is up to date as if the address on your payslip in incorrect this may cause you problems. The fire service is known for being slow to reflect changes on addresses on payslips and it is really important all the details match your current address
Stop those football bets!
The odd weekend football bet can worry a lot of lenders. You may think "I only do the odd bet" but this could cause you big problems when trying to get mortgages. We would advise stopping football bets and any type of gambling for at least the 3 months before getting a mortgage.
READ – These 3 things could stop you getting a mortgage…
How do lenders work out how much I can borrow as a firefighter?
All Banks and building societies these days use mortgage affordability calculators to calculate how much you can borrow. They are called affordability calculators as they feel that you should very easily and without any financial strain, be able to afford your new mortgage. Because each lender has its own mortgage calculator its important to use quite a few of them. This is because you will find that each bank and building society has its own mortgage calculator for working out the size of a mortgage deal you can have.
There are over 90 different providers with over 14,000 mortgage products including 'specialist lenders'. It would be advisable to get the help of a free mortgage broker who will have access to the 'whole of market' lenders' calculators. They will be able to do all the researching on your behalf whilst supporting you throughout the process. To check your credit score go to a company website that offers a credit score review such as Experian and ClearScore.
Will the lenders take my nights, shift allowances and overtime into consideration?
When you apply for a mortgage each lender will want to look at your latest 3 months payslips. They will take any overtime or allowances into consideration.
Tip – Most lenders like the firefighter overtime or allowances to be consistent therefore if you are wanting to maximise the amount you can borrow then make sure that all 3 payslips reflect this.
The good news is that all banks and building societies will have arranged thousands of mortgages for firefighters and fire service staff employees. Therefore no explanation of the different allowances will be needed.
Can a second job be used when getting a mortgage?
Mortgage lenders are well aware that may firefighters have a second income. As long as you get a payslip from your second employer then the additional income can be used. If you are self-employed for your second job then the earning from these can also be used. All lenders including specialist lenders will want to see your latest 3 years accounts.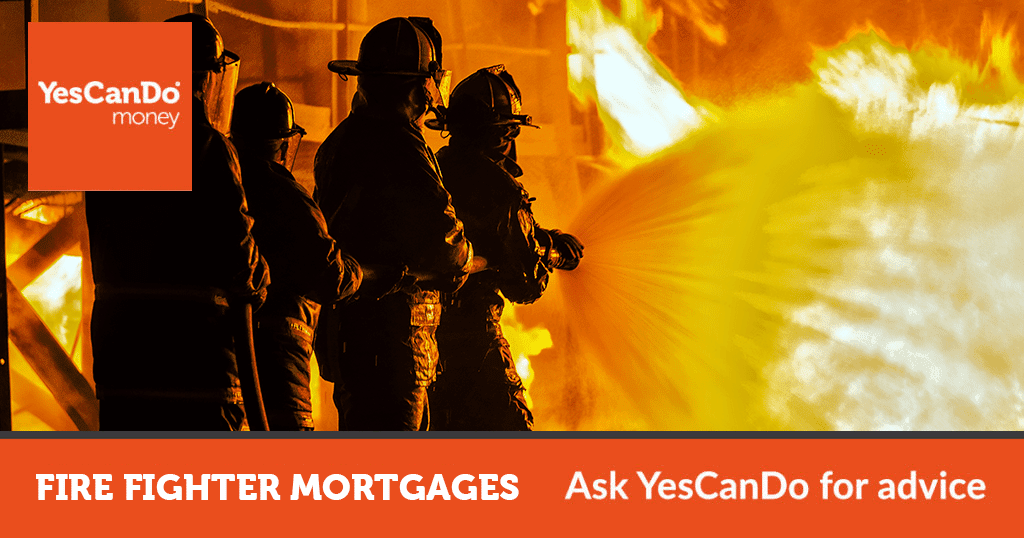 When you start looking for a house you want the estate agents to know you are good for your money and therefore you need a 'decision in principle' in place. The same goes for a mortgage, you'll need to know you will be accepted for a mortgage and the first step is to get the decision in principle sorted.
You can go to any lender and ask for a 'mortgage decision in principle', however it makes sense you choose a lender carefully. It is important that you get a lender that will lend you what you need. The easiest way to make sure you get this right is to contact an independent free mortgage broker. The broker will have a meeting with you to advise which bank or building society will suit your requirements best.
The mortgage broker will ask some questions that the different lenders will want to know, for example, what your earnings are and what debts do you have.
Why you should use a whole-of-market mortgage broker
It's important that firefighters compare the whole mortgage market to see what size mortgage each lender will be willing to give you. You will find there will be a bigger variation in the amount you will be able to borrow compared to a lot of other professions.
Meeting with a mortgage broker will help you find out what value property you can afford and they will find you the very best rates and deals. If you are a first-time buyer there are a lot of incentives offered by the different banks and building societies such as FREE valuation surveys, no arrangement fees and cash backs.
It's important to compare the whole mortgage market regardless of your profession. This is so that you can see how much each lender is willing to lend you. There are over 90 different banks and buildings societies with over 14,000 different mortgage deals available. Therefore it makes sense to use a broker to do the shopping around to get you the best rates and deals.
Ask YesCanDo Money for Free Mortgage Advice
Being a family-run independent mortgage broker, we know the importance of looking after our clients. With over 14,000 mortgages available at any one time we will search the whole market to get you the best rates and deals.
How much will a mortgage broker cost me?
Many brokers will charge a fee for their services, but there are fee free mortgage brokers available too. All brokers earn a commission from the lender themselves instead of charging you as the customer. This is a cost-effective option that will help you save money with the correct advice.
Introducing YesCanDo Money a Free Online Mortgage Broker
YesCanDo Money is one of the UK's leading FREE mortgage brokerages, covering the whole of the UK. They offer free online advice, information and guidance to get achieve the best firefighter mortgages. YesCanDo Money aware that you work unsociable hours and therefore are on hand using WhatsApp as well as telephone, video calls and face to face appointments. They have an amazing team of experienced mortgage advisors on hand to great mortgage advice.
Started over 30 years ago YesCanDo Money has arranged hundreds of firefighters mortgages. Giving valuable information and advice. They have a modern approach to communication using Whatsapp as well as more traditional email and of course the phone.
YesCanDo thrives on being a caring family run business who have grown by giving exceptional service to their clients. This can be confirmed by reading the hundreds of Facebook and Google 5 Star reviews! Contact us for information, advice and free support on how to achieve your home, the best rates and the mortgages application process.
YesCanDo money is a trading name of Roberts Financial Services Ltd which is authorised and regulated by the Financial Conduct Authority, authorisation number 527815. Your home may be repossessed if you do not keep up repayments on your mortgage.