As the UK leans into a more sustainable economy, green mortgages are making waves, offering homeowners a blend of eco-conscious choices and financial perks. With the climate challenge at the forefront, these mortgages are a step towards a more sustainable economy.
What is a Green Mortgage?
Think of a green mortgage as a friendly nudge from banks and mortgage lenders, urging us to embrace energy-efficient homes. Whether you're buying a new home or remortgaging after making energy-efficient improvements, these mortgages offer incentives to go green. While the eco-perks are tempting, it's worth noting that these mortgages might not always be the most budget-friendly choice out there. However, many leading banks now offer green mortgages online, making them more accessible.
Definition and Key Features
For those homeowners or buyers ticking off certain energy efficiency boxes, there's a treat in store: lower mortgage rates or cashback. But here's the catch: while they come with their set of perks, green mortgages sometimes referred to as eco mortgages might not always be the most wallet-friendly choice. And a little heads-up: not all green mortgages walk the green talk. Some lenders might be backing industries that aren't exactly planet-friendly such as investing in fossil fuels.
What is an Energy Performance Certificate (EPC)?
An Energy Performance Certificate, commonly referred to as an EPC, is a document that provides insights into a property's energy efficiency. It rates properties on a scale from A (most efficient) to G (least efficient) and offers recommendations on how to improve the energy efficiency rating.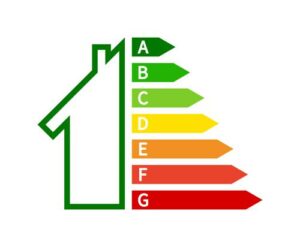 The EPC provides a snapshot of the property's current energy use and potential savings. It includes:
Current and Potential Energy Efficiency Rating: This gives homeowners a clear understanding of where their property stands and what it could achieve with recommended improvements.
Estimated Energy Costs: The EPC provides an estimate of the annual energy costs for the property, giving homeowners an idea of potential savings if they implement the recommended improvements.
Recommendations: The certificate offers tailored suggestions to enhance the property's energy efficiency. This could range from installing insulation to upgrading heating systems.
In the UK, an EPC is required when a property is built, sold, or rented. It's a crucial document for potential buyers or tenants, as it gives them an idea of the property's energy costs. For homeowners, it's a roadmap to a more energy-efficient home, often leading to cost savings in the long run.
You can find out if your property has an EPC certificate here.
The Growing Popularity of Green Mortgages in the UK
The UK's housing scene is getting a green makeover, and it's looking pretty snazzy. With the rise of green buy-to-let products and the emphasis on property's energy efficiency, the mortgage landscape is evolving.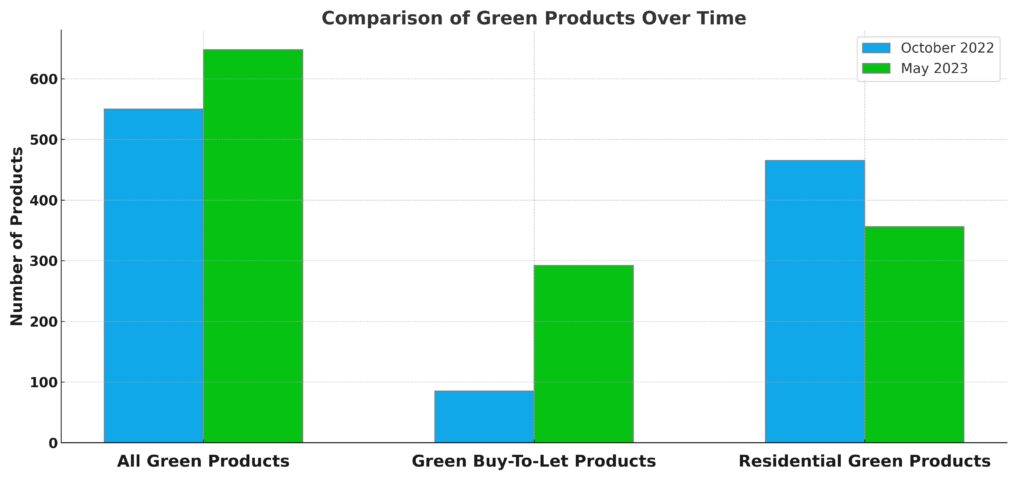 Historical Trends and Growth
Mainstream mortgage lenders are now rolling out the green carpet, offering eco-friendly mortgage options. Their rising popularity? Thank climate change awareness and the UK's pledge to a greener tomorrow. Mortgage rates for these green products can be competitive, especially with the increasing demand.
Growth in Green Mortgages: There has been an 18% increase in the number of green mortgages in the 6 months from October 2022. As of May 2023, there are 648 green lender mortgages available, compared to 550 last October.
Buy-to-Let Sector Surge: The number of green buy-to-let products has significantly increased. As of May 2023, there are 292 green buy-to-let products on the market, compared to just 85 last October. This surge is attributed to upcoming regulations requiring rental properties to have an EPC rating of C and above by 2025 for new tenancies.
Residential Borrowers: The number of mortgage products available to residential borrowers has decreased. In May this year, there were 356 mortgages available, down from 465 the previous year. Although the residential products took a slight dip this year, the team at YesCanDo Money have noticed a sharp increase in the number of lenders offering green/eco mortgage products as we go into the latter end of 2023.
Energy Efficiency Rating:
Generally, properties with an energy efficiency rating of A or B are eligible for a green mortgage. Some lenders even offer eco mortgages for homes with a C rating or above.
Factors Driving the Surge in Demand
Green mortgages aren't just about the pennies saved; they're a statement of eco-conscious living. For homeowners, it's about merging financial smarts with sustainable choices. And for investors, the rising demand for green buy-to-lets is hard to ignore. After all, in a world where energy prices are climbing, an energy-efficient property is a win-win, both for the wallet and the planet.
How Green Mortgages are Reshaping the UK Housing Market
The UK housing market's getting a green makeover, and it's looking good! With the emphasis on home energy efficiency and the potential to save money with energy-saving tips, homeowners are more inclined to consider green options.
Impact on Property Prices
UK Government research confirms energy efficiency sells. Government analysis of 300,000+ homes shows those with better ratings sell for higher prices – thousands more. Makes sense with rising energy costs. People want lower bills and smaller footprints and this trend is here to stay. Upgrades can mean profit for sellers, and savings for buyers. An efficient home is a smart property investment, for your wallet and the planet. Sustainability now equals added value in the housing market. The future is green, friends. Efficiency matters more than ever when buying or selling.
Encouraging Sustainable Home Improvements
Green mortgages also give homeowners a little push to go green, from solar panels to snazzy heating systems. Lenders are all in because they know these green homes are a safe bet, especially in our eco-focused world.
The Environmental Impact of Green Mortgages
Green mortgages aren't just about financial incentives; they're a testament to our evolving relationship with the environment. By choosing these mortgages, homeowners actively prioritize the planet's well-being.
Every eco mortgage taken represents a homeowner's commitment to sustainability. It's a choice that echoes in the broader community, signalling a shift towards eco-conscious living.
The Bigger Picture
Green mortgages are a catalyst for change in the housing market, pushing for homes that are energy-efficient and environmentally friendly.
Their influence extends beyond individual homes. They inspire builders to use sustainable materials, communities to adopt eco-friendly practices, and other sectors to consider their environmental impact.
A mortgage adviser's opinion on green mortgages
Green mortgages aren't just about bricks and mortar; they're about building a sustainable future. As we navigate the evolving landscape of homeownership, it's essential to remember that every eco-conscious choice we make today paves the way for a greener tomorrow. Let's embrace energy efficiency not just as a financial decision, but as a commitment to our planet and future generations. – Hannah Edwards, Mortgage & Protection Adviser at YesCanDo Money
Potential Challenges of Green Mortgages
Every rose has its thorn, and green mortgages are no exception.
The Risk of Greenwashing: There's chatter about "greenwashing" – a sneaky tactic where things are painted greener than they are. So, if you're diving into the green mortgage product pool, make sure you're getting the real deal.
The True Cost of Green Mortgages: Green mortgages sound appealing but might not always be the best financial choice. It's all about balancing eco-friendliness with the pounds in your pocket.
The Benefits of Green Mortgages
Going with a green mortgage isn't just about money – it's about committing to a sustainable future. As we become more aware of environmental challenges, green mortgages offer a ray of hope. They let homeowners play a part in moving the world toward sustainability. Let's look at the many benefits of choosing a green mortgage:
You get to live an eco-friendly lifestyle. Green mortgages let you reduce your carbon footprint by financing an energy-efficient, environmentally responsible home.
There are financial incentives. Many green mortgages have perks like lower interest rates or cashback offers. You make earth-friendly choices while enjoying monetary benefits.
Over time, you'll likely save money on bills. Energy-efficient homes mean lower utility costs. The savings can really add up in the long run.
Your property value may increase. As demand for green homes rises, their market value often goes up too. This can help when selling or refinancing later.
You indirectly support sustainable industries like renewable power and eco-construction.
You future-proof your home. With stricter environmental regulations likely coming, green-standard homes are already adapted.
You gain personal satisfaction from aligning your choices with planetary health – daily reminders that you're contributing to a greener world.
Green Mortgages vs. Traditional Mortgages
Traditional mortgages focus on finances – interest rates and monthly payments. Green mortgages also consider environmental factors, promoting energy efficiency to lower carbon footprints and utility bills. But it's essential to balance environmental benefits with financial costs. Green mortgages may not always be the most economical choice. Before deciding, assess both environmental and financial implications. Don't just consider environmental ideals – compare all the numbers and weigh costs versus energy savings to see if a green mortgage is affordable and aligns with your budget and values.
Mortgage Lenders Green Incentives
Green mortgages often provide lower rates or cashback. Here are some lenders offering eco mortgages:
Nationwide: Offers £500 cashback for properties with an EPC rating of A and £250 for B-rated properties. They also provide 'green' borrowing for home improvements.
Barclays: Provides a preferential interest rate for properties with an EPC rating of A or B and offers a 'greener home reward' for green home improvements.
Halifax: Offers cashback for properties with an EPC rating of A or B and for making energy-efficient home improvements.
NatWest: Provides a preferential interest rate for properties with an EPC rating of A or B.
Virgin Money: Offers a preferential interest rate for new-build properties with an EPC rating of A or B and cashback for green home improvements.
Eligibility for Green Mortgages
Considering green mortgage products? You'll need an EPC rating of A or B to get in the door. If you're scratching your head over your rating, a chat with your mortgage broker should clear things up.
Learn the process of How To Get A Mortgage and then get in touch to look at your mortgage options.

FAQs
What are the qualifications for a green mortgage?
To qualify for a green mortgage, a property typically needs to have a highly valid Energy Performance Certificate (EPC) rating, often A or B. This certificate measures the energy efficiency of the property. Some lenders may also require homeowners to commit to specific sustainable upgrades or improvements as part of the mortgage agreement.
What rates are green mortgages?
Green mortgage rates can vary among lenders. While they often come with reduced interest rates as an incentive for energy-efficient choices, the exact rate will depend on the lender, the borrower's creditworthiness, and the broader market conditions. It's always a good idea to shop around and compare rates before committing.
Are green mortgages available for new build properties?
Yes, eco mortgages are available for new build properties. In fact, many new builds are designed with energy efficiency in mind, making them prime candidates for eco mortgages. Lenders like Virgin Money, for instance, offer a preferential interest rate for new-build properties with an Energy Performance Certificate (EPC) rating of A or B. If you're considering purchasing a new build, it's worth checking the Predicted Energy Assessment (PEA) and if it qualifies for a green mortgage and possible green mortgages reward.
Conclusion
Green mortgages are more than just a trend; they're a movement. They're all about blending our eco-values with our financial choices. While they might not always be the cheapest ticket in town, they're a ticket to a greener future. Dive in, but keep your eyes open to make sure it's the right fit for you.

YesCanDo Money's Green Commitment
YesCanDo Money is a brand rooted in care and is proud to give back to its customers and the global environment. Partnering with (more:trees) allows our company to plant a tree for every client who secures a mortgage, symbolising our commitment to a greener future.
We wanted to give back to our customers as well as the planet. (more:trees) gave us a way to automatically plant a tree on behalf of our client when they get a mortgage with us. – Matthew Roberts, Director – YesCanDo Money