Have you ever heard of a part-and-part mortgage? This option combines the benefits of both a capital repayment and interest-only mortgage, providing homeowners with an advantageous mix. While most people are familiar with these traditional payment options, this third option is worth considering.
If you're looking for an alternative to the typical standalone repayment mortgage, look no further than a part-and-part mortgage! This guide is designed to give you all of the details about this type of mortgage so that regardless if you are a first-time homebuyer or an experienced homeowner, you can make an informed decision. You'll get a comprehensive understanding of how it works and who qualifies as well as learn more about exploring your options when it comes to repaying your mortgage.
Part-and-part mortgages can be a great choice for those who don't wish to opt for the standard interest-only or capital repayment mortgage, as well as individuals seeking more flexibility in their mortgage repayments. From my perspective, it is worth serious consideration!- Steve Roberts
What is a part and part mortgage?
A part-and-part mortgage can offer the best of both worlds. You get to decide how much of your loan is repaid through fixed instalments while the remainder stays in an interest-only form. With this unique plan, you can achieve flexibility and stability simultaneously!
Homeownership comes with a host of choices when it comes to paying off your monthly mortgage repayments. The Part and Part Mortgage offers the perfect combination of both worlds – pay back a portion in regular instalments while keeping an interest-only balance until the end of your term! You'll receive greater control over how you manage your monthly payments, making it a great option for those who seek flexibility and assurance at the same time.
If you'd like to determine if a part-and-part mortgage is right for your financial goals and how much it will cost each month, use an online mortgage calculator. This useful tool can give you an accurate estimate of what your cost each month would be before committing.
Learn more about The Different Types of Mortgages
Part and part mortgage graph
The graph below illustrates how your part-and-part mortgage balance will reduce to zero over the full duration of your loan.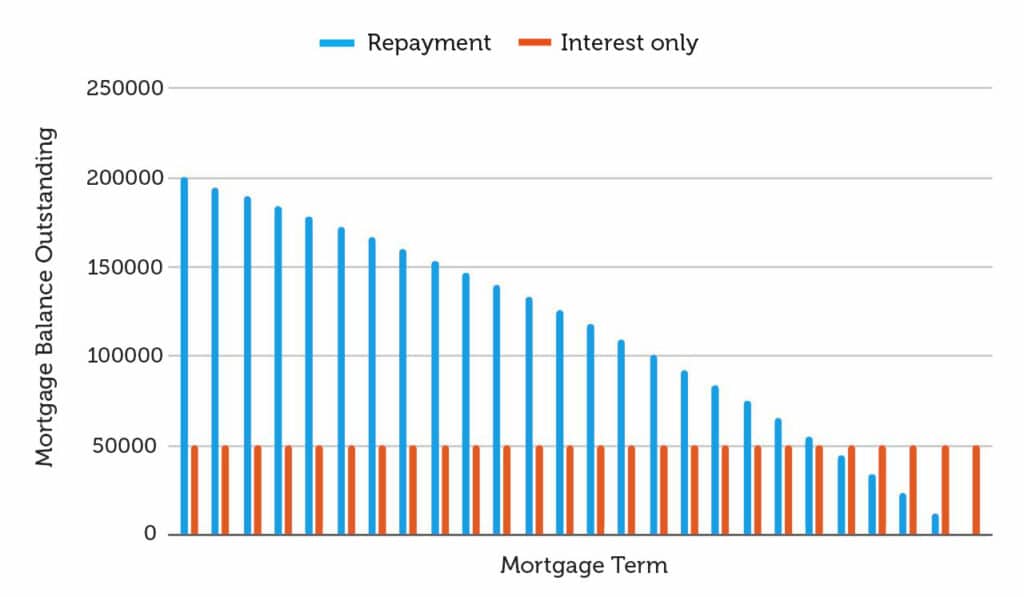 Part and Part Mortgage Calculator
Are you a homeowner who is struggling to understand mortgage payments, particularly when making decisions such as taking out a part repayment mortgage and part interest-only mortgage? If so, read on as we have the perfect solution for you!
Our calculator can easily help calculate your monthly payments and determine whether or not a part interest-only and part repayment mortgage works best for you. Right now our calculator has individual options of repayment and interest only but soon it will be even more comprehensive with a combined option of both features in one tool.
Utilise the calculator below to gain insight into what your monthly repayments may look like with a part-and-part mortgage. Yet, it's always prudent to consult a mortgage broker for more thorough guidance. Mortgage advisors can assist you in understanding how much you could feasibly save month after month and throughout the mortgage term, as well as explore all potential options and determine the optimal plan tailored just for your distinctive situation.
Let us calculate it for you, it wont cost you anything
The benefits of part and part mortgages
Part-interest and part-repayment mortgages do have many advantages including:
By taking advantage of lower monthly repayments than those which are associated with capital repayment mortgages, you could be able to save more in the long run.
A reduction in the lump sum that would be required at the end of an interest-only mortgage term.
You have the chance to influence the balance between two different mortgage types.
While these mortgages are advantageous, it's critical to be aware that there can also be some adverse effects. To illustrate:
To ensure you pay off the remaining balance in full at the end of the part-interest period, it's essential to create a payment plan that financially works for you.
To ensure that you don't miss any payments, it's important to have a contingency plan in place should your repayment vehicle fall through. This way, you can be confident that all of your outstanding debt will be taken care of.
A financial advisor can work alongside you to build an excellent plan and have contingencies in place to protect yourself from any potential risks.
How to get a part-and-part mortgage
Are you looking into a part-and-part mortgage to finance your home? If so, here are some steps that can help you get started:
Step 1) Use a part-and-part mortgage calculator
If you want to learn more about what your regular payments may be like with a part repayment mortgage combined with a part interest only mortgage? Try utilising a part-and-part mortgage calculator. The calculator will support you in deciding the ideal ratio of repayment to interest only for your individual needs and give an idea of how much you would pay each month. This way, it is easier to set up a budget plan as well as get ready for those monthly repayments on time.
Step 2) Consider your repayment vehicle
When you opt for a part-and-part mortgage, you must have proof of your proposed repayment plan for the interest-only portion of the loan at its end. This is referred to as a "repayment vehicle". It could be an investment, savings account or any other form of payment meant to cover the remaining sum. Be sure that this option has been secured prior to submitting your application.
Step 3) Talk to one of our mortgage advisors (we're fee-free)
If you're prepared to move forward, it makes sense to seek advice from an experienced mortgage advisor. They can assist in comprehending the various repayment options available and guarantee that your loan request is practical concerning your economic background. Additionally, they are able to help discover a creditor who is likely to grant approval with the best interest only mortgage rates and terms.
Step 4) Search the market and apply for a mortgage (we can do this for you)
After you've thought over your choices and lined up a payment plan, collaborate with your mortgage broker to give you their advice and research the mortgage market to find you the lowest fixed rate mortgage or tracker mortgage combined with the lowest arrangement fees. A mortgage broker will aid you in navigating through every step of the mortgage process so that you can be sure to get the best terms available.
Let's see if a part and part mortgage works for you
Who qualifies for this type of mortgage?
In order to assess if you are eligible for a part-and-part mortgage, lenders will take into account several criteria that can vary from one mortgage lender to another. Typically, they'll look at:
Repayment Strategy
Mortgage lenders will require evidence of your plan to pay off the remaining balance on the interest-only portion of the mortgage at maturity. This is known as a "repayment vehicle" and can be in form of many types of mortgage repayment methods including investment, savings account, or any other means that you have available to repay the mortgage debt.
Property Type and Value
Lenders consider interest-only mortgages as higher risk, so if you're applying for a part-and-part mortgage on a non-conventional property, it may be harder to get approved. However, there are some specialised lenders who may consider this type of mortgage for non-conventional properties, but you may have to work with a mortgage broker to access these options.
Deposit and loan-to-value ratio
If you possess a greater deposit or equity if remortgaging (Interest-Only Remortgage), it can significantly lower the lender's risk when considering your mortgage application for a part repayment and-part interest only mortgage. Most lenders typically accept up to an 85% loan-to-value ratio (LTV) on these mortgages and anything below this is generally viewed even more favourably. Thus, if you are able to provide a large deposit amount, then the chances of approval for such type of finance become even better!
Financial Situation
Before submitting a mortgage application, lenders will assess your financial situation to ensure that you have the ability to repay the loan. In order for them to do this successfully, it is critical that you understand and can provide evidence of your income, expenses, existing debt obligations and credit score. Knowing how all these factors interact with each other before applying can make or break your chances of approval.
Who offers part and part mortgages?
If you're looking for a part-and-part mortgage, Skipton Building Society, Halifax, Barclays and Leeds Building Society are a few high-street lenders that will consider you. It's worth noting that this type of mortgage has a higher level of risk associated with it than more traditional options; as such the market for these mortgages is generally quite limited. Nevertheless, if you feel like taking on extra risk in order to access better interest rates or repayment terms then this could be an option worth considering!
If you are in need of further choices, it may be worthwhile to consider a specialist lender. These lenders regularly provide part-and-part mortgages and working with a mortgage broker provides more bargaining power when discussing rates and terms.
It's essential to highlight that submitting an application to a lender without the use of a broker could potentially lead to rejection. A mortgage broker can help you discover all your options and find the best deal from both traditional lenders and part-and-part mortgage lenders. They'll break down different repayment techniques with you, as well as provide insight into what your monthly repayments may be like when using either tracker or fixed-rate mortgages.
Part and part mortgages for buy-to-lets
Investing in a buy-to-let property can be made easier and more accessible with the use of a part repayment/part interest-only mortgage. This type of loan structure permits you to pay off some of the debt every month, while also allowing you to settle the residue at maturity. With this option, obtaining your desired real estate investment is within reach!
Are you in the market for a part-and-part mortgage to buy a property for rental purposes? It would be advantageous to consult with an experienced mortgage broker who is familiar with buy-to let lenders. He or she can assist you during every step of this process and recommend the most appropriate lender according to your needs. Furthermore, they will provide insight into all options accessible and help discover the best deal based on your individual circumstances.
While most buy-to-let mortgages are set up on an interest-only basis, meaning that only the monthly interest is paid and not the principal loan balance, there exist landlords who opt for repayment mortgage plans. These offer both a portion of the total loan amount to be repaid each month with the intent of settling the entirety by its due date.
In the end, selecting a mortgage comes down to your individual financial situation and objectives. Make sure to thoroughly consider all of the advantages and disadvantages of each type before settling on one so that you can make an educated decision with help from a knowledgeable mortgage broker or lender.
Let's see if a part and part mortgage works for you
A broker that is a part-and-part mortgage expert
Trying to understand a part interest only and part repayment mortgage can be daunting, as it necessitates intricate calculations and requires you to have an effective repayment plan. However, there's no need for alarm; with the help of a mortgage broker, you'll find the ideal fixed rate that works best for your financial situation! Mortgage brokers have access to every lender available in the market so they're able to quickly locate and compare different mortgages from which one can choose. Moreover, by having them manage this process for you, all complexity will dissipate– leaving behind only ease and relief.
Get free part and part mortgage advice from YesCanDo
If uou are intersted in getting a new mortgage, give us a call at 033 0088 4407 or fill out an enquiry form and we'll be happy to set you up with a free, no-obligation consultation. This is a good opportunity to get your questions answered and to have a conversation with a professional who can help you navigate the complex world of mortgages. Don't hesitate, call us today
Frequently Asked Questions
Before settling on a part-and-part mortgage, ensure it is right for you and your plans. A part and part mortgage repayment mortgage typically have lower monthly payments than the full payment option; however, it comes with risks as there needs to be an approach in place for repaying the balance before the end of the mortgage term.
Part-repayment mortgages provide flexibility and balance between interest-only payments and capital repayment. However, it requires a lot of management as well as an organised repayment plan to make sure you can pay off your mortgage on time. For more information about these types of mortgages, don't hesitate to consult with a financial advisor or mortgage broker who is knowledgeable in this area.
Although you can certainly switch from a part-and-part mortgage to an interest-only or repayment mortgage during your loan period, it's essential that you demonstrate the financial ability to repay the larger loan amount for an interest-only arrangement or manage higher monthly repayments in case of capital repayment mortgages. Unfortunately, this process could be slightly more complicated than expected as conversing with a mortgage lender or mortgage broker may be necessary in order to fully comprehend what is required for such transfers.
A multi-part mortgage is another term for a part-and-part mortgage. This type of mortgage combines both interest-only and capital repayment. Rather than paying back the entire loan through monthly payments, like with a capital repayment mortgage, or only repaying the interest and principal at the end of your mortgage term in an interest-only mortgage – you can now opt for a hybrid approach. Each month you make a payment towards both your principal and interest balance, gradually reducing it until the remaining debt is paid off once your mortgage reaches its preset expiration date.
For those who desire more control over their repayment plan, a mortgage of this type offers essential flexibility. You'll be able to tailor your payments based on whether you want them to go toward interest-only or capital repayment; and for individuals who may have specific reasons for avoiding traditional mortgages, this could be an ideal solution.