Nationwide Mortgage Calculator
Buying a property is a pretty significant milestone in anyone's life. This is why it is vital to achieve the right mortgage for your situation. Whether you are a first-time buyer, looking to remortgage, moving home or investing in a buy-to-let, understanding what mortgage you can afford is crucial.
Add a header to begin generating the table of contents
Mortgage calculators such as the Nationwide Mortgage Calculator can help you financially prepare for your mortgage commitments. Nationwide is a highly trusted UK high street building society with a long-standing reputation. Like most lenders, Nationwide provides an easy-to-use calculator designed to offer accurate and reliable repayment estimates for mortgage customers.
What is a Mortgage Calculator?
Mortgage calculators come in different forms, from affordability calculators to repayment calculators. Many lenders use their own internal affordability calculators that aren't publicly available. However, there are general affordability calculators you can use that will provide a ballpark figure of your borrowing capacity, like the one included in this guide.
A repayment mortgage calculator helps prospective homebuyers estimate their monthly mortgage repayments based on several factors. This type of mortgage calculator depends on three basic details:
The loan amount,

Interest rate,

And loan term.
By entering these details, you can quickly estimate what your monthly mortgage payments may be. Using these available mortgage calculators is really helpful and valuable for budgeting, planning, and comparing different mortgage options to ensure you can comfortably afford your chosen mortgage.
Why Choose Nationwide Mortgage Calculator?
Nationwide offers a reliable and user-friendly mortgage calculator, which is accurate and has unique features and benefits. Being the largest high street building society with 150 years of experience in the industry, it's a sensible choice for potential homebuyers, including first-time buyers.
However, a broker will have access to their own calculator and mortgage tools that are unbiased. This is because they are based on 90+ mortgage lenders' criteria rather than just one.
Accuracy and Reliability: The Nationwide Calculator uses current data sources to offer accurate repayment estimates. It takes into account critical factors like mortgage products, interest rates, mortgage term, and insurance costs to give users a comprehensive understanding of their mortgage expenses.

User-Friendly Interface: Designed with simplicity at its core, the Nationwide mortgage calculator is easy to navigate for both first-time buyers as well as those remortgaging or moving home. The intuitive design allows users to input their information and modify parameters effortlessly.

Customisable Parameters: The Nationwide Calculator provides adjustable parameters to help users customise their calculations to their specific needs. Users can explore various loan terms, interest rates, and deposit amounts to determine the most suitable mortgage plan.
How to Use the Nationwide Mortgage Calculator
Using the Nationwide Mortgage Calculator is straightforward. Follow these steps to obtain accurate mortgage repayment estimates:
Like most repayment calculators, you will be required to input these essential details of your mortgage, including:
Loan amount: This is the total amount you plan to borrow for your home purchase.

Interest rate: The yearly interest rate on your mortgage.

Loan term: The duration of your mortgage, usually ranging from 10 to 40 years in the UK.
To get a more comprehensive estimate, include additional costs such as:
Property taxes: The yearly council tax levied on your property by local authorities.

Buildings insurance: The annual cost of insuring your property against damage or loss.

Mortgage arrangement fee: A one-time fee charged by the lender for setting up your mortgage.
The Nationwide Mortgage Calculator allows you to explore different scenarios by adjusting parameters such as:
Deposit: Experiment with varying deposit amounts to see how they affect your monthly repayments and interest.

Loan term: Compare how shorter or longer loan terms influence your monthly repayments and total interest paid.

Interest rate: Analyse the impact of different interest rates on your mortgage repayments.
Examples of Mortgage Calculators
Nationwide's mortgage calculators are tailored to their own lending criteria. You can use their calculators on their website, however, as an independent broker, our goal is to provide you with an unbiased calculation. Therefore, we have provided two basic mortgage calculators below which are not tailored to specific lenders' criteria.
Affordability Calculator: Estimate how much you could borrow
Use our straightforward mortgage affordability calculator to work out the maximum loan amount you can borrow.
Enter your sole or joint income below and see how much you can borrow.
Repayment Calculator: Determine your monthly payments
Calculate an approximate amount for your monthly mortgage repayments using our basic mortgage repayment calculator.
Let us calculate it for you, it wont cost you anything
Understanding Your Mortgage Calculator Results
After inputting the necessary information, the Nationwide Mortgage Calculator will provide a detailed breakdown of your estimated mortgage repayments, including:
Monthly Mortgage Payments
Your monthly mortgage repayment consists of two parts:
Capital – This portion of the payment goes towards reducing the loan balance.

Interest – The interest component is the cost to you of borrowing the money. The Nationwide Calculator will display the estimated monthly repayment, helping you understand your financial commitment.
Monthly Repayments Breakdown
Most mortgages follow a repayment structure, which means that each monthly repayment comprises both principal and interest. Over time, the balance between the principal and interest parts of the mortgage will change. In the initial years of the mortgage, a larger portion of your monthly repayment goes toward the interest. In the later years of your mortgage term, you will pay a higher percentage toward paying off the capital and less interest, ultimately paying off more of the loan itself. To give you a good visual idea of how this works, we have provided the graph below.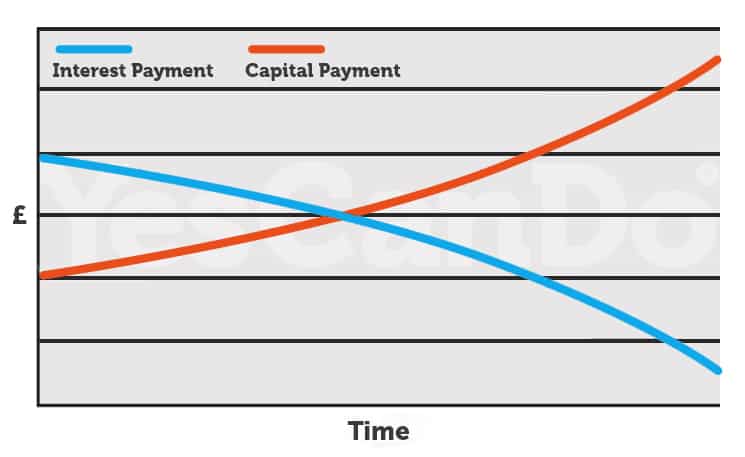 The Nationwide Calculator provides a detailed breakdown of your repayments, from the initial rate period through to the end of the mortgage term, helping you understand how the principal and interest portions change over the loan term.
Total Interest Paid
Understanding the total interest paid over the mortgage term is crucial when choosing a mortgage. The Nationwide Calculator calculates this amount based on the loan term and interest rate you input. By comparing different scenarios, you can identify the most cost-effective mortgage option.
Nationwide Mortgage Overpayment Calculator
The Nationwide Mortgage Overpayment Calculator is an invaluable tool for homeowners planning to make additional payments on their mortgage. By inputting your remaining mortgage balance, the mortgage term, interest rate, and overpayment details, you can calculate the potential impact of overpaying your mortgage. The results will show you the revised length of your mortgage, the amount of interest you could save, and the reduction in your mortgage term. It's an excellent tool for those looking to clear their mortgage debt sooner and potentially save on interest costs.
Next Steps After Using the Nationwide Mortgage Calculator
Once you have estimated your mortgage repayments using the Nationwide Calculator, consider the following steps to move forward in your home-buying journey:
Mortgage Agreement in Principle: To understand how much you can borrow and increase your bargaining power as a buyer, consider obtaining a Mortgage Agreement in Principle (AIP) from a lender like Nationwide, another lender, or even better a mortgage broker. An AIP is a conditional mortgage offer based on your financial information. This will also let you know what property value you can start to look at and ultimately what purchase price you will be able to afford.

Comparing Mortgage Options: Explore different mortgage options, such as fixed-rate, tracker mortgages, or discount mortgages, and compare the features and benefits such as arrangement fees of each to determine the best choice for your circumstances.

Working with a Mortgage Advisor: Consider consulting an independent mortgage broker who can guide you through the mortgage process. They can help you understand your options, offer unbiased personalised advice, and assist with the mortgage application process.
Starting Your Homeownership Journey with Nationwide
Embarking on the journey to homeownership can be both exciting and daunting. Perhaps you have an existing mortgage with Nationwide. The Nationwide Calculator is a valuable tool to help you make informed decisions and take the first step towards your dream home. Estimate your monthly mortgage repayments, explore different scenarios, and confidently navigate the mortgage landscape with Nationwide at your side.
Let us calculate everything for you, for free
Put the odds of a successful mortgage in your favour with the help of a qualified and experienced fee free mortgage broker.
Advantages of Using a Mortgage Broker Over Going Direct to a Lender
A mortgage broker with experience can be very helpful when searching for a mortgage. They offer several advantages compared to approaching a lender directly. By understanding your specific financial situation, a mortgage broker can help you find the best mortgage deals that suit your needs.
A mortgage broker can:
Find the best mortgage deals: A mortgage broker can help you find the best mortgage deals that match your financial situation and needs by searching across the entire mortgage market. They can also provide you with offers from different lenders and find options that may not be available to you if you were to approach a lender directly.

Save you time and effort: A mortgage broker can assist you with the application process by communicating with the lender and submitting the required paperwork. This will save you time and energy, and help simplify the mortgage application process.

Provide expert advice: By seeking the assistance of a mortgage broker, you can receive personalised guidance relevant to your specific situation. This can help ensure a smooth experience throughout the mortgage process. Leveraging their proficiency and comprehension of the mortgage market, they can empower you to make informed choices and choose the mortgage that suits your needs.

Assist with paperwork: A mortgage broker can schedule a mortgage appointment, assist you in collecting and submitting the necessary documents, and ensure your mortgage application is thorough and precise. They offer valuable assistance in preventing application delays and possible complications.
In Summary: Choose a Mortgage Broker for a Smoother Homebuying Experience
To sum it up, opting to work with a mortgage broker with a team of unbiased experienced professionals offers several benefits compared to approaching a lender directly. With a mortgage broker who understands your unique financial circumstances, you can obtain the most favourable mortgage deal. Brokers provide guidance throughout with extensive market expertise. Having support throughout the application process enables you to achieve your best mortgage for your property goals in a faster and more efficient manner.
Nationwide Mortgage Calculator FAQs
The following are some of the questions that are most regulary asked about Nationwide Mortgage Calculators. It might be that the answers to your questions are covered here but if not, check in with the team at YesCanDo Money today for further guidance.
The Nationwide Mortgage Calculator helps estimate how much you could potentially borrow based on your regular income, outgoings, and other financial details. However, the actual amount you can borrow will depend on a full financial assessment and credit check by the lender.
No, each mortgage lender has their own calculator, which is designed based on their lending criteria and rates. This is why results can vary between different lenders' calculators.
Mortgage brokers don't typically have direct access to individual lenders' calculators. However, they use sophisticated software such as mortgage broker tools that take into account multiple lenders' criteria to give you a broader view of your potential borrowing capacity and monthly repayments.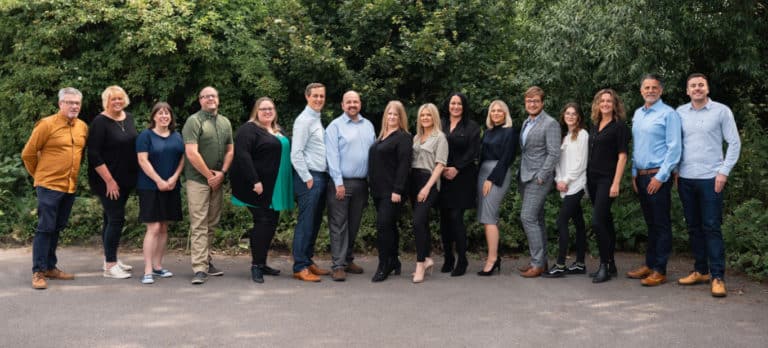 Nationwide mortgage advisors
FREE dedicated support throughout, we have full-market access to the best mortgage rates & deals. We do everything for you, for free!
Let us know what the best time is for us to call you. We will get one of our mortgage advisors will be in touch to talk through your situation and available options.