Purchasing a home can be costly. To avoid adding extra costs to your moving budget, make sure you understand how mortgage advisors earn their pay and consider using a fee-free mortgage broker like YesCanDo. This way, you won't have to worry about any unwelcome surprises!
Have you ever wondered how much a mortgage advisor is compensated and where the money originates? If so, this comprehensive guide provides insight into exactly how mortgage brokers receive their payments and can even help you find more cost-effective options.
How does a mortgage broker get paid?
Mortgage brokers can receive payment in various ways, however, all are compensated by the mortgage lenders about a month after the mortgage starts.
All brokers are paid by the lender
Mortgage brokers are compensated with a commission for every mortgage they secure on behalf of their clients, which comes straight from the mortgage lender. Mortgage lenders pay approximately the same commission to mortgage brokers and this averages to 0.36% of the loan arranged. This is paid after the mortgage funds have been released.
Some brokers charge customers a fee
Depending on the circumstances, a mortgage adviser may assess either a one-time fee or an amount based on your loan balance for their services such as consulting and managing.
Learn more about what fees mortgage brokers charge here: Do mortgage brokers charge a fee?
Some brokers don't charge a fee
Most mortgage brokers choose not to charge their customers a fee. They deal with everyday mortgages rather than any adverse credit or complex mortgages.
How much do mortgage brokers charge?
Mortgage broker fees really do vary. There is no set amount or percentage across the mortgage industry. It can be very confusing what you are paying and what you are paying for.
Fixed amount fee
You can expect to pay an initial fee of anywhere between £250 and £500 as a mortgage broker charge. Once your mortgage application has been accepted, a success fee is likely to be added to this amount – it could either be fixed or as a percentage of the total mortgage.
Mortgage percentage fees
The fee structures may differ depending on the advisor and firm that you work with. As an example, if a mortgage broker charged 1% as their fee, then for a loan of £300,000 they would receive £3,000 in commission fees.
When seeking out a mortgage broker, there may be an upfront fee associated with the process. This cost will vary depending on the experience of your chosen broker and how complex your individual case is.
If you want to learn more about mortgage fees read our guide on Which fees for a mortgage?
If you would like to learn about lenders' fees read our guide on Mortgage Lenders Fees
Fee-Free mortgage brokers
Fee-free mortgage brokers provide a cost-friendly solution for individuals who are on the hunt for a mortgage, as some or all of their services are free of fees! Building their businesses on exceptional customer service, these brokers make enough commission from the lender to be successful. Fee-free mortgage advisors provide a unique service to their customers by assisting them in finding the perfect mortgage product and interest rate without any extra costs. This structure is advantageous for both sides since it ensures that the interests of both broker and borrower are intertwined – as if they each have something to gain from a successful mortgage relationship! The satisfaction of one indubitably leads to success for the other.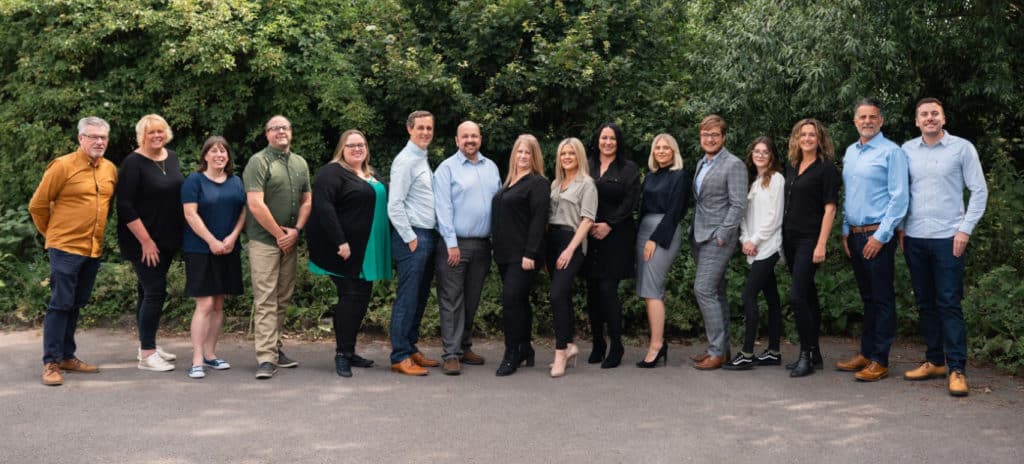 Getting a mortgage made easy with YesCanDo Money
Put the odds of mortgage approval in your favour with the help of a qualified and experienced mortgage broker.
Do I pay my broker directly?
After the successful sale of a property and its associated mortgage, lenders pay a commission to any mortgage broker involved in the process.
If a mortgage broker is choosing to charge the customer a fee, they won't necessarily get paid directly. Before obtaining a mortgage or remortgage, you should be cognizant of any potential fees or costs that may be involved. If there is an extra broker fee added to the loan agreement, the lender will pay it out and then transfer both their commission and this fee to your broker. Be sure to always ask about any hidden expenses associated with the process so that you are not surprised by unexpected charges in the future.
Payment of upfront or success fees must be outlined in writing and should be transferred directly to the advisor's company. Any questions about payment can be directed to the compliance department of their respective organisation.
Ensure that you have a comprehensive understanding of how your broker is paid. If the fee amount seems unclear to you or if there is any uncertainty with respect to its calculation, request an itemised explanation from them.
Are there different types of mortgage brokers?
Definitely! Unfortunately, some mortgage brokers are biased in favour of their associations with certain lenders. As such, they may not be able to provide you with a truthful assessment of every prospective option since they might have the incentive to guide you toward one choice or another.
These brokers are commonly referred to as tied brokers. It is worth noting that some brokerages may be owned by lenders or an estate agent, so although they can offer access to other lenders' products you cannot guarantee their mortgage advice will always be the best.
When looking for a mortgage broker, it is essential to contemplate if they are tied or are a whole of market broker this could restrict the potential options you have and result in missing out on more affordable or superior deals. Furthermore, there exist mortgage professionals who specialise in specific areas…
Bad credit mortgages brokers
Bridging finance brokers
Commercial mortgage brokers
Expat mortgage brokers
Overseas mortgage brokers
Second charge loan brokers
Shared Ownership brokers
When you require a specialised mortgage, certain brokers often will charge a broker fee as the level of work required to secure your loan is likely substantial.
How do mortgage brokers earn their money?
When it comes to finding the perfect mortgage for your needs, an independent mortgage broker is absolutely invaluable. They are committed to researching and selecting a mortgage deal tailored specifically to you – one that offers the best value possible. It is their responsibility to guarantee that your mortgage payments are manageable. Therefore, any advice they give must be justified and defensible.
To earn their commission, a mortgage broker will provide you with invaluable assistance with:
Calculating your mortgage affordability and finding the most suitable mortgage to fit within your budget.
Searching the entire marketplace to provide you with the most cost-effective option and guarantee that you get the best mortgage deal!
Uncovering lenders before you apply for a mortgage can help inform your decision by exposing all advantages and disadvantages that should be considered.
Filling out and overseeing mortgage applications on your behalf to save you time.
Carefully reading your mortgage agreement, and will highlight any terms that could be disadvantageous for you down the road.
Managing your mortgage loan from start to finish; often collaborating with solicitors and mortgage providers to manage even the most complicated cases.
With the right guidance and assurance that you are receiving trustworthy, beneficial advice, finding an ideal mortgage lender becomes a much smoother process.
Do mortgage brokers lend money?
No, a mortgage broker is not the same as a lender. You can think of them instead as expert consultants who will help you compare rates and identify lenders that best suit your needs. It's important to remember that while they have extensive knowledge of mortgage products available across multiple lenders, they do not fund loans themselves directly.
What is the difference between a mortgage broker and mortgage lender?
Below is an infographic that explains the difference between using a mortgage broker's services and going directly with a mortgage lender.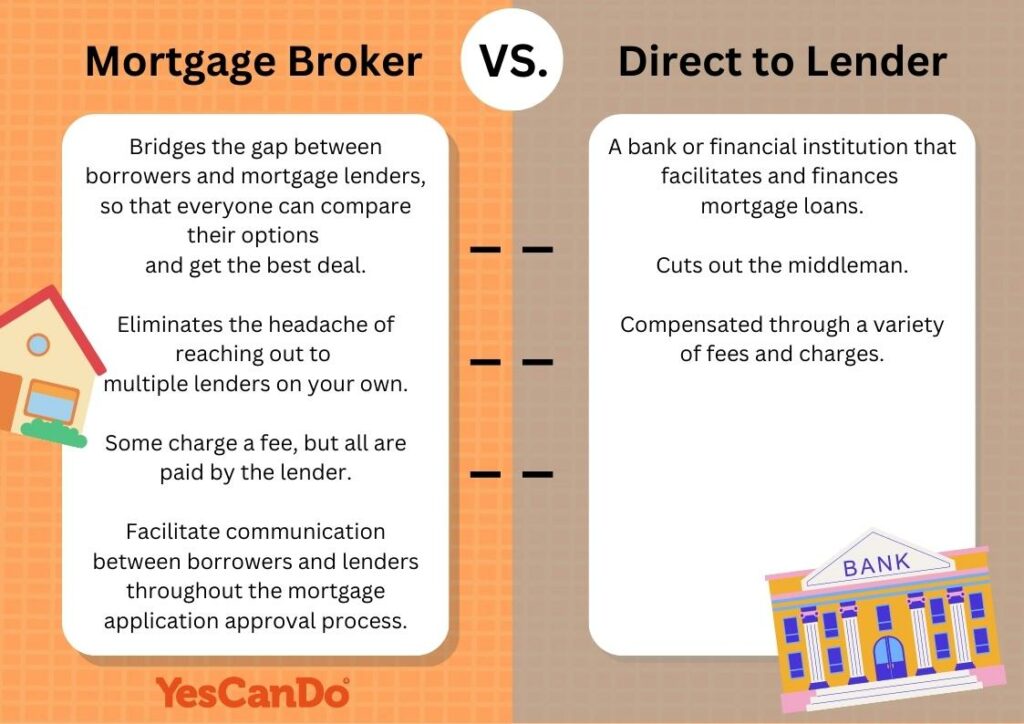 Talk to an expert mortgage broker free of charge and without obligation
YesCanDo are independent mortgage brokers that have already guided more than 10,000 clients to the best mortgage advice out there – even when other brokers had failed. Don't worry; we'll help you find the best mortgage quickly, easily, and free of charge! We do not and have never charged mortgage broker fees!
Don't hesitate, to contact us today – Our team of fee-free expert mortgage advisors helps make finding the perfect mortgage for you easier than ever before!
Spend two minutes completing our inquiry form, give us a quick call at 033 0088 4407 or WhatsApp us and a mortgage advisor will be in touch to help.
Getting a mortgage made easy with YesCanDo Money
Put the odds of mortgage approval in your favour with the help of a qualified and experienced mortgage broker.