So, you want to buy a property!
That's great news but before you put together your mortgage application, you will need to raise the money needed for your mortgage deposit.
Of course, we appreciate that raising money for a deposit could be difficult, especially with the rise in house prices and the current cost of living crisis. However, it's not impossible and in this guide, we are going to give you some advice on what you can do to raise the funds needed for your mortgage deposit.
How much for house deposit?
The amount of mortgage deposit you need to save depends on the property value of the house you are looking to buy.
The smaller the property value the smaller the deposit so this is something you need to think about when looking at property prices in the area where you want to live.
The minimum deposit required by most lenders is 5% of a property's market value, also known as a 95% loan-to-value mortgage. If you were considering a house with a purchase price of £20,000, for example, you would need to save at least £10,000.
To gain access to the most competitive rates on the mortgage market, you would need to save up for a bigger deposit, so consider saving more than 5% of the property price if you have the ability to do so.
But don't panic!
We know that saving up is hard, especially for houses with a steep property price, but there are government schemes that cater to people trying to climb the first rung of the housing ladder. As such, help may be available to you, so look online for more information or talk to a member of our team about your mortgage options.
There are also lenders that specialise in mortgages for first-time buyers so you may be able to access deals that don't require a huge deposit.
Talk to a mortgage broker at YesCanDo to learn more and keep reading for some tips on saving.
Lets put a plan of action together for your first home
How to save for a house deposit
It's never too early to start saving. So, if you're a first time buyer looking to get on the property ladder, you should do what you can to reduce your spending, especially on those things that you don't really need. We are thinking of streaming services, alcohol, sweet treats, and anything else that doesn't need to be a priority in your life.
When you do start to make savings, put any excess money into a savings account. There is a lot to choose from but to make sure your savings work harder for you, find a bank or building society with a savings account that offers the best rate of interest. We discuss some of your options below.
Where to save your house deposit
Don't put your savings into a tin on the top of your cupboard! This is because you might be tempted to dip into them for the occasional takeaway or something else that can eat away at your savings.
Instead, consider one of the following options.
A regular savings account
Regular savings accounts often have the best rates of interest though you might need to have an existing account with the provider before you apply.
A savings account tends to have the best interest rates because you agree to lock in your cash without any withdrawals for a set period of time. This is actually beneficial for you as you won't be tempted to take any money out of the account until the fixed period is over.
Easy Access Savings Account
With an easy-access savings account, you have the freedom to access your savings although you might have to adhere to withdrawal limits. These accounts also come with low rates of interest but only for a set time as your initial bonus rate will likely expire at the end of 12 months.
Lifetime ISA
If you're a first-time buyer and are aged between 18-39, you could open up a Lifetime ISA to speed up the saving process. This option lets you put away up to £4000 a year with the added benefit of a 25% government bonus that is added to your savings.
You do have other saving options so compare deals online and speak to a financial advisor to learn about the best options for your situation.
How do first time buyers save for a deposit UK?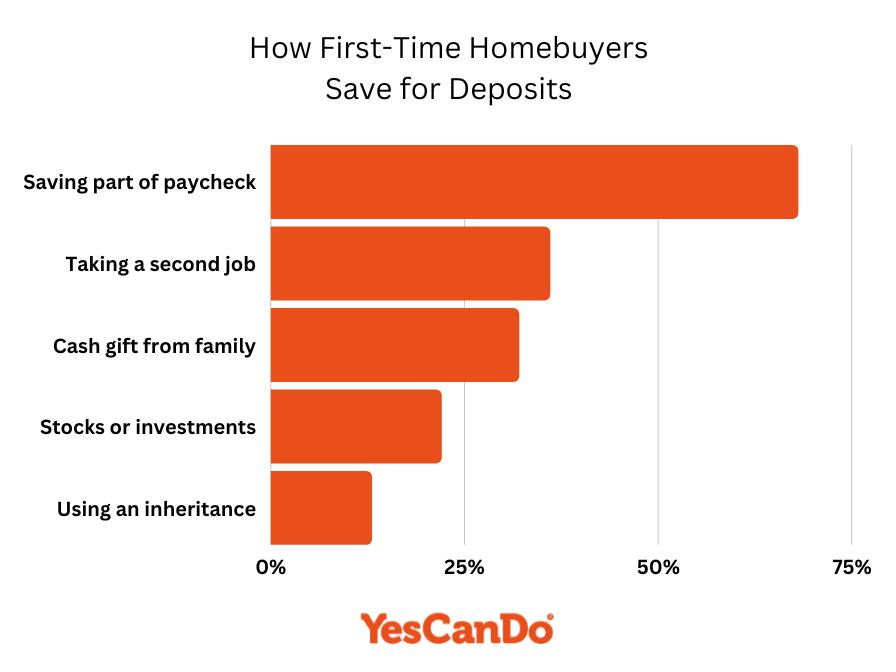 How to save a house deposit fast
There are many ways you could save for your house deposit faster.
Stop renting
There's nothing inherently wrong with renting a property as you do need somewhere to live after all! But if you are struggling to save money for a deposit as a consequence, you might want to stop renting for a while.
Instead, you might want to consider the following options.
Return home
If you have a good relationship with your parents, this could be the best thing to do. Not only will you gain access to some (potentially) free meals but you will have more opportunities to save if you have no rent and bills to pay.
Of course, you should still offer to help your parents out financially. But as they are unlikely to charge you an extortionate price for living in their home, you should be able to save something towards your deposit.
Find a cheap room
If you don't need a lot of space, you could rent out a room in a shared house. This could be a house that belongs to one of your friends or it could be a shared property that is advertised on Gumtree or SpareRoom.
A room in a shared house is usually cheaper than renting a house or a flat so you should have plenty of opportunity to save up for your mortgage deposit.
Become a property guardian
Ever wanted to live in a castle or a stately home? By becoming a property guardian at one of the UK's many listed buildings, you can have the opportunity to do so! You would need to keep an eye on the property to make sure it doesn't fall into disrepair but in return, you will be able to live somewhere grand at a reduced cost to yourself.
Find out more here.
Lets put a plan of action together for your first home
If you pay rent and can't stop renting then try and reduce your rental costs
If you don't want to stop renting, you should try to reduce your regular costs. You can do this in the following ways.
Get a lodger
If you have space for a lodger, sub-letting a room could be one way of reducing your monthly expenses. Your landlord would have to agree, of course, so be sure to check with them before advertising the property to others.
The best way to get a lodger is to ask around your friends and family members to see if they need a place to live. You could also advertise online (with your landlord's permission) but remember to only share the property with somebody you are comfortable with.
Downsize
You might not have to pay as much rent if you move into a smaller property. Your heating bills, council tax, and some of your other expenses could be reduced too.
How to get a house deposit help in hand
You don't necessarily need to raise your deposit alone. Help may be available to you, as discussed below.
Borrow from the Bank of Mum and Dad
If your parents are willing to help you raise the deposit, then great! They could give you the cash as a low-interest (or no-interest loan) or as a gifted deposit. If it's the latter, the mortgage lender will require a gifted deposit letter from your family member to evidence that it's a gift and not a loan.
You could also take out a joint mortgage with your parents as this is another way to increase your affordability for a mortgage.
Get a guarantor mortgage
If you can't raise a deposit via your own savings, this could be an option for you.
A guarantor could be your parent or somebody else willing to help you buy a property by putting their name on your mortgage.
Asking someone to be a guarantor is a big ask as they would need to use their home or savings as security. They would also need to pay your mortgage if you ever failed to do so. However, saying this, if they are willing to then this is one way to beat high property prices as you wouldn't have to raise a huge lump sum for the deposit.
For more advice on guarantor mortgages, get in touch with our mortgage team.
Get a joint mortgage
If you have a partner or a friend you want to move in with, you might want to consider a joint mortgage. Buying a property with somebody else means you can combine savings for the mortgage and you can cover the repayments on the chosen mortgage deal.
If you're a first time buyer looking for a joint mortgage < read this.
Help to Buy scheme
The Help to Buy equity loan scheme was a government scheme that helped first-time buyers get a mortgage with just a 5% deposit. Unfortunately, the Help to Buy equity loan scheme closed to new applications on the 31st of October 2022.
However, there may be other government schemes available to you in future. Check online to learn more or get in touch with our mortgage advisors for advice on schemes that are open to first-time buyers.
Can you get a loan for a mortgage deposit?
Not many lenders are likely to accept your application if you take out a loan for your deposit so this isn't the best option. Not only that but you would be piling debt onto debt so you would have to pay for two loans if you did get approved for a mortgage.
If a loan was your own only option, there may be a few niche lenders willing to accept your application. However, the mortgage provider you choose will likely rule you out of the lowest mortgage rates on the market so this is something you need to be aware of.
Speak to our team for advice on the mortgage lenders that allow loans for mortgage deposits.
Lets put a plan of action together for your first home
Buy part of a property
With shared ownership and shared equity schemes, you can purchase part of a property while renting the rest from a housing association.
With this option, you wouldn't own 100% of the property right away. But if you're looking for an affordable way to buy a property, this could be a good option as you would only need to raise a deposit for the share of the property that you buy.
So, if the property is valued at £150,000, for example, and you bought a 50% share with a 90% loan-to-value mortgage that requires a 10% deposit, you would only need to raise a deposit of £7,500 instead of £15,000.
For many people, this is a cost-effective way to get on the property ladder due to the small deposit and reduced mortgage costs. If you're interested, you can learn more about shared ownership here.
Budget wisely
Budgeting can help you manage your finances and give you better control of your money when you're saving up for your downpayment, be that a low deposit of 5% of a property value or a higher deposit of 10% or more.
As part of your budgeting, take the time to work out what you spend and what you earn and look at how much money you have left over after your regular outgoings have been paid. If you discover you don't have a lot of money left over, find ways to reduce your outgoings so you have the chance to save more money for the deposit when you take out a mortgage.
Add to your savings
As we suggested earlier, it's wise to search for the savings accounts with the most competitive interest rates as this is one way to add to your savings.
If you can also find a flexible savings account that allows you to add to your savings, this is another way to raise the money needed for your mortgage deposit sooner.
So, if you have any extra money in a given month, you could add this to your savings instead of spending it. The extra money you save could come from
birthday/Christmas gifts
work bonuses
tax rebates
second job
loose change
or money you have earned from a side hustle.
lottery wins (if you're lucky)
Lets put a plan of action together for your first home
Introducing YesCanDo Money
For further advice on how to get a house deposit and for information on how to access the lowest mortgage rates over your mortgage term, get in touch with our expert team of mortgage brokers.
As well as helping you find ways to pay your mortgage deposit, we will also advise you on ways to reduce your mortgage repayments. Finding the money for a larger deposit is one way to do this but as your credit rating and the type of mortgage you choose can also affect the repayments on the mortgage deals you are offered, we will advise you accordingly.
Finding the best mortgage lender for you
We search the market on your behalf for the best lenders for you such as the ones with the best rates or low-deposit mortgages. So, arrange an appointment with us if you no longer want to pay rent, as we can support you throughout the mortgage journey. We aim to find you the best mortgage deals with the lowest monthly repayments and support you through the mortgage process.
Get in touch
Be you a first-time buyer looking to get on the property ladder or somebody who is looking to move house, our mortgage team have the experience you need when exploring your mortgage deposit options.
Use the contact form below to arrange a callback from one of our expert team. At your first appointment, we will give you more advice on how mortgage deposits work alongside other information that will help you reduce your future mortgage payments.
We look forward to speaking to you!
Related reading: