So, you want to buy a home. That's great news! But unless you have the money to buy a house outright, you are going to need a mortgage.
Getting a mortgage isn't always straightforward. You need to meet a mortgage lender's eligibility criteria before they approve you for a loan, so there are a few things you need to consider before you make your application.
In this guide, we will tell you everything you need to know about getting your mortgage approved, with suggestions on ways to improve your chances.
What mortgage lender criteria do you need to meet to get approved for a mortgage?
Lenders each have their own criteria which can differ between one mortgage provider and the next but typically, most lenders will consider the following when they assess your mortgage application.
Your age
Most lenders require their residential mortgage applicants to be at least 18 and their buy-to-let applicants to be at least 21.
Lenders also set a maximum age limit. This could be the age you are when you want to take out a home loan (usually capped between 75-80) or the age you will be when your mortgage term comes to an end (typically between 75-95).
Your employment status
When looking at your mortgage application, the lender will want to know more about your employment type and the income you are receiving.
If you have been working for the same employer for a number of years and have a salary that matches your loan requirements, then your chances of mortgage approval will be improved.
If you are newly employed, have large gaps in your employment history, or are in non-standard employment such as if you're self-employed, getting a mortgage can be a little trickier. This isn't to say it's impossible, however, especially if you use the services of a broker such as ourselves, as we can search the market for lenders and mortgage deals that match your situation.
The type of property you're buying
If you're hoping to purchase a standard property, i.e. a house constructed with brick walls, concrete foundations, and a tiled roof, then it's relatively easy to get a loan provided you meet the rest of the mortgage lender's criteria.
But if you're interested in a property that mortgage providers consider to be 'non-standard,' then you may be limited in your choice of lenders. Don't worry though as YesCanDo Money have access to specialist lenders that will consider your mortgage application so you don't necessarily need to reconsider your housing choices.
Non-standard properties include:
Flats in high-rise buildings
Flats above shops
Prefabricated houses
Houses with glass or concrete walls
Properties with wooden or steel frames
Your credit rating
Lenders carry out a credit check on all their mortgage applicants by looking at their credit reports.
A credit report contains information about credit cards, overdrafts, utility bills, loans (including previous mortgages), and mobile phone agreements.
Lenders will record how much credit you have been given and will check to see if you can manage debt responsibly.
You might have a bad credit score if:
You have missed payments on your credit cards, loans, and utility bills
You have been declared bankrupt
You have been the subject of a County Court Judgement
You have only paid the minimum on your credit cards
You have no credit history
If you have a high credit rating, your chances of getting a mortgage loan with a competitive interest rate will be improved.
But if you have a bad score and a poor credit history, some lenders will reject your mortgage application while others may consider you for their loan program but offer you a less favourable deal with higher monthly payments.
Before you apply for a mortgage, you should look at the credit reports held by the three credit reference agencies – Experian, Equifax, and TransUnion. If you notice you have a bad credit score, you should do what you can to improve it before the lenders run a credit check on you.
Get a free credit report* with Checkmyfile UK
The size of your deposit
It's possible to get a mortgage loan with a small deposit, such as a 5% deposit for a 95% loan-to-value mortgage, but you are unlikely to be eligible for a mortgage deal with the lowest interest rates.
If you can raise enough money for a larger deposit, more lenders will open up to you and you may be eligible for deals with the lowest interest rates. So, despite a heftier deposit, you will be able to make savings throughout the loan term due to reduced mortgage repayments.
Learn more:
1) Mortgage Loan To Value Explained
2) How much deposit do I need to buy a house?
We are experts at getting people approved for a mortgage
Put the odds of mortgage approval in your favour with the help of a qualified and experienced mortgage broker.
How much do you need to earn to get approved for a mortgage?
Different lenders have different earning requirements with some imposing a minimum of £20,000 and other lenders requiring a smaller or larger amount.
Most lenders will use an income multiple of 4-4.5 when assessing mortgage affordability though some will use a multiple of 5 or 6 x income in certain cases.
It's important to note that not all lenders look at salary alone. When calculating your affordability for a mortgage, they will look at the statements from your bank accounts, payslips, and tax returns for evidence of earnings, but some may take other types of income into account, including pensions, bonuses, and benefits.
Lenders don't only consider income when assessing Mortgage Affordability. Your outgoings will also be considered, such as the payments you make on household bills, outstanding loans, and any other credit commitments.
To get an idea of what you may be able to borrow based on your income, use the affordability calculator below. Remember to factor in the income of other applicants if you are applying for a joint mortgage.
Learn more:
2) Getting A Mortgage Using Joint Income
Mortgage Affordability Calculator
To get an estimate of what you may be able to borrow from a prospective lender, enter your total household income into the box below and the affordability calculator will do the maths for you.
Enter your sole or joint income below and see how much you can borrow.
Why you should have a Pre-Approved Mortgage when buying a home
Mortgage pre-approval, also known as a 'mortgage decision in principle,' isn't a guarantee that you will be given official loan approval but it does give you an idea of what you may be able to borrow if you pass the lender's eligibility criteria. Preapproval is typically valid for 60-90 days so you should have at least 2 months to find a suitable property before the expiration date.
Mortgage preapproval shouldn't be confused with mortgage prequalification, which is a less formal process that doesn't involve the financial checks required for preapproval.
Get a Mortgage Agreement In Principle
Why would you want a Pre-Approved Mortgage?
Save yourself valuable time: Mortgage pre-approval can save you a lot of time as, by knowing how much you can afford for a home, you won't waste time looking at properties that are out of your price range.
You will be a stronger buyer: Estate agents and sellers will consider you a serious buyer if you have been through the mortgage preapproval process and have a mortgage in principle as they will know the lender has looked at your monthly income and considered you mortgage ready. Some estate agents will require you to have a mortgage in principle certificate before they are willing to show you around a property
You will have more bargaining power: An applicant without a mortgage preapproval letter is less likely to be offered a house than somebody who does so you will be at an advantage if the seller thinks you will have fewer issues borrowing money. This could give you room to negotiate as, being a safer bet for the seller, they may be willing to compromise on the purchase price of the property if they think you're unlikely to go back on your offer.
You can speed up the mortgage process: Before giving you mortgage preapproval, the mortgage lender will carry out all of their financial checks, such as looking at your pay stubs and bank statements, to assess your ability to pay for the deposit, loan payments, and closing costs. So, by the time you decide on a property, the lender will have already gone through the detailed process of assessing your income, so you can quickly proceed to the next stage of your home-buying journey, such as the property survey.
How many people have been approved for a mortgage in the UK?
The below graph shows the number of people that have been approved for a mortgage from 2018 to 2022.
In December 2022, the UK witnessed the lowest number of house purchases given mortgage approval since May 2020 when the pandemic started: 35,600 mortgages were approved compared to market expectations of 45,000 – a decrease for four months running!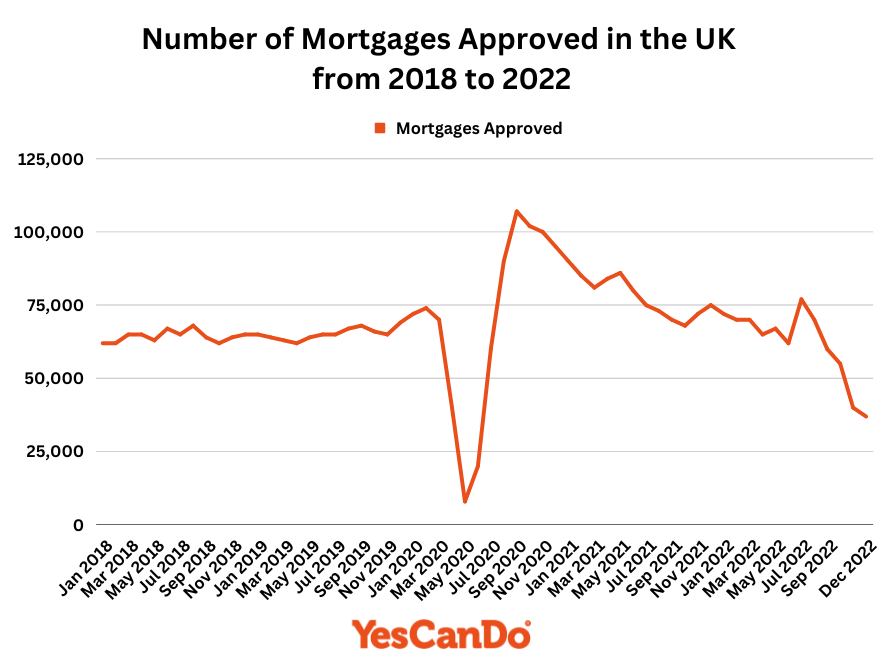 Graph created by YesCanDo | Data sourced from ONS
How to get approved for a mortgage in 3 steps
Here's a summary of the steps you need to take to improve your mortgage chances.
1) Save as much deposit as possible
If you can save up enough money for a larger deposit, the lender will consider you less of a financial risk and you will be eligible for a mortgage with a lower interest rate.
Due to the strict anti-money laundering rules that lenders have in place, you will need to prove where you got the deposit money. This could come in the form of bank statements (including savings account statements) or a gifted deposit letter if you have been given money by a family member or friend.
2) Get your credit report in order
Mortgage applications are often rejected because of low credit scores so get a copy of your credit reports before you make your application and take the necessary next steps to improve your rating. You should then be eligible for more deals, including those with a lower interest rate if you have passed the lender's credit checks.
3) Speak to a broker
You can boost your chances of mortgage approval if you use the services of a mortgage broker as they will put you in touch with a lender more likely to accept your application for a loan after considering your personal details and financial circumstances.
A mortgage advisor will also assess your eligibility for a loan. If there are any steps you need to take to improve your chances, such as dealing with existing debt to reduce your expenses, they will advise you accordingly.
We are experts at getting people approved for a mortgage
Put the odds of mortgage approval in your favour with the help of a qualified and experienced mortgage broker.
We're expert brokers who guide you through a successful application approval
Getting a mortgage can be made easy with the services of the team at YesCanDo Money.
We will:
Consider your eligibility for a loan and advise you on the steps you need to take to improve your chances
Advise you on ways to increase your mortgage deposit
Help you choose a loan type that will reduce your monthly repayments
Compare multiple lenders to ensure you gain access to the best deals on the market
Guide you through every stage of the mortgage application process
Complete your mortgage application on your behalf
We will do all this and more FOR FREE so if you want to get a mortgage, contact our team today via WhatsApp, phone, or the contact form below, and benefit from the services our experts can offer you.
Learn more:
1) How long does a mortgage application take? 
2) how to prepare for a mortgage application
FAQs
Does mortgage preapproval mean you are approved?
Not necessarily. If there is a negative change to your financial situation after being given mortgage preapproval, your mortgage application may be turned down. Changes can include a decrease in your credit score or a move to a lower-income job role.
If there is an issue with the appraisal or if the lender's guidelines suddenly change, your application for a loan might also get rejected.
Do pre-approvals hurt your credit score?
Unfortunately, your credit score may go down as a mortgage in principle MIP can trigger a hard footprint on your credit file. Fortunately, the dip should only be temporary. It's worth knowing that some mortgage lenders only leave a soft footprint when they carry out a MIP or decision in principle on your behalf. At YesCanDo we know which mortgage lenders leave a hard footprint and which ones leave a soft footprint.
Do mortgage lenders' criteria differ if you have bad credit?
For some lenders, yes! You may be required to make a larger down payment and the lender might require a guarantor for your loan. However, this will depend on the severity of your credit issues and the length of time that has passed in the meantime. If you have taken steps to improve your financial situation and the issues you had were far in the past, the criteria may be less stringent.
Will I get approved if I'm self-employed?
Your mortgage options may be limited if you're self-employed but there are plenty of lenders who will consider your application.
You will need to prove your income via your tax returns and SA302 forms and you may need evidence of the contracts you have with your clients. Most lenders like a 3-year track history of self-employment however there are many that will accept 2 years history and there is sometimes the possibility of just 1 years history.