2023's financial landscape has witnessed a notable shift in mortgage trends. 35-year mortgages as well as 40-year mortgage terms are becoming more and more popular, particularly among first-time buyers. This article examines this current trend to understand its causes, implications, and any associated risks.
The Rising Popularity of Long-Term Mortgages
The mortgage market has witnessed an unprecedented surge in long-term mortgage adoption. Not only are home buyers opting for longer mortgage terms; even home movers are opting for longer terms.
The Current Mortgage Landscape
A record 19% of first-time buyers opted for mortgage terms of 35 years or longer in March 2023 – up from just 2% in 2005 – while home movers taking out longer mortgage terms increased from 3% to 8% during this same timeframe.
The Appeal of Long-Term Mortgages
High house prices and rising costs of living have pushed many homebuyers toward opting for longer mortgage terms, with 35 or 40-year mortgage terms often making the difference between buying their dream home or missing out entirely.
With interest rates hitting the highest level for over 23 years it is understandable that the trend is for longer term mortgages. As a national mortgage broker we have seen our clients wanting to keep the monthly payment as low as possible while interest rates increase. What we remind our clients is that a mortgage term can be decreased.

It is predicted that interest rates will start to decease in late 2024 and therefore this will lead to lower fixed rates and lower monthly repayments and will be the ideal time to reduce mortgage terms to repay the mortgage loan sooner. – Steve Roberts (Founder of YesCanDo Money)
We Will Organise Your Whole Mortgage
Whether you're considering a 35 year or 40-year mortgage term, our advisors are experts in explaining your mortgage options. Our team of mortgage experts are here to guide you every step of the way. Contact us today to explore these trends in depth, we're friendly, experienced, and fee-free.
The Mechanics of Long-Term Mortgages
Understanding the mechanics of longer mortgages is crucial for potential borrowers. This includes understanding the concept of flexible mortgages and the cost implications of long-term loans.
Understanding Flexible Mortgages
Flexible mortgages provide greater financial flexibility with regard to repayments, enabling borrowers to increase or make additional repayments as desired; some models even permit reduced or even suspended monthly repayments altogether – an appealing feature when considering long-term borrowing solutions.
The Cost Implications
Longer mortgage terms may make payments more manageable, yet can end up costing borrowers more in interest overall. For instance, with a 4% interest rate over 40 years, a £180,000 repayment mortgage would cost the borrower over £181,000 in interest versus just £59,658 over 15 years.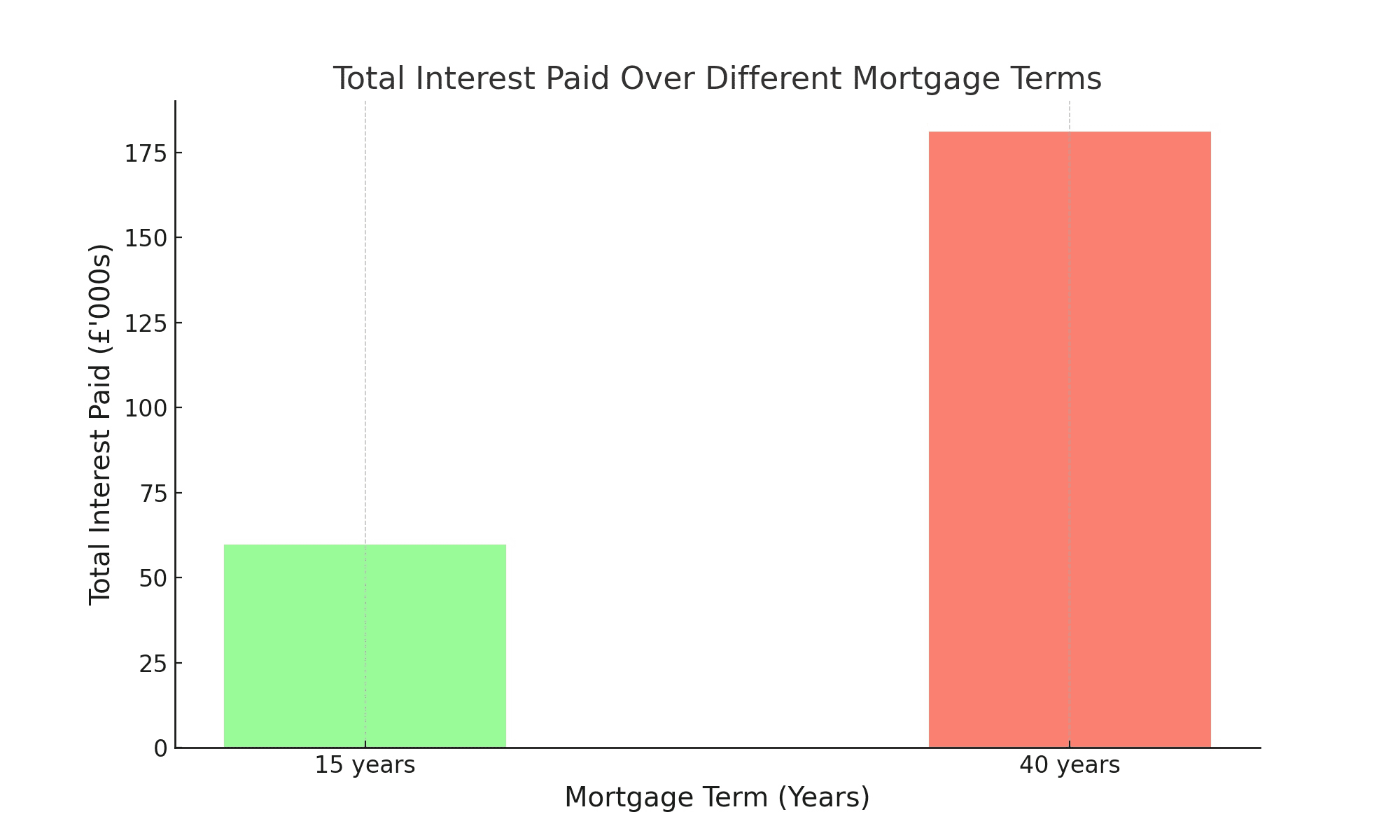 Learn more: Discover the true cost of extending your mortgage term
The Risks of Long-Term Mortgages
Maximum mortgage terms of 35 – 40 years offer lower monthly bills but also come with their own set of risks, including their impact on retirement plans, high-interest costs, and slower equity accumulation.
Impact on Retirement Plans
Long-term mortgages carry one potential drawback – that your mortgage could run into the approach to retirement age, potentially impacting your quality of life in retirement.
High Interest Costs
Since borrowers will likely be paying off their mortgages over an extended period, interest costs will inevitably be far higher, which may become an additional financial burden over time.
Related reading: Will mortgage rates go down in 2023 UK?
The Impact on Monthly Payments
Longer mortgage terms can make monthly payments more affordable, but it's important to remember that payments will be spread out over a longer period and thus, total repayment costs could increase more rapidly than with shorter-term mortgages. A lower monthly payment may seem appealing but must be balanced against their increased total cost if borrowers want to save money overall. Make sure you get help to search the whole market to get the lowest interest rate and best mortgage deal possible as this will also lead to lower monthly payments.
Slower Equity Build-Up
Longer mortgage terms reduce your ability to accumulate equity (the percentage of a property that you own) since monthly repayments become more heavily weighted toward interest in its initial stages.
Navigating the Long-Term Mortgage Landscape
Navigating the complex world of longer mortgages requires thoughtful preparation and expert guidance. To successfully navigate this arena, it's crucial to be informed on how to select an ideal mortgage term and understand any possible advantages associated with early prepayment of your mortgage.
Seeking Professional Advice
Mortgage brokers will be able to advise you on the complexity and risk associated with long-term mortgages, it's always wise to speak to an advisor before making such an important decision as selecting a mortgage deal. A good broker can provide detailed information regarding various features that help borrowers make informed choices.
Overpaying Your Mortgage
Overpaying can be an effective strategy to decrease both loan amounts and monthly interest costs. Most providers allow up to 10% of the outstanding balance each year as an extra payment – whether this happens every month or just occasionally.
Learn more: How much can I overpay on my mortgage?
We Will Organise Your Whole Mortgage
Whether you're considering a 35 year or 40-year mortgage term, our advisors are experts in explaining your mortgage options. Our team of mortgage experts are here to guide you every step of the way. Contact us today to explore these trends in depth, we're friendly, experienced, and fee-free.
Conclusion
The trend toward longer mortgage terms – 35 or 40-year terms – reflects both today's economic climate and homebuyers' financial pressures. While long-term mortgages make homeownership more accessible, they may come with risks and costs; as a result, it's imperative for borrowers to understand all implications associated with these mortgages and seek professional advice from a mortgage broker to make informed decisions.
Frequently Asked Questions
Is there such a thing as a 35-year mortgage?
Yes, 35-year mortgages do exist. They have become increasingly popular as they offer lower monthly payments, making homeownership more accessible for many buyers.
Is a 25-year or 35-year mortgage better?
Which mortgage term is right for your individual situation is ultimately dependent upon its circumstances. A 35-year mortgage typically offers lower monthly payments but more interest over the mortgage term; on the other hand, 25-year mortgages often feature higher monthly payments but less overall interest charges.
How many years mortgage can I get at 35?
At 35, your mortgage options depend on several factors including income, outgoings and mortgage lender requirements; it is usually possible to get mortgages that would end by state retirement age.
Can I get a 30-year mortgage at 43?
Yes, it is still possible to secure a 30-year mortgage loan at 43. However, lenders will take various factors into consideration such as your income, expenses, and projected retirement age when making their decision.
Can you get a 40-year mortgage term?
Yes, a handful of mortgage lenders do offer 40-year mortgage terms. However, these are less common and may come with certain conditions. Mortgage lenders have their own maximum age limit and therefore this may restrict the mortgage term open to you.
Are 40-year mortgages worth it?
An affordable 40-year mortgage depends on your individual circumstances. While they can make monthly payments more manageable, they could end up costing more in interest overall. It can be worth considering if it means getting on the property ladder quicker however a longer mortgage term will cost you considerably over the mortgage term.
Can I get a 40-year mortgage at 45?
At 45, whether or not a borrower can obtain a 40-year mortgage depends on the lending criteria of their lender. Some may not offer such terms due to loans stretching past typical retirement ages.
What is the longest term for a mortgage?
The longest mortgage term can vary between mortgage lenders, but it's typically around 40 years. However, such long-term mortgages are less common and may come with certain conditions.