The UK housing market is experiencing growing turbulence. With house prices falling in many areas, homeowners are reevaluating their finances and considering product transfers to capitalise on lower interest rates. As savvy consumers aim to secure the most favourable loan terms amid fluctuating prices, the prospects for strategic refinancing look promising. For homeowners willing to analyse their options and timing, product transfers can provide cost savings and flexibility without the hassle of a full remortgage. By understanding the benefits product transfers offer in today's shifting market, homeowners can strengthen their financial positions.
The Current State of the UK Housing Market
Recent data suggests that the UK housing market is experiencing volatility, with consecutive interest rate hikes affecting sales and increasing mortgage deal prices. Nationwide's house price index for July indicated the most significant annual drop in UK house prices in fourteen years. However, the average property price in Britain remains at £260,828. With Halifax reporting a decline in the average UK house price for four consecutive months, the market's trajectory is a topic of debate.
House Price Trends

According to data, the average house price across the UK increased 1.7% year-over-year when comparing June 2022 to June 2023. Breaking this national average down further: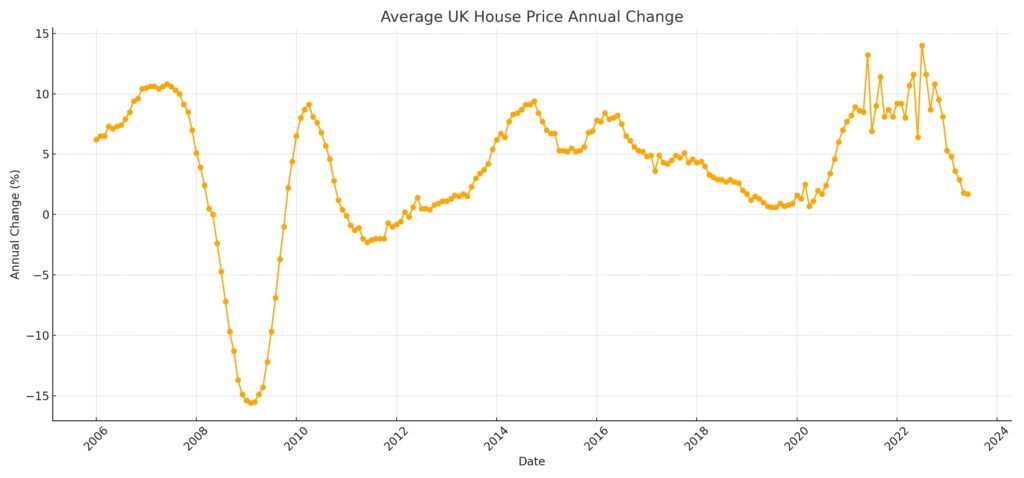 Factors Influencing House Prices
Several factors are influencing the current state of the housing market:
High House Prices: The high home values seen in recent decades have set expectations that are now being challenged as the market shifts.
Supply and Demand: Imbalances between housing inventory and buyer demand continue to be a major driver impacting prices.
Interest Rates: The ultra-low rates of the past decade fueled rising prices. But the Bank of England's recent interest rate hikes to control inflation are causing the market to correct.
Mortgage Rates: As mortgage rates climb, purchasing a home has become less affordable, leading to cooling demand.
Regional Variations and Property Types
Interestingly, all four nations within the UK experienced a decline in house prices in the first three months of 2023. Since the pandemic, detached family homes have seen faster price growth than flats, attributed to the continued work-from-home model and the demand for larger properties with home office spaces.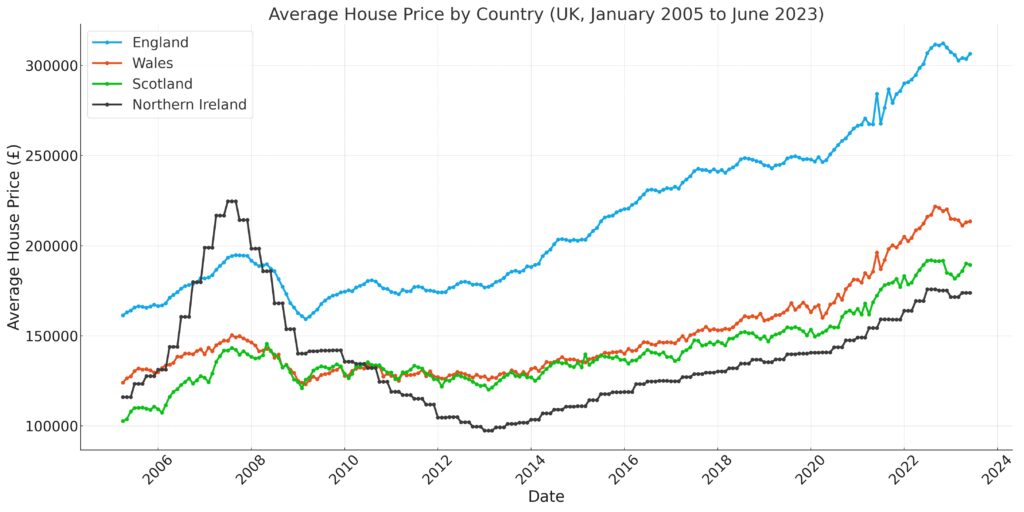 Predictions for 2023
Various institutions have presented their predictions for the housing market in 2023:
The Office for Budget Responsibility (OBR) predicts a 10% decline in house prices over the next two years.
Halifax anticipates an 8% drop in 2023.
Nationwide predicts a more modest 5% decline in 2023.
Lloyds Bank forecasts an 8% drop in 2023.
Zoopla maintains its prediction of a 5% decline in 2023.
The Mortgage Broker's Perspective
Since the start of 2023, we've noticed at YesCanDo Money that remortgages are taking much longer than in previous years. This comes down to mortgage lenders now taking more time to process applications. Conveyancing is also dragging out longer, with solicitors still facing staff shortages—an ongoing effect of the pandemic. – Steve Roberts (Founder of YesCanDo Money)
Why Homeowners are Opting for Product Transfers
Some homeowners are leveraging the shifts in the price of houses when refinancing to enhance their chances of securing the desired loan. Unlike remortgages, product transfers offer several advantages:
Benefits of a Product Transfer
As the UK housing market continues to shift, mortgage product transfers have become a popular option for many homeowners. Let's take a closer look at the benefits this route can offer.
No Full Property Valuation: Reducing the time and potential costs involved.
Avoiding Down Valuations: Especially beneficial during house price corrections.
Simpler Process: Less paperwork and fewer checks than a full remortgage.
Potential Cost Savings: Reduced or no legal and valuation fees.
Flexibility: A wider range of products for existing customers.
Rate Retention: Often retain a competitive interest rate with a good repayment history.
By understanding these benefits, homeowners can make an informed decision on whether a product transfer is the right choice for their individual circumstances.
Real-life Scenarios
Clive Read, a notable figure in the mortgage industry, highlighted a couple of instances where desktop valuations played a pivotal role:
A buy-to-let property in a sought-after London location, purchased in 2014 for £457,500, was valued at £460,000 in a recent desktop valuation.
Another homeowner, keen on changing rates, faced a valuation of £278,000 via his lender's automated system. However, upon exploring other lenders, a valuation exceeding £300,000 was achieved.
FAQs
Will UK house prices fall in 2023?
The UK housing market is showing signs of volatility in 2023. A number of financial institutions such as the Office for Budget Responsibility and Halifax are forecasting declines in house price growth this year. Contributing factors include rising interest rates and the ongoing cost of living crisis, both of which add uncertainty. However, predictions on the extent of the declines vary among experts. While a cooling off is expected after the rapid price escalations of recent years, the regional variations make nationwide projections difficult.
Are house prices in UK falling?
Yes, recent data indicates a decline in UK house prices. Reports from Nationwide and Halifax have shown consecutive monthly drops in the average house prices, marking significant annual reductions. This trend is influenced by various economic and political factors.
Will house prices fall by 10%?
The Office for Budget Responsibility (OBR) predicts a 10% decline in house prices over the next two years. However, predictions vary among institutions. While some forecasts align with the OBR's, others, like Nationwide and Zoopla, predict a more modest decline in 2023.
Is now a bad time to buy a house UK?
The decision to buy a house depends on individual circumstances and market predictions. With current declining house prices and potential further drops, some might see this as an opportunity for a good deal. However, other factors, like rising mortgage rates and economic uncertainty, might deter potential buyers.
Is 2023 a good time to buy a house UK?
2023 presents both opportunities and challenges for potential homebuyers. The declining house prices might offer more affordable options. However, economic factors like interest rate hikes and the cost of living crisis might impact mortgage affordability and overall purchasing decisions.
Are house prices going to drop drastically?
While there are predictions of house price declines, the term "drastically" is subjective. Some institutions predict significant drops, while others anticipate more moderate reductions. External factors, like economic policies and global events, can also influence the market's trajectory.
Why are house prices falling in the UK?
The UK's housing market is shaped by a mix of influences. Recent interest rate hikes by the Bank of England, high inflation, and economic uncertainties are all contributing to falling prices in many areas. At the same time, the dynamics between housing inventory and buyer demand continue to be a major factor, as do the high price expectations set in recent years. With multiple forces at play, average house prices are cooling off from their rapid climbs, though regional variations persist.
Should I buy a house now or wait until 2024 UK?
The decision to buy now or wait depends on individual financial situations and market predictions. If you're seeking a potentially lower house price, 2023 might offer opportunities. However, if you're concerned about further economic uncertainties or potential further price drops, waiting until 2024 might be advisable.
Will house prices fall in UK recession?
Looking historically, recessions tend to drag down property prices as consumer confidence and purchasing power declines. If the UK slips into a recession mainly down to the stubbornly high inflation, the housing market would likely feel the effects. However, the severity of the impact would hinge on factors like how prolonged or deep the downturn is. Past recessions provide some guidance, but each one unfolds differently in terms of how much prices are correct. Analysts are predicting a small decline in the average price however nothing like the 2008 recession that saw house prices crash with the biggest house price falls in decades.
Conclusion
As the UK housing market continues to experience volatility, homeowners have critical decisions to make regarding their mortgages and finances. While predictions for 2023 indicate further average prices declining, the regional variations and differing property types make blanket assessments difficult. By closely tracking market trends and projections, homeowners can determine if a product transfer is the optimal move for their situation. With prudent timing and an understanding of the key benefits, product transfers provide, refinancing through a product transfer can strengthen financial positions amid the housing market's ongoing fluctuations. The current climate presents opportunities for savvy homeowners willing to analyze their options. We hope this overview has provided useful insights into today's shifting housing market and how product transfers can play a strategic role.