Recent news that first-time buyer mortgage payments now account for two fifths of their income has sent shockwaves through the housing market, creating further dislocation within both buyer households and the mortgage industry. Mortgage brokers understand the significance of this situation and its effects both for purchasers and industry members alike. We explore its underlying factors and their ramifications on first-time buyers and landlords in this article.
Mortgage payments now account for 39% of an average first-time buyer's take-home pay, up from 31% in previous years and reflecting a broad trend within the housing market, according to recent data from the mortgage industry.
Mortgage Market Trends
According to the Hilltop Credit Partners housing market outlook for 2023 Q2, the rise in mortgage payments has put a dampener on transactions and prices this year. This trend has been felt across the market, affecting both first-time buyers and seasoned homeowners.
Although buyer demand is three percent higher than it was in 2019, as noted by Rightmove, monthly transaction volumes fell from 105,000 on June 2022 to 85,000 this year. This decline reflects the challenges faced by buyers in securing affordable mortgage rates and navigating the complexities of the current market.
Hilltop Credit Partners anticipates a "bounce in reported transaction volumes" in Q3 2023, as indicated by a rise in mortgage approvals and sales agreed in Q2. However, it predicts that the effect of increased mortgage rates on transaction levels will become apparent again in Q4. This cyclical pattern underscores the volatility of the housing market and the need for careful planning and expert mortgage guidance.
In terms of house prices, Hilltop Credit Partners noted that they were around 4.5 percent down compared to their peak, but were still 20 percent higher than pre-Covid levels. The firm predicted that prices could fall by three percent in Q3, reflecting a potential cooling off in the market.
The Rise in First Time Buyer Mortgage Payments
The housing market is experiencing a major transformation as mortgage payments increase for first-time buyers. This section explores its statistics, causes, and other contributing factors.
The Statistics
Understanding the financial landscape requires a close look at the numbers. Here, we present the key statistics that illustrate the current state of mortgage payments in the UK.
Housing affordability ratio in England and in Wales from 1997 to 2022
A housing affordability ratio can be calculated by dividing the median home price by full-time earnings in an individual's workplace area, representing how many times an individual would need to earn in order to purchase a property within that location.
An increase in housing affordability ratio means that homes costing many times the annual income are less affordable to workers on average. Conversely, a lower ratio suggests that homes are more affordable relative to income.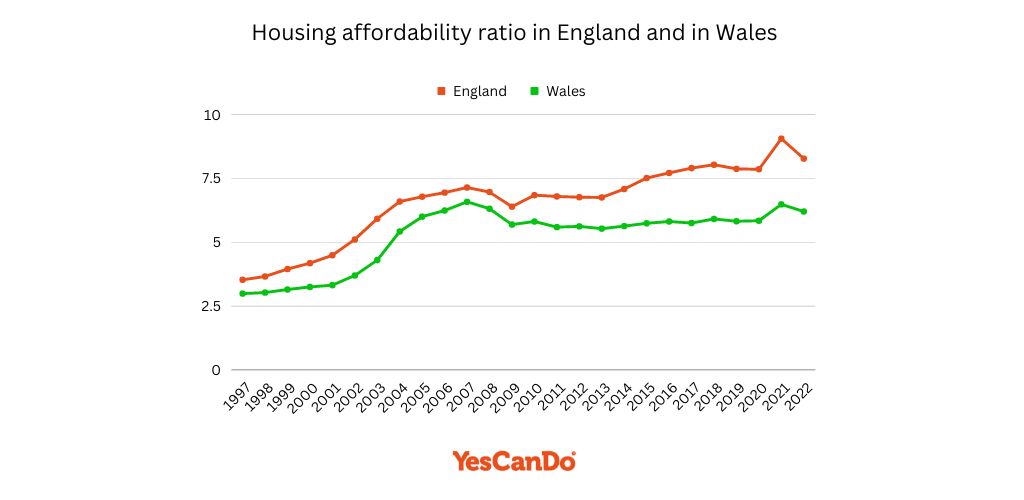 Average Monthly Take-Home Income in the UK
Based on the average weekly earnings for employees in Great Britain, the average monthly take-home income would be approximately £2,230. However, this is based on ONS data from all GB employees, not specifically first-time buyers' income.
Average Monthly FTB Mortgage Repayment
According to Hilltop Credit Partners, mortgage payments now constitute nearly 39% of the income of first-time buyers. Looking at the average income vs Hilltop's 39% of first time buyers income statement, approximately the monthly mortgage payment would be around £870. However, as mentioned previously this is based on the average income for all GB employees.
So let's look at the actual statistics for the cost of first-time buyer mortgages in 2023 below.
Cost of Average First-Time Buyer Mortgage
According to data from the UK House Price Index, in April 2023 the average cost for first-time buyers in the UK was £216,000; their typical mortgage rate with 10% deposit would be approximately 6% and monthly payment would total approximately £1,133 over 30 years.
The causes of mortgage repayment increase
Several factors contribute to this rise in mortgage payments, including increased property prices, interest rate fluctuations, and overall economic conditions.
Increased Property Prices – The surge in property prices has led to higher mortgage amounts, making homeownership more expensive.
Interest Rate Fluctuations – Changes in interest rates, including the base rate, can affect the cost of borrowing, influencing the monthly mortgage payments.
Economic Conditions – The overall economic landscape plays a crucial role in determining affordability, with factors such as inflation, wage growth, and employment rates impacting the housing market.
Impact of the Base Rate
The Bank of England base rate can have an enormous effect on mortgage interest rates and payments. When rates increase, payments typically rise while decreases may lead to cheaper borrowing costs.
Bank of England's Base Rate
Recent changes in data and market trends have caused experts to rethink their predictions about the peak of the base rate. Now, the focus is on a 5.75 percent peak instead of the earlier expected 6.5 percent.
In the near future, these projections may decline even further as some evidence points towards Bank of England (BoE) being late in dealing with inflation – the general rise in prices across the economy – appropriately.
Some experts have criticized the Bank of England's approach, calling it "behind the curve again" and saying it's "hiking too aggressively." They point to a recent slowdown in the increase of prices (inflation) and wages as evidence that the rate hikes are starting to work.
Another important change has been seen in five-year swap rates, a financial tool that reflects lending costs. These rates have dropped from 5.4 percent in July 2023 to 4.7 percent. This decrease could lead banks to offer lower mortgage rates, showing how the financial landscape is changing.
The firm's analysis also brings attention to factors like big drops in the prices of raw materials, a slowing job market, and the delayed effect of 13 previous rate hikes. These factors give hope that the BoE will have an easier time managing inflation in the second half of 2023. It might even mean that the BoE could temporarily stop adjusting rates, reducing the chance of making them too tight too quickly.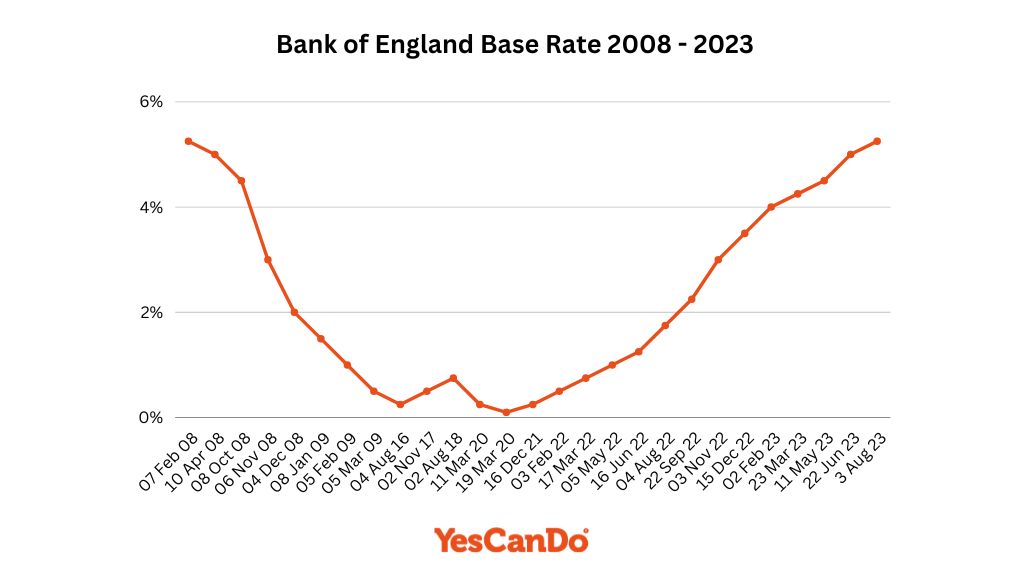 High Rates Adding to Rental Demand
Hilltop Credit Partners noted that despite the rise in rental prices, renting was now more affordable, accounting for 32% of the average income. The firm predicted an "above trend" growth in rent over the next three to five years, creating opportunities for developers to provide modern, affordable options.
Implications for First-Time Buyers
Mortgage payments have multiple repercussions for first-time buyers, from affordability issues to changes in market dynamics. Such changes can have an enormous effect on decisions and opportunities available to those entering the housing market for the first time.
Concerns Regarding Affordability
Higher mortgage payments may put off potential buyers, particularly first-time home buyers entering the housing market for the first time. This could reduce demand, making it harder for newcomers to find properties within their budgets. Furthermore, affordability concerns could impact other financial decisions, including savings and spending habits.
Financial Strain
For those who have already entered the housing market, the increased burden of mortgage payments can lead to financial strain. This strain may manifest in reduced disposable income, difficulty meeting other financial obligations, and increased stress related to financial stability. The long-term implications could include changes in lifestyle and future financial planning.
Market Dynamics
Changes in buyer behaviour are affecting the overall housing market, influencing property prices, availability, and the strategies employed by sellers and developers. These shifts may lead to fluctuations in property values, altered selling strategies, and potential changes in lending practices. Understanding these dynamics is essential for both buyers and sellers to make informed decisions.
A Mortgage Broker's Perspective
Mortgage broker: we provide insights and solutions tailored to the unique challenges of the current housing market. Our expertise goes far beyond simply finding suitable loan products; we offer full support throughout the house-buying process.
Personalised Guidance
One-on-one consultation sessions to understand your financial situation are integral in successfully navigating the complexities of the mortgage market. By spending time understanding your individual needs and goals, we can formulate a customized mortgage solution that best matches up with both your current needs and homebuying ambitions.
Market Analysis
In-depth knowledge of market trends, including base rate considerations, is vital in making informed decisions. Our team continuously monitors and analyses market conditions, providing you with timely insights and recommendations that reflect the current state of the housing market.
Flexible Solutions
Partnering with multiple mortgage lenders to find products that suit your budget is part of our dedication to offering flexible solutions. Every buyer's situation is unique, and we aim to find options that align with your specific needs and goals. Through our relationships with multiple lenders, we provide access to an impressive variety of products so you have all of your best options available to you.
A Mortgage Advisers Thoughts
In this crazy market at present, watching rates rise monthly can be very daunting for all my clients who are debating on purchasing their first home, the main focus should be that you will be paying off YOUR mortgage rather than someone else's! With the ever-rising rental costs, it's never a bad time to jump onto the mortgage ladder!

For many, owning a home represents a dream, although as the market stands seems unreachable – i personalise my guidance,  research and flexible solutions to be able to make that dream a reality for my clients. The focus should not be solely on the numbers but understanding what my clients need and being there for them every step of the way! – Megan Stoyles (Mortgage Adviser at YesCanDo Money)
Conclusion
As mortgage payments rise, their impact can have far-reaching ramifications. At YesCanDo Money we're committed to helping you navigate this challenging environment – contact us now to book an initial consultation and begin your path to achieving homeownership success!