The UK rental market is experiencing dramatic transformation, with rents increasing at their fastest pace since 2001. I feel it is essential to bring more light onto this subject and explore both opportunities and challenges it presents to both tenants and landlords.
Current State of the Private Rented Sector in the UK: Is there a UK rent crisis?
The UK rental market is experiencing unprecedented changes. Rents have reached record highs due to the complex interplay of factors driving this increase; therefore it's crucial that tenants, private landlords, and potential homeowners all have an accurate understanding of this environment. As a director of a mortgage brokerage I offer insights into these trends that affect them; providing insights for tenants, landlords, and potential homeowners alike.
Record-High Private Rental Prices in England
As reported in recent reports, as of 21 July 2023 the average rental cost in England had reached an all-time record high of £1,367 per property per month – driven by multiple factors including increased tenant demand, declining supply, and an upsurge in student accommodation rents.
UK Rental Market Trends: Insights from ONS Data
The Office for National Statistics (ONS) offers invaluable insights into the UK rental market, providing insight into trends and patterns which shape its current state. Here's a summary of key findings from their latest ONS data:
National Trends
Overall Increase: Rent prices paid by tenants in the UK increased by 4.9% year-on-year up until March 2023.
Regional Growth: Between 1999 and 2003, annual rent increases for private rentals increased 4.6% in England, 4.4% in Wales, and 5.1% in Scotland.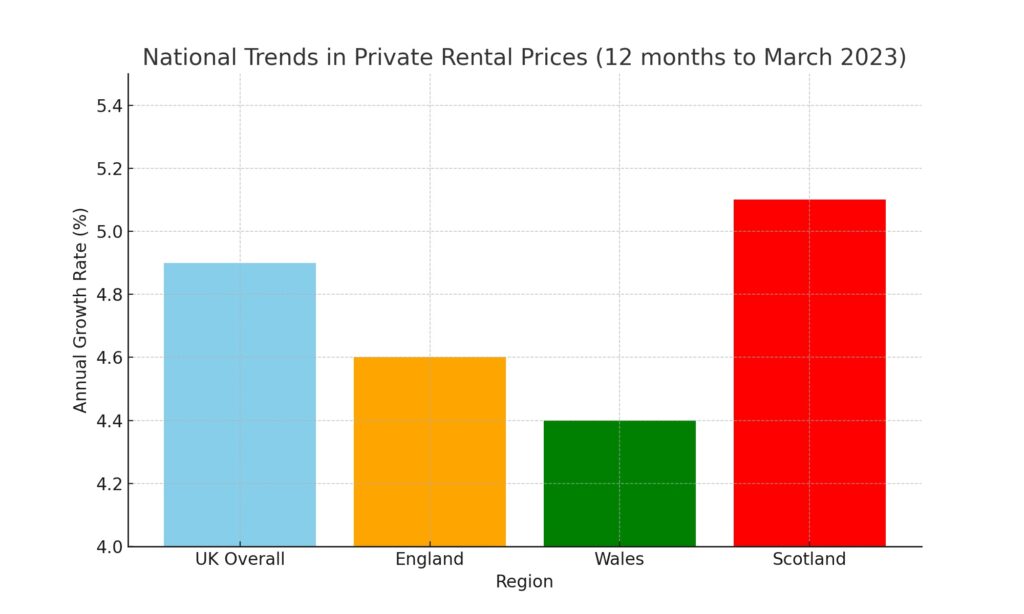 England's Regional Breakdown
East Midlands Leading: The East Midlands saw the highest annual percentage change in private rental prices at 5.1%.
South East Lagging: The South East experienced the lowest growth at 4.2%.
London Rents Surge: London's annual percentage change in private rental prices was 4.8%, marking its highest annual rate since December 2012.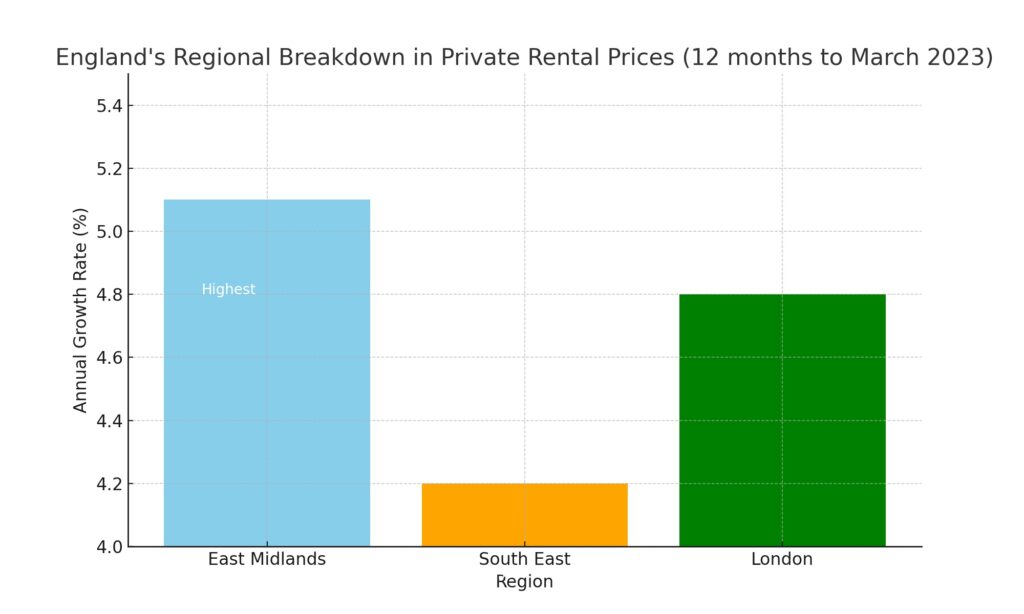 What Does This Mean?
These statistics reflect the complex dynamics of the UK rental market. The consistent growth across different regions indicates a strong demand for rental properties, coupled with various local factors influencing the rate of increase.
For potential landlords, investors, and tenants, understanding these trends is essential for making informed decisions. Whether you're considering a buy-to-let investment in the East Midlands or weighing the costs of renting in London, these insights offer a valuable perspective.
Industry experts point of views
The rising rental price in the UK represent more than mere numbers; they represent a profound change to our housing landscape, closely monitored and assessed by industry experts who offer invaluable insights into its causes and likely future trends. Their perspectives help provide clarity into an otherwise complex situation while offering deeper understanding of what's driving this change.
Aneisha Beveridge, Head of Research at Hamptons, a UK property firm commented on the rising rents in the UK, saying:
"The private rental sector has continued its strong run, with rents rising for the seventh consecutive month. The rate of rental growth has picked up steam again and is now rising at the fastest rate in nearly two and a half years. The mismatch between tenant demand and rental supply has led to 70% of landlords increasing the rent on their renewals, up from 62% in May 2023."
The Mortgage Broker's View
As a mortgage broker, I see these trends as both an opportunity and a challenge.
Opportunities for Private Renters and Landlords
Investment Potential: For potential buy-to-let landlords, the rising rents may present attractive investment opportunities in the private rental properties sector. With the right mortgage product, landlords can leverage the current market dynamics to generate substantial rental income.
First-Time Buyers: The high rental costs may encourage more individuals to consider homeownership. With the right guidance and mortgage products, first-time buyers can find affordable solutions to enter the property market.
Challenges in Housing Costs and Market Dynamics
Affordability: The rising rents can put a strain on tenants, especially those struggling with the cost of living. It's crucial to explore alternative housing solutions and provide support for those affected.
Market Dynamics: The rental market's current state is described as "broken" by some lettings agents. Many buy-to-let landlords are leaving the market, and those remaining are increasing rents to adhere to their mortgage covenants. Navigating these dynamics requires careful planning and strategic decision-making.
Our Advisor's View
"The current rental market in the UK presents a unique set of challenges and opportunities. As mortgage advisors, we are here to guide our clients through these complex times, whether they are tenants seeking affordable housing or investors looking to capitalise on the rent rises. Our tailored mortgage solutions and expert advice can make the difference in achieving financial success in this ever-changing market." – Stephen Roberts (Founder of YesCanDo Money)

Looking Ahead: Will rent prices go down UK?
Rental experts describe the UK rental market's outlook as worrying. Demand shows no sign of abating while supply remains constrained; industry professionals predict rents are likely to keep rising sharply for some time to come; an imbalance between tenant demand and rental supply coupled with other market dynamics indicates no decrease is likely in rent prices anytime soon; those impacted by this trend, whether tenants or potential landlords, should prepare accordingly and seek professional guidance when navigating this challenging marketplace environment.
Conclusion
Rent increases present a unique set of challenges to tenants, landlords, and mortgage brokers in the UK. I take great pleasure in helping my clients navigate this complex market successfully – whether they are prospective landlords looking for investment opportunities or individuals hoping to break free from renting for good and buy their first home.
If these trends affect you and require professional guidance, don't hesitate to get in touch. Together we can explore mortgage solutions tailored specifically to your unique needs and goals.
Related Reading: