Understading the Halifax Mortgage Calculator
Purchasing a property is a significant event in one's life. Hence, securing the right mortgage tailored to your financial circumstances is paramount. Whether you're a first-time buyer or considering a remortgage, understanding your mortgage affordability is essential.

Mortgage tools like the Halifax Mortgage Calculator assist customers in preparing financially for their mortgage obligations. Halifax, a leading high-street bank in the UK, offers a user-friendly calculator to provide dependable monthly payment estimates for its mortgage clientele.
Add a header to begin generating the table of contents
What is a Mortgage Calculator?
Mortgage calculators vary, ranging from affordability to repayment calculators. While many mortgage lenders have proprietary internal affordability calculators, there are general ones available to the public, giving you a rough estimate of your borrowing potential. A repayment mortgage calculator aids potential homeowners in estimating their monthly payments. This type of calculator requires details like:
Loan amount: The principal amount you intend to borrow.

Interest rate: The annual percentage rate applied to the principal.

Loan duration: The number of years you plan to repay the loan.
By inputting these, you can swiftly gauge your potential monthly mortgage expenses. These calculators are invaluable for budgeting, planning, and comparing mortgage options, ensuring your chosen mortgage is within your means.
Why Opt for Halifax Mortgage Calculator?
Halifax's mortgage calculator is renowned for its precision and user-friendliness. With Halifax's longstanding reputation in the UK banking sector, potential homeowners find it a reliable tool for their mortgage planning. Key features include:
Reliability: Provides accurate estimates by taking into account up-to-date market data, taking into account factors like mortgage products, interest rates and insurance costs.
User-Friendly Interface: Created to make life easy for both first-time buyers and those seeking to remortgage or move home, our user-friendly interface is tailored for optimal usability.
Customisable Parameters: Adjustable settings allow users to tailor calculations to their unique needs, exploring various loan terms, interest rates, and deposit amounts.
How to Utilise a Mortgage Calculator
Navigating the Mortgage Calculators is a breeze. Here's a step-by-step guide:
Input Basic Information
Loan amount: The total borrowing amount for your property.
Interest rate: Your mortgage's annual interest rate.
Loan term: Typically, UK mortgages range from 10 to 40 years.
Include Additional Costs
Property taxes: Annual council tax from local authorities.
Buildings insurance: Yearly insurance cost against property damage/loss.
Mortgage arrangement fee: One-time lender charge for mortgage setup.
Adjust for Various Scenarios
Deposit: Experiment with different deposit amounts.
Loan term: Compare varying loan durations.
Interest rate: Examine different interest rates' effects.
Examples of Mortgage Calculators (try for free)
Halifax's calculators are tailored to their lending criteria. However, for a broader perspective, we offer two basic mortgage calculators:
Affordability Calculator: Determine your borrowing limit based on your income and outgoings.

Repayment Calculator: Estimate your monthly payments, considering the loan amount, interest rate, and term.
Halifax's mortgage calculators are focused on their own lending criteria. You can use some of their calculators on their website. However, being an independent broker we aim to give you an unbiased calculation, therefor we have provided two basic mortgage calculators below.
Affordability Calculator: Work out how much you could borrow
Work out the maximum loan amount you can borrow with our simple mortgage affordability calculator.
Enter your sole or joint income below and see how much you can borrow.
Repayment Calculator: Calculate your monthly payments
Calculate roughly how much your monthly mortgage repayments could be by using our basic mortgage repayment calculator.
Let us calculate it for you, it wont cost you anything
Understanding Your Mortgage Calculator Results
Once you provide the required details, the Mortgage Calculator will generate a detailed breakdown of your estimated mortgage repayments, including:
Your Monthly Mortgage Payments in Two Components
Your monthly mortgage repayment consists of two components:
Capital – The capital is the portion of payment that contributes directly towards paying down your loan balance.
Interest – Interest is the cost associated with borrowing money, and this calculator will show an estimated monthly repayment estimate to help you understand your financial commitment.
Repayment Breakdown
Most mortgages follow a repayment structure, in which each monthly repayment consists of both capital and interest. As time progresses, this balance changes. Initially more of your payment goes toward interest than capital; later in your mortgage contract more goes to capital payments; eventually paying off your loan entirely. For an intuitive visual of this concept we have provided the below graph as an aide.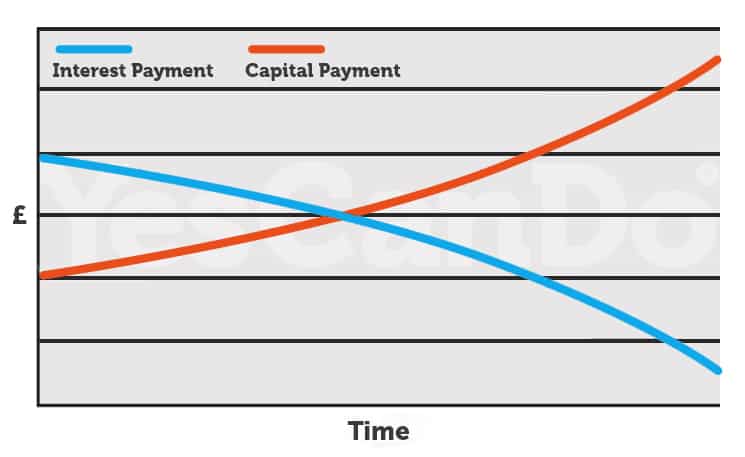 A repayment calculator gives a clear view of your repayments from initial rate period through to end of mortgage term, helping you understand how principal and interest portions shift throughout.
Total Interest Paid
Calculating the total mortgage interest payment over its entire term can be an essential element in finding an affordable loan option. A mortgage broker like ourselves can help you understand the breakdown based on loan term and interest rate inputted – you can then compare various scenarios to quickly identify which solution offers greater cost-efficiency.
Halifax Mortgage Overpayment Calculator
For homeowners considering making additional payments towards their mortgage, the Halifax Mortgage Overpayment Calculator is a valuable tool. By inputting details like the remaining mortgage balance, term, interest rate, and overpayment amounts, you can gauge the potential benefits of overpaying. The results will show the revised mortgage duration, potential interest savings, and the reduction in your mortgage term.
Calculate your potential mortgage savings with our calculator below! Overpaying either in monthly payments or a lump sum will help you save money on your mortgage. Check it out and see how much you can save today!
Next Steps After Using the Halifax Mortgage Calculator
After estimating your mortgage repayments with either the Halifax Calculator or our simple calculators, consider these steps:
Mortgage Agreement in Principle: Obtain a Mortgage Agreement in Principle (AIP) from a lender like Halifax or a mortgage broker like YesCanDo Money. This conditional mortgage offer based on your financial details will guide you on the property value range you can afford.

Comparing Mortgage Options: Delve into various mortgage options, such as fixed rate, tracker, or discount mortgages. Compare their features and benefits to determine the best fit for your situation.

Consult an Independent Mortgage Broker: Hire an independent mortgage broker as your guide through the mortgage application process, offering personalised advice and helping to navigate your options while supporting you through application submission. They may even help with financing options when needed!
Frequently Asked Questions
What is the lowest Halifax mortgage rate?
Halifax's mortgage rates and mortgage deals vary based on market conditions, the type of mortgage, and promotional offers. It's best to check Halifax's official website or consult with a YesCanDo Money fee-free mortgage advisor for the most up-to-date and lowest mortgage rate.
How much would a £80,000 mortgage cost per month in the UK?
The monthly cost of a £80,000 mortgage in the UK depends on the interest rate, mortgage term, and any associated fees. For example, at a 5.5% interest rate over 25 years, the monthly repayment would be approximately £492.
How much do I need to earn to get a mortgage of £800,000 in the UK?
Lenders typically use an income multiple of 4 to 4.5 times your annual salary. For an £800,000 mortgage, you'd need a sole or joint annual income of approximately £177,000.
How much is a £200,000 mortgage a month in the UK?
The monthly repayment for a £200,000 mortgage depends on the interest rate and the loan term. For instance, with a 5.5% interest rate over 25 years, the monthly repayment would be roughly £1,230.
Do mortgage lenders use the same mortgage calculators?
No, each mortgage lender has their own calculator, which is designed based on their lending criteria and rates. This is why results can vary between different lenders' calculators.
Do mortgage brokers have access to lenders' mortgage calculators?
Mortgage brokers have direct access to individual lenders' calculators. They use sophisticated software that takes into account multiple lenders' criteria to give you a broader view of your potential borrowing capacity and monthly repayments. Whether you want a first-time buyer mortgage or looking to remortgage to a new deal this can save you a serious amount of time.
Let us calculate everything for you, for free
Put the odds of a successful mortgage in your favour with the help of a qualified and experienced fee free mortgage broker.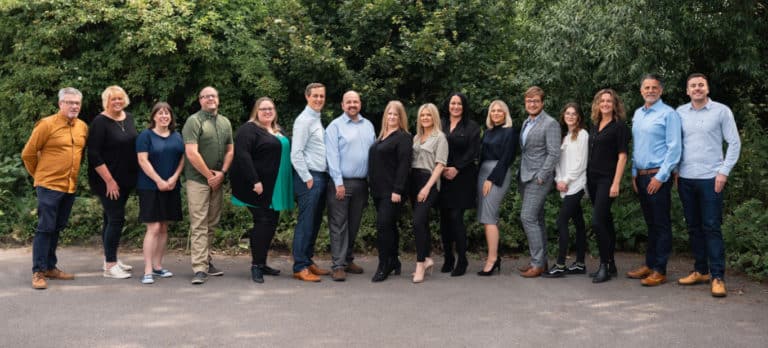 Fee Free Mortgage Advisors
FREE dedicated support throughout, we have full-market access to the best mortgage rates & deals. We do everything for you, for free! Call us, WhatsApp us, or fill in our contact form and let us know what the best time is for us to call you. We will get one of our mortgage advisors will be in touch to talk through your situation and available options.
More About Halifax Mortgages