If your dream home requires a £500k mortgage, you will likely want to know what your monthly repayments might be and what you can do to reduce them. This size of mortgage is mortgage double the average mortgage in the UK and therefore requires a higher level of income and monthly repayments as other factors that we delve further into in this guide.
This guide will tell you all you need to know so keep reading to learn more and then get in touch with our team of mortgage brokers if you require further explanation.
How much does a £500,000 mortgage cost per month?
Your monthly mortgage payments will be affected by a number of factors, including the interest rate, term length, and the type of mortgage you choose. As such, we cannot give you an exact figure here.
But as an example, if you were to take out a £500,000 mortgage deal with an interest rate of 4% over a 25-year mortgage term, your payments would be £2,662 per month.
For a bespoke figure based on all the factors that could affect the monthly payments on £500,000 mortgages, speak to a member of our team for more information.
Factors that impact the monthly cost
As we mentioned, a number of factors can affect the monthly cost of a £500,000 mortgage. These include the following.
Term length
The typical mortgage term is 25 years but it is possible to take out a mortgage with a shorter or longer term length.
You can reduce the cost of your monthly mortgage repayments if you opt for a longer mortgage term.
As an example, a £500k mortgage over a 30-year term with 5% interest will cost you £2,684 a month, which is £239 cheaper than a 25-year mortgage with the same interest rate. This can be helpful to you if you're looking to save money on a monthly basis but a longer-term mortgage isn't the best option if you want to reduce the overall cost of the loan as you will have to pay interest for longer.
If you want to reduce the interest you pay on your mortgage, you can take out a loan over a shorter term. The overall cost of your mortgage will be lower but as you will be paying off the loan capital in a shorter length of time, the cost of your monthly repayments will be higher.
Interest rate
The higher the loan-to-value (LTV) of your mortgage, the higher the interest rate will be and this will equate to more costly monthly payments. By contrast, the lower the loan to value the lower the interest rate, and this will equate to smaller payments. As such, you should try to increase the total amount of your deposit as this will lower the loan to value and help you reduce costs during the mortgage term.
Beyond making a substantial deposit, there are other steps you can take to reduce the interest you will be charged.
You should…
Opt for a shorter mortgage term
Curb your spending habits to improve your debt-to-income ratio
Improve your credit score if you have a bad credit history
For more advice on loan to value and reducing the interest rate on a mortgage, speak to a member of our team.
Mortgage type
The mortgage type is another variable that can affect the repayments on a 500,000 mortgage.
If you take out a fixed-rate mortgage, the rate of interest will be fixed throughout the introductory period. This can make budgeting easier for you as your monthly repayments won't change during this time. However, you won't benefit from a reduced interest rate if the Bank of England base rate drops, so the cost of your mortgage might be more expensive than a tracker mortgage. At the end of the fixed term, you should remortgage onto a new deal as your repayments will increase if you fall onto your lender's standard variable rate.
Tracker mortgages are attractive when interest rates are low. Rates can be based on the lender's standard variable rate or based on a certain amount above the Bank of England base rate, the cost of your mortgage payments will increase if the base rate rises. The total amount of your mortgage could work out more expensive than a fixed-rate mortgage if the interest rate rises.
Interest-only mortgages are your other option. These are the cheapest in terms of monthly payments as you only pay the mortgage interest each month. However, the total amount of the mortgage still includes the loan capital which needs to be paid when your deal ends.
Other factors that can affect the monthly repayment on a mortgage
These other factors include:
Property type
If you decide on a property that isn't made from bricks and mortar, your mortgage options will be reduced as there aren't many lenders who offer mortgages to people wanting to buy properties made from non-standard construction materials, such as timber and concrete. As there is less competition, they can ratchet up the interest rates, so you might have to pay more for a property that isn't considered 'standard.'
Deposit size
The higher your deposit the more attractive your mortgage terms will be, as you will have access to lower loan-to-value (LTV) deals with cheaper rates of interest. If you can't afford to make a larger deposit, you can opt for a higher loan-to-value (LTV) mortgage with a smaller deposit but the total interest on your loan will be increased.
Your income and employment
Your approximate annual income, profession, and employment type (employed or self-employed) can all have an impact on the mortgage rates you are offered.
If you have a full-time job, a sustainable income, and high earnings, you will be considered less of a lending risk than somebody who is self-employed with an irregular income, and you may qualify for cheaper mortgage rates as a consequence.
This isn't to say you won't qualify for an affordable mortgage if you're self-employed, especially if your annual income is high. But to improve your chances of a better deal, you should contact a mortgage broker with access to specialist lenders who will let you borrow based on your employment and income type.
If you don't have the salary needed as a single applicant to borrow the money you require, you might still be eligible for £500,000 mortgages if you're able to take out a joint mortgage with somebody whose income can help with the overall cost.
Credit scores
You won't necessarily be ruled out of a mortgage if you have a poor credit score but as most lenders will perceive you as a lending risk, you may have to take out a lower loan-to-value (LTV) mortgage with higher rates of interest.
If you do have a spotty credit history, you should try to improve your credit score before you make your mortgage application as you may be able to get a more affordable deal.
How a broker can help reduce your monthly payments on a £500,000 mortgage
The monthly payments on a £500k mortgage are going to be pretty high due to the hefty size of the loan. But this doesn't mean your payments can't be reduced.
With a mortgage broker on your side, you will be given advice that is tailored to your personal situation. They will advise you on the steps you need to take to gain access to the most competitive rates on the market and they will then put you in touch with the appropriate lender.
YesCanDo Money is a whole of market broker, which means we have access to the majority of deals and lenders across the mortgage market, many of which aren't available to the general public. So, if you want to lower the cost of your monthly payments (we're sure that you do), we will use our industry knowledge and contacts to make sure you get the most affordable mortgage deal for somebody with your set of circumstances.
To learn more, get in touch with us using the contact details that are listed on our website.
Calculate your monthly repayments with a mortgage calculator
Use you simple mortgage calculator below as a rough guide for your monthly mortgage repayments. Our mortgage advisers can work out a more personalised monthly repayment calculation based on the factors we have discussed within this guide. You can contact us to learn more but in the meantime, you can get an estimated figure by using the mortgage calculator below.
Monthly Repayment Calculator
Let us calculate it for you, it wont cost you anything
Example calculations
The tables below show what your monthly payment could be on a £500k mortgage based on the term length and interest rate.
Estimated monthly costs for a repayment mortgage with a 20% deposit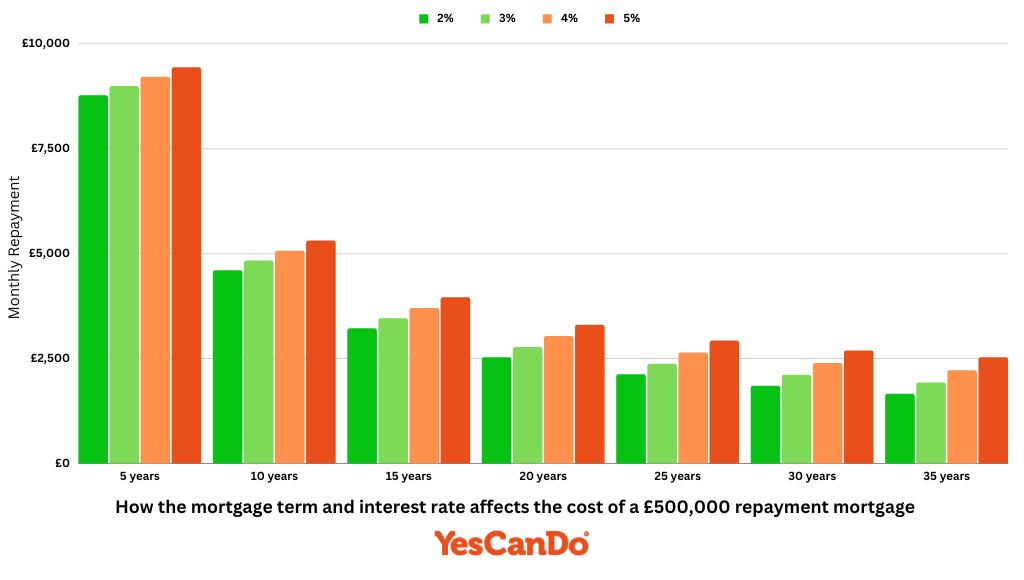 Interest Rates

Term Length

2%

3%

4%

5%

5 years

£8,763.88

£8,984.35

£9,208.26

£9,435.62

10 years

£4,600.67

£4,828.04

£5,062.26

£5,303.28

15 years

£3,217,54

£3,452.91

£3,698.44

£3,953.97

20 years

£2,529.42

£2,772.99

£3,029.90

£3,299.78

25 years

£2,119.27

£2,371.06

£2,639.18

£2,922.95

30 years

£1,848.10

£2,108.02

£2,387.08

£2,684.11

35 years

£1,656.31

£1,924.25

£2,213.87

£2,523.44
Monthly mortgage payment for an interest-only £500,000 mortgage with a 20% deposit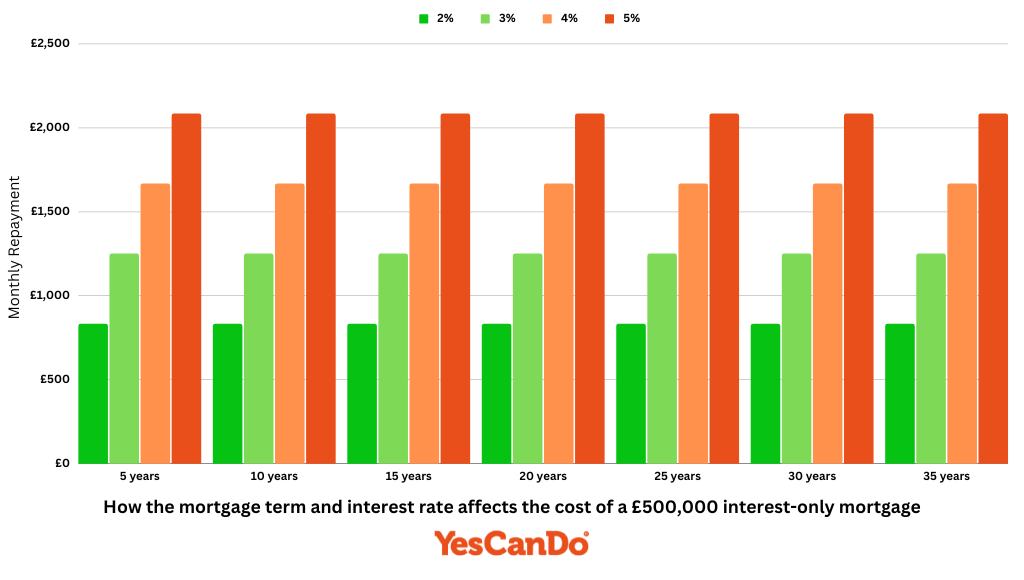 Interest Rates

Term Length

2%

3%

4%

5%

5 years

£833.33

£1,250

£1,666.67

£2,083.33

10 years

£833.33

£1,250

£1,666.67

£2,083.33

15 years

£833.33

£1,250

£1,666.67

£2,083.33

20 years

£833.33

£1,250

£1,666.67

£2,083.33

25 years

£833.33

£1,250

£1,666.67

£2,083.33

30 years

£833.33

£1,250

£1,666.67

£2,083.33

35 years

£833.33

£1,250

£1,666.67

£2,083.33
What's the salary needed for 500k mortgage?
If you are after a £500,000 mortgage, the amount of salary required can vary depending on factors such as interest rate, loan term and type. Generally speaking, however, lenders will require applicants to possess an income at least three or four times their yearly wage in order to be eligible for the home loan.
To make sure you can be approved for a £500,000 mortgage, your annual individual or joint salary should be at least between £125,000 and £166,000 It is worth mentioning that this is only a rough estimate; each lender has different criteria when evaluating income requirement and affordability assessments. Thus it would be wise to talk it over with an expert in mortgages who will evaluate your individual situation in order to assess the eligibility for obtaining this mortgage size.
Additional mortgage costs to consider
The overall cost of your £500,000 mortgage deal will be increased by the additional expenses you have to cover. As a general rule, these include:
Product fees
There are various fees you have to pay when setting up your mortgage, including the booking fee, arrangement fee, and valuation fee. The cost of these will depend on the size of the mortgage – the higher the loan amount, the higher the fees.
Some lenders will ask you to pay these fees upfront while other lenders will let you add them to your mortgage. If you take the latter option, the monthly repayment on your mortgage deal will be increased.
Insurance
With the right insurance in place, you have a safety net to cover you if you can no longer keep to your monthly repayment schedule. This can include income protection if you're unable to work, critical illness cover to support you financially if you're diagnosed with a specific health condition, and life insurance to cover the mortgage payments if you die.
Stamp duty
Stamp Duty is a type of tax that you may have to pay on your home. How much you pay will depend on which part of the UK you are in, the approximate value of your property, whether you're a first-time buyer, and whether you're buying a second property.
At the time of writing (November 2022), you are exempt from Stamp Duty if you are purchasing a residential home priced at £250,000 or under. First-time buyers are exempt from Stamp Duty on residential properties up to £425,000.
Legal fees
The cost attributed to the legal fees will depend on how much work your solicitor has to do. Your mortgage repayments won't be affected as you can't add these fees to your loan, but you will need to pay them in instalments during the house-buying process.
Get matched with a broker experienced in larger mortgages
If you're looking for a property that requires a £500k or even a £600000 mortgage, you should speak to a mortgage broker with relevant experience in helping their clients get a mortgage of this size. The right mortgage broker will:
Give advice on how to reduce the monthly repayment on a mortgage
Search the market for the most suitable mortgage lenders
Make sure you get the best deal on a mortgage
Support you with your mortgage application
Liaise with your lender and other third parties throughout the mortgage process

Introducing YesCanDo Money
At YesCanDo Money, our expert brokers have experience and knowledge of a range of different mortgage subjects and have the skills necessary to help you get the best deal on a £500,000 mortgage.
As everyone's circumstances are different, we will tailor our advice to your personal situation and will make sure that the mortgage you are offered is one that you can afford. And as we are a FEE-FREE mortgage broker, you won't even have to pay us a penny!
Get In Touch
Do you require a £500,000 mortgage deal with the lowest interest rates? If so, get in touch with our expert team of mortgage brokers today using the contact form below.
After arranging the first appointment with you, your appointed mortgage adviser will tailor their advice to your financial circumstances and will give you all the support you need throughout your mortgage journey.